This song article is lacking a proper background. You can help by adding one! The relevant section in the Song Article Guideline is a good starting point, and this blog post may also be helpful. We apologize for the inconvenience this may cause in the meantime.

Song pages lacking proper backgrounds are automatically sorted into this category.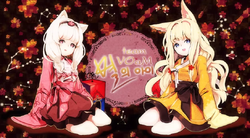 Song title
"별의 아이"
Romaja: Byeorui Ai
English: Children of the Stars
Uploaded November 17, 2013, with 82,000+ views
Singer(s)
SeeU
Producer(s)
Team VoAM
Wave Sammet (music)
Laknen (lyrics, V3)
Mei (illust, mixing)
OnLui (video)
Links
YouTube Broadcast
Background
Edit
"Byeorui Ai" is an original Korean song by Team VoAM featuring SeeU.
Korean (한국어 가사)
Romaja (로마자)
하늘의 빛을
haneurui bicheul
잃어버릴 때 쯤에
ireobeoril ttae jjeume
우리들이 태어났었지
urideuri taeeonasseotji


우리의 빛을
uriui bicheul
잃어버릴 때 쯤에
ireobeoril ttae jjeume
당신이 날
dangsini nal
찾아와 주었지
chajawa jueotji


당신을 바라보고
dangsineul barabogo
있을 때에는
isseul ttaeeneun
스스로 날 볼 수 없어
seuseuro nal bol su eopseo
잊허진 등불과
ichyeojin deungbulgwa
반짝이면서
banjjagimyeonseo
당신이 봐주길 바라
dangsini bwajugil bara


별의 아이
byeorui ai


하늘 따라 흘러가
haneul ttara heulroega
그 마음이 꿈을 말해줘
geu ma-eumi kkumeul malhaejweo
마음에서
ma-eumeseo
꺼저가는 별도
kkeojeoganeun byeoldo
네가 태어나게 했었어
nega taeeonage haesseosseo


하늘의 빛을
haneurui bicheul
잃어버릴 때 쯤에
ilheobeoril ttae jjeume
우리들이 태어났었지
urideuri taeeonasseotji


우리가 빛을
uriga bicheul
잃어버릴 때 쯤에
ilheobeoril ttae jjeume
당신이 내게
dangsini naege
알려주었어
alryeojueosseo


우리는 노래해
urineun noraehae
당신을 향해
dangsineul hyanghae
우릴 기억해 보라고
uril gieokhae borago
자, 당연한 듯이
ja, dangyeonhan deusi
그 손을 뻗어서
geu soneul ppeodeoseo
당신이 부르게 해줘
dangsini bureuge haejweo


별의 아이
byeorui ai


마음 따라 흘러가
ma-eum ttara heulreoga
그 영혼이 너를 말해줘
geu yeonghoni neoreul malhaejweo
기억에서
gieogeseo
잊혀지는 별도
ijhyeojineun byeoldo
네가 생각하며 바랐어
nega saenggakhamyeo barasseo


살아가면서
salagamyeonseo
바란 것들이
baran geosdeuri
사라지면
sarajimyeon
살며시 태어나는
salmyeosi taeeonaneun
fantasy of dream
다만 태어나고
daman taeeonago
기다리면서
gidarimyeonseo
구하지
guhaji


날 위해서
nal wihaeseo
너를 말해줘
neoreul malhaejweo
언제까지나
eonjekkajina
빛날 거야
binnal geoya
이제라도
ijerado
나를 바라봐
nareul barabwa
언제라도
eonjerado
옆에
yeope
있는 걸
inneun geol


별의 아이
byeorui ai


하늘 따라 흘러가
haneul ttara heulreoga
그 마음이
geu ma-eumi
꿈을 말해줘
kkumeul malhaejweo
마음에서
ma-eumeseo
네가
nega
태어나게 했었어
taeeonage haesseosseo


별의 아이
byeorui ai


마음 따라 흘러가
ma-eum ttara heulreoga
그 영혼이
geu yeonghoni
너를 말해줘
neoreul malhaejweo
기억에서
gieogeseo
잊혀지는 별도
ichyeojineun byeoldo
네가 생각하며
nega saenggakhamyeo
바랐어
barasseo
External links
Edit
| | |
| --- | --- |
| | Lyrics |