Ad blocker interference detected!
Wikia is a free-to-use site that makes money from advertising. We have a modified experience for viewers using ad blockers

Wikia is not accessible if you've made further modifications. Remove the custom ad blocker rule(s) and the page will load as expected.
This song article is lacking a proper background. You can help by adding one! The relevant section in the Song Article Guideline is a good starting point, and this blog post may also be helpful. We apologize for the inconvenience this may cause in the meantime.

Song pages lacking proper backgrounds are automatically sorted into this category.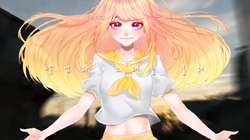 Song title
"봄 저녁 레모네이드"
Romaja: Bom Jeonyeok Lemoneideu
English: Spring Evening Lemonade
Uploaded February 10, 2016, with 80+ views
Singer(s)
SeeU
Producer(s)
JEWELRY TUNES
BodaiP (lyrics, music)
NineSpringP (arrangement, video)
Surimae16 (VOCALOID)
gnocchi au (illustration)
Links
YouTube Broadcast
Background
Edit
"Bom Jeonyeok Lemonade" is an original Korean song featuring SeeU. It is the first original song produced by the group JEWELRY TUNES.
Succeeding versions
Edit
봄 저녁 레모네이드 feat. VORA

Featuring
VORA
Author(s)
JEWELRY TUNES
Category
Succeeding version

Description

A second version of the song that utilizes

VOCALINA

VORA instead of SeeU.
Korean (한국어 가사)
Romaja (로마자)
저게 높은 하늘 아래서 살랑 비추는
jeoge nopeun haneul araeseo sallang bichuneun
새하얀 남극 눈처럼
saehayan namgeuk nuncheoreom


는을, 큰 눈을 또 지켜만 보며
nuneul, keun nuneul tto jikyeoman bomyeo
하루, 또 하루를 녹야서 내려
haru, tto harureul nogyaseo naeryeo
오늘, 또 내일 꿈속을 그리며 누운 저불일 풀잎 밭에서
oneul, tto naeil kkumsogeul geurimyeo nuun jeoburil purip bateseo


오늘도 어제도
oneuldo eojedo
그저 "지겨뿐" 이라고
geujeo "jigyeoppun" irago
언젠가 위친 적에서
eonjenga wichin jeogeseo


저기높은 하늘 아래서 살랑 비추는
jeoginopeun haneul araeseo sallang bichuneun
새하얀 남극 눈 처럼
saehayan namgeuk nun cheoreom
우리 다시한 번 더 모일 봄 저녁에
uri dasihan beon deo moil bom jeonyeoge
달님과 노래를 불러
dalnimgwa noraereul bulleo


봄을 여름을, 하얗게 지우며
bomeul yeoreumeul, hayake jiumyeo
저녁 또 새벽을 울면서 버려
jeonyeok tto saebyeogeul ulmeonseo beoryeo
가을, 또 겨울, 일년을 보내며
gaeul, tto gyeoul, ilnyeoneul bonaemyeo
잠든 공기를 마시며
jamdeun gonggireul masimyeo


하루, 이틀 사흘
haru, iteul saheul
떠나 보내는 기억들과
tteona bonaeneun gieokdeulgwa
매일을 해에 맡기며
maeireul haee matgimyeo


여기 Guide도 없는 영원 한가울에
yeogi Guide-do eopnneun yeongweon hangaure
빛나는 얼음물
binnaneun eoreummul
우리 다시 한 번 더 웃을 봄 저녁에
uri dasi han beon deo useul bom jeonyeoge
달님과 노래를 불러
dalnimgwa noraereul bulleo


저기 예빴던 별 밑에서 살랑 비추는
jeogi yeppatdeon byeol miteseo sallang bichuneun
눈 부신 태양 빛처럼
nun busin taeyang bitcheoreom
우리 한 빈 더 볼수있는 저녁에
uri han bin deo bulsuinneun jeonyeoge
달님과 노래를
dalnimgwa noraereul


저기 눞은 하늘 아래서 살랑 비치는
jeogi nupeun haneul araeseo sallag bichineun
새하얀 남국 눈처럼
saehayang namguk nuncheoreom
우리 다시 한 번 더 모일 봄 서녁에
uri dasi han beon deo moil bom seonyeoge
달님과 노래를 불...
dalnimgwa noraereul bul...


달님과 노래를 불...
dalnimgwa noraereul bul...
달님과 노래를 불...
dalnimgwa noraereul bul...
달님과 노래를 불러
dalnimgwa noraereul bulleo
External links
Edit
| | |
| --- | --- |
| | Articles |