!

Warning:

This song contains explicit lyrics and themes; it may be inappropriate for younger audiences.

The Vocaloid Wiki does not have a policy on lyrical content or theme; however, it attempts to follow the Wikia TOU.
For further discussion see Thread:68883. Explicit songs are automatically sorted into this category.

!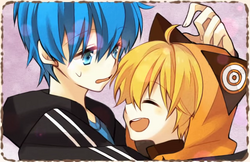 Song title
"부농강도"
Romaja: Bunonggangdo
English: Pink Robber
Uploaded January 1, 2013, with 266,000+ views
Singer(s)
SeeWoo (SeeU)
Producer(s)
Anglers (music, lyrics)
Panttwa (illust)
Kimchima (movie)
Links
YouTube Broadcast
Background
Edit
"Bunonggangdo" is an original song featuring the fanmade VOCALOID SeeWoo.
Korean (한국어 가사)
Romaja (로마자)
어쩌다가 이런 소중한 만남을 주셨나 주님
eojjeodaga ireon sojunghan mannameul jusyeonna junim
착하게 살았는데
chakhage saranneunde
재수 없게 그만 강도하고 마주친 거야
jaesu eopge geuman gangdohago majuchin geoya
곧바로 뒤돌아서 여기 좀 내다 봐요
gotbaro dwidoraseo yeogi jom naeda bwayo
강도를 만났어요 사람 좀 살려요 소리를 질러 봐도
gangdoreul mannasseoyo saram jom sallyeoyo sorireul jilleo bwado
아무도 안 내다 보고
amudo an naeda bogo
상황은 위급해서
sanghwangeun wigeuphaeseo
급하게 말했어 잠깐만요 형
geuphage malhaesseo jamkkanmanyo hyeong


아 형 아 형 안 돼요 너무 커요 그건 넣지 말아요
a hyeong a hyeong an dwaeyo neomu keoyo geugeon neochi marayo
동네 사람들 나 좀 구해 줘 짜랍빠 짜랍빠 랄라
dongne saramdeul na jom guhae jwo jjarappa jjarappa lalla
아 형 손에 든 그건 뭐야 잠깐 저기 바세린은 안 돼 형
a hyeong sone deun geugeon mwoya jamkkan jeogi baserineun an dwae hyeong
이러지 마요
ireoji mayo
거기 누나 가만 보고 있지 말고 신고 좀 해 주세요
geogi nuna gaman bogo itji malgo singo jom hae juseyo


어쩜 이런 복잡한 시험에 빠져버렸나 주님
eojjeom ireon bokjaphan siheome ppajyeobeoryeonna junim
전생에 뭘 했길래
jeonsaenge mwol haetgillae
동네 사는 사람 시선들이 너무 따가워
dongne saneun saram siseondeuri neomu ttagawo
그래도 어떻게 해 칼은 희번뜩하고 식은땀 줄줄나도
geuraedo eotteoke hae kareun huibeontteukhago sigeunttam juljulnado
기회는 한 번 뿐 의지를 가지고서
gihoeneun han beon ppun uijireul gajigoseo
단추를 살짝 풀고 입술을 깨물면서 천천히 말했어
danchureul saljjak pulgo ipsureul kkaemulmyeonseo cheoncheonhi malhaesseo
잠깐만요 형
jamkkanmanyo hyeong


아 형 아 형 안 돼요 너무 커요 그건 넣지 말아요
a hyeong a hyeong an dwaeyo neomu keoyo geugeon neochi marayo
동네 사람들 나 좀 구해 줘 짜랍빠 짜랍빠 랄... 빈틈!
dongne saramdeul na jom guhae jwo jjarappa jjarappa lal... binteum!


오라오라오라오라오라오라오라오라
oraoraoraoraoraoraoraora
무다무다무다무다무다무다무다무다
mudamudamudamudamudamudamudamuda
됐어
dwaesseo
백팔콤보 필살기가 먹혔어
baekpalkombo pilsalgiga meokhyeosseo
사람 살려요
saram sallyeoyo
여기 지금 잘생기고 몸도 좋은 큰 강도가 있어요
yeogi jigeum jalsaenggigo momdo joeun keun gangdoga isseoyo


아 내가 지금 뭐랬지
a naega jigeum mworaetji
혼란스러워우어허어
honranseureowoueoheoeo
아 터질 것 같이 두근거리는 내 심장
a teojil geot gachi dugeungeorineun nae simjang


(부드러운 그의 눈동자 안에서는 의심할 겨를 없이 나를 향한 뜨거운 사랑이 불타오르고 있었다)
(budeureoun geu-ui nundongja aneseoneun uisimhal gyeoreul eopsi nareul hyanghan tteugeoun sarangi bultaoreugo isseotda)
(하지만 이래도 되는 걸까 하는 그런 고민도 찰나 한 가지만은 확신할 수 있었다. 이번 기회에 그를 놓친다면 나는 평생을 두고 후회할 것이라고)
(hajiman iraedo doeneun geolkka haneun geureon gomindo chalna han gajimaneun hwaksinhal su isseotda. ibeon gihoee geureul nochindamyeon naneun pyeongsaengeul dugo huhoehal geosirago)
(그래, 인정하기 싫었지만 이미 나도 강도가 없이는 살아갈 수 없는 그런 몸이 되어버렸던 것이다)
(geurae, injeonghagi sireotjiman imi nado gangdoga eopsineun saragal su eomnneun geureon momi doeeobeoryeotdeon geosida)


아 형 아 형 안 돼요 도망가요 나랑 같이 살아요
a hyeong a hyeong an dwaeyo domanggayo narang gachi sarayo
세상 끝까지 함께 해 봐요 짜랍짜 짜랍빠 랄라
sesang kkeutkkaji hamkke hae bwayo jjarappa jjarappa lalla
아 형
a hyeong
이제서 참사랑을 찾아 주신 그 주님께 감사해
ijeseo chamsarangeul chaja jusin geu junimkke gamsahae
모두 노래해
modu noraehae
사랑에는 나이 국가 성별까지 모두 상관 없다고
sarangeneun nai gukga seongbyeolkkaji modu sanggwan eoptdago


아 찌밤 꿈
a jjibam kkum
External links
Edit
| | |
| --- | --- |
| | Lyrics |