Ad blocker interference detected!
Wikia is a free-to-use site that makes money from advertising. We have a modified experience for viewers using ad blockers

Wikia is not accessible if you've made further modifications. Remove the custom ad blocker rule(s) and the page will load as expected.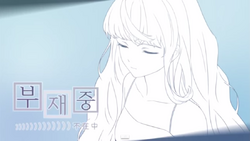 Song title
"부재중"
Romaja: Bujaejung
English: Missed Call
Uploaded October 19, 2013, with 800+ views
Singer(s)
SeeU
Producer(s)
Requeim (music, lyrics)
Tyuh (movie)
Links
YouTube Broadcast (unavailable)

Background
Edit
An original SeeU song.
Korean (한국어 가사)
Romaja (로마자)
뚜루루루
tturururu
차갑게 울리는 수화음 너머 눈부시던 웃음이 있었는데
chagapge ullineun suhwa-eum neomeo nunbusideon useumi isseonneunde
결국 너를 듣지 못 하고 슬픔에 짓눌린 손끝으로 수화기를 닫는다
gyeolguk neoreul deutji mot hago seulpeume jitnullin sonkkeuteuro suhwagireul danneunda


헤어날 수 없는 좁다란 방 이 세상엔 나 혼자 뿐
heeonal su eomneun jopdaran bang i sesangen na honja ppun
잦아드는 숨소리 차오르는 네 기억
jajadeuneun sumsori chaoreuneun ne gieok
괜스레 큰 한숨 젖어드는 내 마음
gwaenseure keun hansum jeojeodeuneun nae ma-eum
알고 있어 네가 내 전부는 아니란 걸
algo isseo nega nae jeonbuneun aniran geol
알지만 알고 있지만 손끝까지 흘러넘친 네 미소는
aljiman algo itjiman sonkkeutkkaji heulleoneomchin ne misoneun
다시 다이얼을 누르게 만들어
dasi daieoreul nureuge mandeureo


뚜루루루
tturururu
무심히 흐르는 수화음 너머 자그맣던 숨결이 있을텐데
musimhi heureuneun suhwa-eum neomeo jageumateon sumgyeori isseultende
결국 널 만나지 못 해 잔향 속에 한숨을 숨겨
gyeolguk neol mannaji mot hae janhyang soge hansumeul sumgyeo
뚜루루루
tturururu
차갑게 울리는 수화음 너머 눈부시던 웃음이 있었는데
chagapge ullineun suhwa-eum neomeo nunbusideon useumi isseonneunde
결국 너를 듣지 못 하고 슬픔에 짓눌린 손끝으로 수화기를 닫는다
gyeolguk neoreul deutji mot hago seulpeume jitnullin sonkkeuteuro suhwagireul danneunda


멈춰선 시간에 홀로 남아 추억 속을 헤메인다
meomchwoseon sigane hollo nama chueok sogeul hemeinda
얼어붙은 시간을 되찾아 보려 해도 굳게 닫힌 방에 내일은 오지 않아
eoreobuteun siganeul doechaja boryeo haedo gutge dachin bange naeireun oji anha
보란 듯이 웃고 있는 네 사진은 다시 추억 속을 헤메게 만들어
boran deusi utgo inneun ne sajineun dasi chueok sogeul hemege mandeureo


뚜루루루
tturururu
바쁘게 울리던 수화음 속엔 누구보다 소중한 네가 있었는데
bappeuge ullideon suhwa-eum sogen nuguboda sojunghan nega isseonneunde
결국 널 만나지 못 해 잔향 속에 한숨을 숨겨
gyeolguk neol mannaji mot hae janhyang soge hansumeul sumgyeo
뚜루루루
tturururu
반갑게 울리던 수화음 속엔 눈부시던 행복이 있었는데
bangapge ullideon suhwa-eum sogen nubusideon haengbogi isseonneunde
결국 너를 찾지 못 해 넌 내 추억 속에서 더욱 선명해져
gyeolguk neoreul chatji mot hae neon nae chueok sogeseo deouk seonmyeonghaejyeo


널 원하고 원할수록
neol wonhago wonhalsurok
추억 속에서 넌 멀어져
chuwi sogeseo neon meoreojyeo
저멀리
jeomeolli
영원히
yeongwonhi


뚜루루루
tturururu
무심히 흐르는 수화음 너머 자그맣던 숨결이 있을텐데
musimhi heureuneun suhwa-eum neomeo jageumateon sumgyeori isseultende
결국 널 만나지 못 해 난 또 슬픔 앞에 무너져
gyeolguk neol mannaji mot hae nan tto seulpeum ape muneojyeo
뚜루루루
tturururu
차갑게 울리는 수화음 너머 눈부시던 사랑이 있었는데
chagapge ullineun suhwa-eum neomeo nunbusideon sarangi isseonneunde
결국 너를 듣지 못 하고 슬픔에 짓눌린 손끝으로 수화기를 닫는다
gyeolguk neoreul deutji mot hago seulpeume jitnullin sonkkeuteuro suhwagireul danneunda
External links
Edit
| | |
| --- | --- |
| | Lyrics |