This song article is lacking a proper background. You can help by adding one! The relevant section in the Song Article Guideline is a good starting point, and this blog post may also be helpful. We apologize for the inconvenience this may cause in the meantime.

Song pages lacking proper backgrounds are automatically sorted into this category.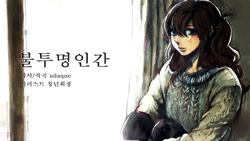 Song title
"불투명인간"
Romaja: Bultumyeongingan
Official English: Opaque Human
Uploaded December 8, 2012, with 7,000+ views
Singer(s)
SeeU
Producer(s)
udaque (music, lyrics, movie)
Cheongnyeonhoejang (illust)
Links
YouTube Broadcast
Background
Edit
"Bultumyeong-in-gan" is an original song by Udaque featuring SeeU.
| Korean (한국어 가사) | Romaja (로마자) |
| --- | --- |
| 방구석 어딘가 자리한 텔레비젼 속에서는 | bangguseok eodinga jarihan tellebijyeon sogeseoneun |
| 누군가의 외로운 죽음을 알리는 뉴스가 흘렀어 | nugunga-ui oeroun jugeumeul allineun nyuseuga heulleosseo |
| 창문 밖에서 새어나오는 놀이터의 웃음소리 | changmun bakkeseo saeeonaoneun noriteo-ui useumsori |
| 그 때 모래집을 같이 만들던 친구는 너무 멀리 있어 | geu ttae moraejibeul gati mandeuldeon chinguneun neomu meolli isseo |
| 아침의 미역국 때문인지 혀를 데인 것 같아 | achimui miyeokguk ttaemuninji hyeoreul dein geot gata |
| 편리를 위해 먹던 약의 쓴 맛이 느껴지지 않아 | pyeonrireul wihae meogdeon yak-ui sseun masi neukkyeojiji anha |
| 감각이 느껴지지 않아 | gamgagi neukkyeojiji anha |
| 컴퓨터 핸드폰 메신저 소리가 울리는 것은 필요에 의한 대화 뿐이란 걸 깨달은지도 오래됐어 | keompyuteo haendeupon mesinjeo soliga ullineun geoseun piryoe uihan daehwa ppuniran geol kkaedareunjido oraedwaesseo |
| 수많은 사람으로 가득한 유명한 이름의 거리 | sumanheun sarameuro gadeukhan yumyeonghan ireum-ui geori |
| 사람들에게 둘러싸인 채 | saramdeurege dulleossain chae |
| 그저 시끄러운 독방같아 | geujeo sikkeureoun dokbanggata |
| 신발에 조금씩 익숙해져서 굳은살이 생겼어 | sinbare jogeumssik iksukhaejyeoseo gudeunsari saenggyeosseo |
| 바늘로 찔러봐도 아픔이 느껴지지 않아 | baneullo jjilleobwado apeumi neukkyeojiji anha |
| 눈물이 나오지가 않아 | nunmuri naojiga anha |
| 해가 져도 어두움보다 시계의 숫자를 읽어 | haega jyeodo eoduumboda sigye-ui sutjareul ilgeo |
| 독백이 되어버린 방백도 이? 신경쓰이지 않아 | dokbaegi doeeobeorin bangbaekdo ijen singyeongsseuiji anha |
| 방구석 어딘가 자리한 텔레비젼 속에서는 | bangguseok eodinga jarihan tellebijyeon sogeseoneun |
| 나와 상관없는 사람들이 즐겁게 웃고있어 | nawa sanggwaneomnneun saramdeuri jeulgeobge utgoisseo |
External links
Edit
| | |
| --- | --- |
| | Lyrics |
Ad blocker interference detected!
Wikia is a free-to-use site that makes money from advertising. We have a modified experience for viewers using ad blockers

Wikia is not accessible if you've made further modifications. Remove the custom ad blocker rule(s) and the page will load as expected.