Ad blocker interference detected!
Wikia is a free-to-use site that makes money from advertising. We have a modified experience for viewers using ad blockers

Wikia is not accessible if you've made further modifications. Remove the custom ad blocker rule(s) and the page will load as expected.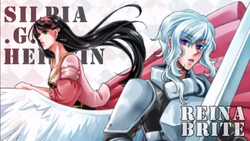 Song title
"사랑의 씨앗"
Romaja: Sarang-ui Ssiat
English: Seed of Love
Uploaded August 30, 2013, with 291,000+ views
Singer(s)
SeeU
Producer(s)
Team Eternal Harmony:
mitssi (Green Fish) (music)
Plot (lyrics)
Kkomcce (illust)
Hwie (movie)
Links
YouTube Broadcast
Background
Edit
This song is the second part of "Constellation Gemini Project" (쌍둥이 성좌 프로젝트) by Team Eternal Harmony.
Korean (한국어 가사)
Romaja (로마자)
사랑의 씨앗은 약하고
sarang-ui ssiaseun yakhago
인연의 힘은 미약하긴 하여도
inyeon-ui himeun miyakhagin hayeodo
한 번 싹틔우게 된다면
han beon ssaktuiuge doendamyeon
한 번 꽃피우게 된다면
han beon kkotpiuge doendamyeon
그건 마치 운명처럼
geugeon machi unmyeongcheoreom


처음은 그렇게 만났죠
cheo-eumeun geureoke mannatjyo
우연히 만난 쌍둥이의 형제들
uyeonhi mannan ssangdungi-ui hyeongjedeul
둘의 겉모습은 같아도
dul-ui geonmoseubeun gatado
안의 모습만은 달랐죠
an-ui moseupmaneun dallatjyo
단지 그걸 알았기에
danji geugeol aratgie


지켜주기로 마음 먹었던 날들이
jikyeojugiro ma-eum meogeotdeon naldeuri
지켜지는 날들로 변해버릴 즈음에는
jikyeojineun naldeullo byeonhaebeoril jeueumeneun
이? 동정도 없고 연민도 없이
ijen dongjeongdo eopgo yeonmindo eopsi
사랑의 마음으로 꽃피워버렸기에
sarang-ui ma-eumeuro kkotpiwobeoryeotgie
그대의 마음도 눈치채버렸죠
geudae-ui ma-eumdo nunchichaebeoryeotjyo


하지만 형제를 사랑할 순 없기에
hajiman hyeongjereul saranghal sun eopgie
그대의 마음만은 받을 수 없어요
geudae-ui ma-eummaneun badeul su eopseoyo
내 마음 둘로는 나눌 수가 없기에
nae ma-eum dulloneun nanul suga eopgie
그대의 마음에는 답할 수가 없답니다
geudae-ui ma-eumeneun daphal suga eopdamnida


얼어붙었다 생각했었던 마음이
eoreobuteotda saenggakhaesseotdeon ma-eumi
따뜻했던 당신의 마음에 닿아 버려서는
ttatteuthaetdeon dangsin-ui ma-eume daa beoryeoseoneun
이? 절망도 없고 아픔도 없이
ijen jeolmangdo eopgo apeumdo eopsi
사랑의 마음으로 녹아버렸기에
sarang-ui ma-eumeuro nogabeoryeotgie
나의 마음도 깨닫게 됐던 거죠
naui ma-eumdo kkaedatge dwaetdeon geojyo


하지만 그대의 마음 알고 있기에
hajiman geudae-ui ma-eum algo itgie
이 마음 당신에게 전할 수 없어요
i ma-eum dangsinege jeonhal su eopseoyo
그렇게 당신의 부탁 거절 못 하고
geureoke dangsin-ui butak geojeol mot hago
마음 속 눈물을 감춰야만 한답니다
maeum sok numureul gachwoyaman handamnida


인연의 줄기는 가늘고
inyeon-ui julgineun ganeulgo
만남의 뿌린 미약하긴 하여도
mannam-ui ppurin miyakhagin hayeodo
한 번 자라나게 된다면
han beon jaranage doendamyeon
한 번 꽃피우게 된다면
han beon kkotpiuge doendamyeon
사랑으로 변해버리는 걸요
sarangeuro byeonhaebeorineun georyo
External links
Edit
| | |
| --- | --- |
| | Lyrics |