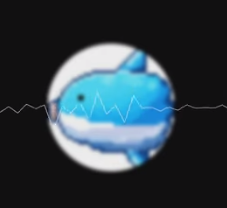 Song title
"살아남아라 개복치!"
Romaja: Saranamara Gaebokchi!
English: Do Survive, Sunfish!
Uploaded December 25, 2014, with 6,000+ views
Singer(s)
SeeU
Producer(s)
akan (music, lyrics, movie)
Links
YouTube Broadcast
Background
Edit
According to akan's description on their second official upload to YouTube and Vocaloid Empire, the song is a comical spoof on a fish enemy, based off a "hugely popular Korean video game making a huge splash", they played for the first time. Hoping for the survival of this little sunfish, who is one of the weakest -but "cutest"- characters that one comes across in this video game.
Korean (한국어 가사)
Romaja (로마자)
바다의 쿠크다스
badaui kukeudaseu
그의 학명은 Mola mola
geu-ui hangmyeongeun Mola mola
지금 몇 번 죽었지?
jigeum myeot beon jugeotji?
처음부터 다시 시작
cheo-eumbuteo dasi sijak


몇 십 대를 뛰어넘어서 돌연사
myeot sip daereul ttwieoneomeoseo doryeonsa
3억 마리의 동료들은 전부 다 죽었다
sam-eok mari-ui dongryodeureun jeonbu da jugeotda


착수시의 충격
chaksusi-ui chunggyeok
저체온증
jeoche-onjeung
바위에 격돌
bawie gyeokdol
바다거북이 무서워서 사망
badageobugi museowoseo samang


그 외에도 돌연사의 이유는 많이 있어요
geu oeedo doryeonsa-ui iyuneun mani isseoyo


이렇게나 (이렇게나)
ireokena (ireokena)
연약해도 (연약해도)
yeonyakhaedo (yeonyakhaedo)
나는 계속 앞으로
naneun gyesok apeuro
끊임없이 나아갈거야
kkeunimeopsi naagalgeoya


내 이름은 바로 개복치
nae ireumeun baro gaebokchi
유리멘탈의 선두주자지요
yurimental-ui seondujujajiyo
사소한 이유에도 죽지만
sasohan iyuedo jukjiman
포기하면 안 돼 개복치
pogihamyeon an doe gaebokchi
알을 3억 개씩 낳으니
areul sam-eok gaessik na-euni
대가 끊길 걱정은 없습니다
daega kkeunkil geokjeongeun eopseumnida
내 목표는 살아있는 전설
nae mokpyoneun sarainneun jeonseol
그 꿈을 이루기 위해 오늘도
geu kkumeul irugi wihae oneuldo
먹이를 먹으며 체중을 늘려요
meogireul meogeumyeo chejungeul neullyeoyo


내 이름은 바로 개복치
nae ireumeun baro gaebokji
유리멘탈의 선두주자지요
yurimentarui seondujuja jiyo
사소한 이유에도 죽지만
sasohan iyuedo jukjiman
포기하면 안 돼 개복치
pogihamyeon an doe gaebokchi
알을 3억 개씩 낳으니
areul sam-eok gaessik na-eunni
대가 끊길 걱정은 없습니다
daega kkeunkil geokjeongeun eopseumnida
내 목표는 살아있는 전설
nae mokpyoneun sarainneun jeonseol
그 꿈을 이루기 위해 오늘도
geu kkumeul irugi wihae oneuldo
먹이를 먹으며 체중을 늘려요
meogireul meogeumyeo chejungeul neullyeoyo
External links
Edit
| | |
| --- | --- |
| | Lyrics |