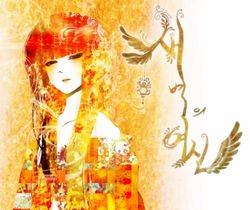 Song title
"새벽의 여신"
Romaja: Saebyeogui Yeosin
English: Goddess of the Dawn
Uploaded January 31, 2013, with 700+ views
Singer(s)
GUMI
Producer(s)
Phryxia (music, lyrics)
QInya (illust)
Links
YouTube Broadcast
Background
Edit
This song is an original GUMI song. Like "하이텐션" and "동토", the lyrics are all in Korean, but are engineered by using the Japanese voicebank.
Korean (한국어 가사)
Romaja (로마자)
English
휘몰아쳐 부르온 머나먼 땅끝바람
hwimolachyeo bureuon meonameon ttangkkeulbaram
Sweeping wind from the far-land
서서히 일어깨어난 얼잠든 자매들
seoseohi ireokkaeeonan eoljamdeun jamaedeul
Now it woke the frozen sisters up


푸르붉은 불빛과 오르내린 시선들이
pureubeulgeun beulbitgwa oreunaerin siseondeuri
Would it be an angel for someone
낯선 이의 천사가 되어줄까
natseon iui cheonsaga dwieojeulkka
with her sight with red-blue light


밤소리 차지한 황혼의 여신
bamsori chajihan hwanghonui yeosin
Oh dear goddess of the twilight, whom take tonight up
흔들리디 흔들려 넘실거린
heundeullidi heundeullyeo neomsilgeorin
Oh dear goddess of the dawn,


보이지 않는 파도 위를 거닐어
boiji anneun pado wireul geonireo
wandering on invisible wave,
여기를 차지한 새벽의 여신
yeogireul chajihan saebyeogui yeosin
please take here with your shaking love


울려오른 숨막힌 진동속에 나르포근 감싸온
ullyeooreun summakhin jindongsoge nareupogeun gamssaon
In saturated vibration, like the sunshine's touch,
가녀린 얼음장의 합창은 아르친 기억으로
ganyeorin eoreum jangui hapjangeun areuchin gieogeuro
frozen choir soaks into your lovely memory


가슴을 아름아름 맴돌아
gaseumeul areumareum maemdora
hovering your mind gorgeously
이 울림이 끝날 때에는 꿈에서 일어나기
i ullimi kkeulnal ttaeeneun kkumeseo ireonagi
Dream will meet the end, when the melody disappears
External links
Edit
| | |
| --- | --- |
| | Lyrics |
Ad blocker interference detected!
Wikia is a free-to-use site that makes money from advertising. We have a modified experience for viewers using ad blockers

Wikia is not accessible if you've made further modifications. Remove the custom ad blocker rule(s) and the page will load as expected.