Ad blocker interference detected!
Wikia is a free-to-use site that makes money from advertising. We have a modified experience for viewers using ad blockers

Wikia is not accessible if you've made further modifications. Remove the custom ad blocker rule(s) and the page will load as expected.
This song article is lacking a proper background. You can help by adding one! The relevant section in the Song Article Guideline is a good starting point, and this blog post may also be helpful. We apologize for the inconvenience this may cause in the meantime.

Song pages lacking proper backgrounds are automatically sorted into this category.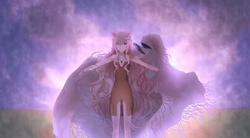 Song title
"새벽의 제국"
Romaja: Saebyeok-ui Jeguk
English: Empire of the Dawn
Uploaded May 16, 2012, with 163,000+ views
Singer(s)
SeeU
Producer(s)
Sangnoksu (music, lyrics)
Harafha (illust)
Yozumina (movie)
Links
YouTube Broadcast
Background
Edit
"Saebyeok-ui Jeguk" is an original SeeU song.
Korean (한국어 가사)
Romaja (로마자)
마른 벌판에 한 길 연기 높이 오르고
mareun beolpane han gil yeongi nopi oreugo
퍼런 세상에 붉은 불길 포효를 하네
peoreon sesange bulgeun bulgil pohyoreul hane
높은 솟대들 횃불 사이 원을 그리고
nopeun sotdaedeul hwaetbul sai woneul geurigo
여러 북소리 밤하늘에 힘을 떨치네
yeoreo buksori bamhaneure himeul tteolchine


하얀 달빛은 힘을 잃어 구름에 지고
hayan dalbicheun himeul ireo gureume jigo
누런 태양도 저 산 속에 때를 노리네
nureon taeyangdo jeo san soge ttaereul norine
보라 별에서 풀려난 이슬 맺힌 땅을
bora byeoreseo pullyeonan iseul maechin ttangeul
곧이 흐르는 새벽의 제국을 이루네
godi heureuneun saebyeok-ui jegugeul irune


Sondela uSomandla
노니라 솔바람아
nonira solbarama
Sondela uSomandla
어둠에 새길 날아
eodume saegil nara


숨을 내쉬는 대지에 귀를 기울이라
sumeul naeswineun daejie gwireul giurira
흙 안에 잠든 긴 세월이 입을 여노라
heulk ane jamdeun gin sewori ibeul yeonora
산을 적시는 차디찬 새벽 공기 속에
saneul jeoksineun chadichan saebyeok gonggi soge
고요히 모든 이 순간이 하나 되노라
goyohi modeun i sungani hana doenora


여기 짤막한 불길 속에 우린 앉노라
yeogi jjalmakhan bulgil soge urin annora
이내 태양의 깃발의 그림자가 지리
inae taeyang-ui gitbal-ui geurimjaga jiri
별에 눈 먼 이들은 잠을 깨지 못한다
byeol-e nun meon ideureun jameul kkaeji mothanda
빛나는 낮은 묻혀버린 땅에 있으니
binnaneun najeun muchyeobeorin ttange isseuni


Sondela uSomandla
노니라 솔바람아
nonira solbarama
Sondela uSomandla
어둠에 새길 날아
eodume saegil nara


멀리 새벽이 긴 밤 속에 고개를 드네
meolli saebyeogi gin bam soge gogaereul deune
비 내리던 빛 사이로 안식이 오네
bi naerideon bit sairo ansigi one
젖은 흙이 품을 벌려 새 가족을 맞네
jeojeun heulgi pumeul beollyeo sae gajogeul manne


새벽은 영원히
saebyeogeun yeongwonhi


Sondela uSomandla
노니라 솔바람아
nonira solbarama
Sondela uSomandla
어둠에 새길 날아
eodume saegil nara
Sondela uSomandla
노니라 이슬비야
nonira iseulbiya
Sondela uSomandla
돌 위에 새길 날아
dol wie saegil nara


Sondela uSomandla
노니라 뭇 새들아
nonira mut saedeura
Sondela uSomandla
날아라 긴 어둠아
narara gin eoduma
External links
Edit
| | |
| --- | --- |
| | Articles |
| | |
| --- | --- |
| | Lyrics |