Ad blocker interference detected!
Wikia is a free-to-use site that makes money from advertising. We have a modified experience for viewers using ad blockers

Wikia is not accessible if you've made further modifications. Remove the custom ad blocker rule(s) and the page will load as expected.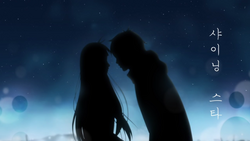 Song title
"샤이닝 스타"
Romaja: Syaining Seuta
English: Shining Star
Uploaded June 24, 2016, with 350+ views
Singer(s)
SeeU
VY1v4
Producer(s)
HeeK
Links
YouTube Broadcast
Background
Edit
"Shining Star" is an original Korean song featuring SeeU and VY1v4. In it, two lovers describe their feelings for one another, and how they will be each other's shining star.
Korean (한국어 가사)
Romaja (로마자)
별이 빛나는 밤
byeori binnaneun bam
너와 마주 앉아
neowa maju anja
우리의 영원한 사랑을 약속했었지
uriui yeongweonhan sarangeul yaksokhaesseotji


서로의 아픔을 말하고
seoroui apeumeul malhago
서로의 아픔을 달래고
seoroui apeumeul dallaego
둘만의 비밀을 하나씩 쌓아가던 날
dulmaui bimareul hanassik ssahagadeon nal


너는 밤하늘의 별이 되어
neoneun bamhaneurui byeori doeeo
나에게 빛을 내면서 인사하고
na-ege bicheul naemyeonseo insahago
나는 밤하늘의 별을 보며
naneun bamhaneurui byeoreul bomyeo
너에게 눈물 흘리며 손을 건네
neoege nunmul heullimyeo soneul geonne
Shining Star
External links
Edit
| | |
| --- | --- |
| | Articles |