This song article is lacking a proper background. You can help by adding one! The relevant section in the Song Article Guideline is a good starting point, and this blog post may also be helpful. We apologize for the inconvenience this may cause in the meantime.

Song pages lacking proper backgrounds are automatically sorted into this category.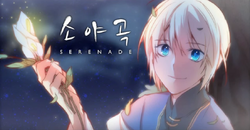 Song title
"소야곡"
Romaja: Soyagok
English: Serenade
Uploaded April 20, 2012, with 274,000+ views
Singer(s)
SeeWoo (SeeU)
Producer(s)
Requiem (music, lyrics)
NISHI (illust)
Wolrang-a (movie)
Links
YouTube Broadcast (official)
YouTube Broadcast (with subtitles)

Background
Edit
"Soyagok" is a fanmade VOCALOID, SeeWoo's original song.
Korean (한국어 가사)
Romaja (로마자)
믿어져?
mideojyeo?
나의 옆집엔 천사님이 살고 있어
naui yeopjiben cheonsanimi salgo isseo
깨닫고 나니 이미 서로 함께 웃고 있었지
kkaedatgo nani imi seoro hamkke utgo isseotji


담벼락 틈 지나 마주선 푸르른 정원 사이로 날 부르는 네 목소리에 아침을 맞던 나의 자그만 세상
dambyeorak teum jina majuseon pureureun jeongwon sairo nal bureuneun ne moksorie achimeul matdeon naui jageuman sesang


수많은 축복과 사랑을 받으며
sumanheun chukbokgwa sarangeul bateumyeo
우린 같은 시간을 걸었지
urin gateun siganeul georeotji
최고로 아름답던 시간엔 항상 곁에 네가 있어
choegoro areumdabdeon siganen hangsang gyeote nega isseo


내 곁에서 태양같은 웃음을 짓던 작은 소녀는
nae gyeoteseo taeyanggateun useumeul jitdeon jageun sonyeoneun
햇살 같은 미소를 품은 아름다운 숙녀가 됐어
haetsalgateun misoreul pumeun areumdaun suknyeoga dwaesseo


난 너에게 수많은 남들보다 조금 더 소중하겠지
nan neo-ege sumanheun namdeulboda jogeum deo sojunghagetji
하지만 나 태어나 지금 이 순간까지 오직 너였다는 걸
hajiman na taeeona jigeum i sungankkaji ojik neoyeotdaneun geol


"밤의 숲은 위험해, 시유야"
"bamui supeun wiheomhae, siyuya"
"하지만 달맞이꽃은 밤에만 피는 걸"
"hajiman dalmajikkoteun bameman pineun geol"
"꼭 갖고 싶어"
"kkok gatgo sipeo"


"아, 찾았다"
"a, chajatda"


너의 시간을 위해 계절이
neoui siganeul wihae gyejeori
너의 마음을 위해 바람이
neoui ma-eumeul wihae barami


"괜찮아"
"gwaenchanha"


너의 추억을 위해 달빛이
neoui chueogeul wihae dalbichi
너의 미래를 위해 태양이
neoui miraereul wihae taeyangi


"괜찮아"
"gwaenchanha"


이 모든 세상과 넌 신이 주신 선물이라고 그걸 깨닫는 순간 어제까지의 세상은 와르르 무너져
i modeun sesanggwa neon sini jusin seonmurirago geugeol kkaedanneun sungan eojekkajiui sesangeun wareureu muneojyeo


내 곁에서 태양같은 웃음을 짓던 작은 소녀는
nae gyeoteseo taeyanggateun useumeul jitdeon jageun sonyeoneun
햇살 같은 미소를 품은 아름다운 숙녀가 됐어
haetsal gateun misoreul pumeun areumdaun suknyeoga dwaesseo


난 너에게 수많은 하늘이 준 선물 중 하나겠지만
nan neo-ege sumanheun haneuri jun seonmul jung hanagetjiman
지금 너와 마주서 용기 내 말할 거야
jigeum neowa majuseo yonggi nae malhal geoya
넌 내 전부라는 걸
neon nae jeonburaneun geol


사랑해
saranghae
External links
Edit
| | |
| --- | --- |
| | Lyrics |