Ad blocker interference detected!
Wikia is a free-to-use site that makes money from advertising. We have a modified experience for viewers using ad blockers

Wikia is not accessible if you've made further modifications. Remove the custom ad blocker rule(s) and the page will load as expected.
This song article is lacking a proper background. You can help by adding one! The relevant section in the Song Article Guideline is a good starting point, and this blog post may also be helpful. We apologize for the inconvenience this may cause in the meantime.

Song pages lacking proper backgrounds are automatically sorted into this category.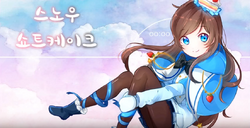 Song title
"스노우 쇼트케이크"
Romaji: Seunou Syoteukeikeu
English: Snow Shortcake
Uploaded July 26, 2016, with 200+ views
Singer(s)
SeeU
Producer(s)
Team System
Bluetoki (music)
Iris (lyrics)
LOVE (V3)
Monggya (illust)
nyaru (movie)
Links
YouTube Broadcast
Background
Edit
"Snow Shortcake" is an original Korean song by Team System featuring SeeU.
Korean (한국어 가사)
Romaja (로마자)
하얗게 눈 내리던 우리 처음 만난 날
hayake nun naerideon uri cheoeum mannan nal
네가 한 첫인사에 내 마음은 들떴어
nega han cheosinsa-e nae maeumeun deultteosseo


오늘은 네게 어떤 이야기를 해줄까
oneureun nege eotteon iyagireul haejulkka
상상은 구름처럼 두두웅실 피어올라
sangsangeun gureumcheoreom duduungsil pieoolla


나만 볼 수 있는 내 소중한 세계를
naman bol su inneun nae sojonghan segyereul
(나의 달콤한 세계를)
(naui dalkomhan segyereul)
너에게 보여줄게 어서 문을 열어봐
neoege boyeojulge eoseo muneul yeoreobwa


잔뜩 기대해도 좋아
jantteuk gidaehaedo joha


달콤한 향기가 우리를 반겨줘
dalkomhan hyanggiga urireul bangyeojweo
부드러운 분위기에 묻혀서
budeureoun bunwegie mutyeoseo
모든 것이 달콤해져가
modeun geosi dalkomhaejyeoga
여기 우리 추억도 함께 말야
yeogi uri chueokdo hamkke marya


폭신폭신 빵 위에 부드런 생크림
poksinpoksin ppang wie budeureon saengkeurim
더하기 딸기맛 시럽처럼
deohagi ttalgimat sireopcheoreom
달달함이 넘쳐 흐르는
daldalhami neomchyeo heureuneun
이곳에서 나 미소를 지어
igoseseo na misoreul jieo


쌀쌀한 바람 불던 너를 만나려던 날
ssalssalhan baram buldeon neoreul mannaryeodeon nal
비어 있는 네 자리 너의 모습은 없었어
bieo inneun ne jari neoui moseupeun eopseosseo


기다리던 나에게 우연히 들려온 말
gidarideon na-ege uyeonhi deullyeoon mal
이제 너는 이곳에 오지 않게 된 거야
ije neoneun igose oji anke doen geoya


떨어트린 초콜릿을 뒤로 하고서
tteoreoteurin chokolliseul doero hagoseo
(그 자리서 돌아서서)
(geu jariseo doraseoseo)
달려가 우리 둘만의 비밀 장소로
dallyeoga uri dulmanui bimil jangsoro


이대론 보내지 않아
idaeron bonaeji anha


달콤한 향기가 나를 감싸주고
dalkomhan hyanggiga nareul gamssajugo
너와의 기억을 떠오르게 해
neowaui gieogeul tteooreuge hae
모든 것이 달콤해져가
modeun geosi dalkomhaejyeoga
여기 우리 추억도 함께 말야
yeogi uri chueokdo hamkke marya


폭신폭신 빵 위에 부드런 생크림
poksinpoksin ppang wie budeureon saengkeurim
더하기 딸기맛 시럽처럼
deohagi ttalgimat sireopcheoreom
행복했던 이곳에서의
haengbokhaetdeon igoseseoui
나날들에 마침표를 찍어
nanaldeure machimpyoreul jjigeo


마지막 선물을 줄게
majimak seonmureul julge
어서 상자를 열어봐
eoseo sangjareul yeoreobwa


달콤한 향기가 우리를 감싸고
dalkomhan hyanggiga urireul gamssago
흰색의 눈은 그 위에 내려앉아
hwensaegui nuneun geu wie naeryeoeonja
기쁜 듯이 미소 지어
gippeun deusi miso jieo
눈물이 나를 적셔버렸지만
nunmuri nareul jeoksyeobeoryeotjiman


서로의 온기가 입술에 닿아서
seoroui ungiga ipsure dahaseo
우리의 마음은 달콤해져가고
uriui ma-eumeun dalkomhaejyeogago
손을 흔들어 즐거웠던 추억이
soneul heundeureo jeulgeoweotdeon chueogi
앞으로도 행복으로 남도록
apeurodo haengbogeuro namdorok
External Links
Edit
| | |
| --- | --- |
| | Articles |