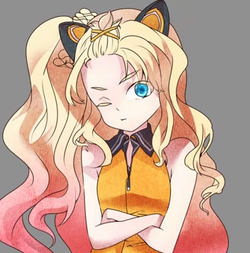 Song title
"시유에게☆맴매를"
Romaja: Siyu-ege ☆ Maemmaereul
English: Spanking ☆ for SeeU
Uploaded March 9, 2012, with 9,000+ views
Singer(s)
SeeU
Producer(s)
Team StarRoid:
Mr.Ecstacy (composer, mixing)
Lence (vocal melody, lyrics)
K.S.S (illust, video)
Links
YouTube Broadcast
Background
Edit
One of producer StarRoid's first songs with SeeU, as well as a creation with the entire Team StarRoid. Electro trance/dance music that, basically, talks about how amazing SeeU is.
The song was featured in the "Crazy Otaku's Unofficial B-Rated Don't Ask SeeU Concert", and was performed both by SeeU, with a dance solo performed by her genderbent counterpart ZeeU.
Korean (한국어 가사)
Romaja (로마자)
옛옛옛옛옛옛옛
yet yet yet yet yet yet yet
Let's Go


지금은 예쁘게 노래 못해요
jigeum-eun yeppeuge norae mothaeyo
조금은 해요 나 서툴러요
jogeumeun haeyo na seotulleoyo
조금씩 조금씩 배우고 있어요
jogeumssik jogeumssik baeugo isseoyo
자 이제
ja ije
다, 다음은 뭘할지 몰라 몰라 몰라
da, da-eumeun mwolhalji molla molla molla
어라 발음 제대로 안난다
eora bareum jedaero annanda
가나다라마바사아 잘만 되네~요
ganadaramabasaa jalman doene~yo
옛
yet
주인양반 제대로 부르게 해봐요
juinyangban jedaero bureuge haebwayo
제가 한번 예쁘게 불러 볼테니까
jega hanbeon yeppeuge bulleo boltenikka
우리 한번 함께 좋은 곡 만들어요
uri hanbeon hamkke joeun gok mandeureoyo
하나 두울 세엣 네엣
hana duul seet neet
자 이제 시작할게요
ja ije sijakhalgeyo
어랏 어랏 잠, 잠깐 이상하잖아요
eorat eorat jam, jamkkan isanghajan-ayo
박자
bakja
옛
yet
처음부터 다시 할게요!
cheo-eumbuteo dasi halgeyo!
어랏 어랏
eorat eorat
잠 잠깐 또 이상하잖아요
jam jamkkan tto isanghajanhayo
음정
eumjeong
제발 제대로 하란 말이에요 정말
jebal jedaero haran marieyo jeongmal
너는 눈치 박치 메롱 바보야
neoneun nunchi bakchi merong baboya
제발 예쁘게 부르게 해줘요 해줘요
jebal yeppeuge bureuge haejwoyo haejwoyo
해주세요 해주세요
haejuseyo haejuseyo
나 어떻해요
na eotteokhaeyo
Ah Ah Ah Ah
이건 아니야
igeon aniya
메모리 부족해
memori bujokhae
컴퓨터 버벅대
keompyuteo beobeokdae
그래도 불렀어
geuraedo bulleosseo
자꾸만 튕기네
jakkuman twinggine
그만 할거야
geuman halgeoya
너랑 끝이야
neorang kkeuchiya
메~롱
me~rong
Other media appearances
Edit
This song was featured in the following concerts:
Crazy Otaku's Unofficial B-Rated Don't Ask SeeU Concert
External links
Edit
| | |
| --- | --- |
| | Lyrics |
Ad blocker interference detected!
Wikia is a free-to-use site that makes money from advertising. We have a modified experience for viewers using ad blockers

Wikia is not accessible if you've made further modifications. Remove the custom ad blocker rule(s) and the page will load as expected.