Ad blocker interference detected!
Wikia is a free-to-use site that makes money from advertising. We have a modified experience for viewers using ad blockers

Wikia is not accessible if you've made further modifications. Remove the custom ad blocker rule(s) and the page will load as expected.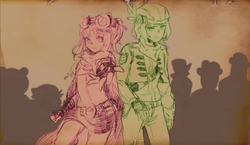 Song title
"시티즌의 노래"
Romaji: Sitijeun-ui Norae
English: Song of Citizen
Uploaded April 13, 2015, with 1,000+ views
Singer(s)
SeeU
Producer(s)
Kaebido (music)
Mei (illustration)
Laknen (V3, lyrics)
RioN (PV)
Links
YouTube Broadcast
Background
Edit
"Song of Citizen" is an original Korean SeeU song about "Citizen" of MapleStory.
Korean (한국어 가사)
Romaja (로마자)
잊고 있나 두려운가
itgo inna duryeounga
그들의 검은 음모가?
geudeului geomeun eummoga?
명백하게 싸움일 뿐
myeongbaekhage ssaumil ppun
발란 따위가 아니야
ballan ttawiga aniya


물러사지말고 그들에게 빼앗아와
mulleo sajimalgo geudeulege ppaesawa
우리들이 가진 천리는 확실히 잡아서
urideuli gajin cheonrineun hwaksilhi japaseo


생명으로 지켜내자
saengmyeong-euro jikyeonaeja
누리의 자유가 오리라!
nuri-ui jayuga orira!
당당하게 일어서라
dangdanghage ileoseora
우리는 헤지스탕스다
urineun haejiseutangseuda
승리보다는 자유를 려는 거야
seungribodaneun jayureul ryeoneun geoya
이 억압의 굴레에서 벗어나 함께 싸우자
i eokapui gulle-eseo beoseona hamkke ssauja


잊고 있나 두려운가
itgo inna duryeounga
그들의 검은 음모가?
geudeului geomeun eummoga?
명백하게 싸움일 뿐
myeongbaekhage ssaumil ppun
발란 따위가 아니야
ballan ttawiga aniya
당당하게 일어서라
dangdanghage ileoseora
우리는 헤지스탕스다
urineun haejiseutangseuda
승리보다는 자유를 려는 거야
seungribodaneun jayureul ryeoneun geoya
이 억압의 굴레에서 벗어나 함께 싸우자
i eokapui gulle-eseo beoseona hamkke ssauja


잊고 있나 두려운가
itgo inna duryeounga
그들의 검은 음모가?
geudeului geomeun eummoga?
명백하게 싸움일 뿐
myeongbaekhage ssaumil ppun
발란 따위가 아니야
ballan ttawiga aniya


나가자 모두들
nagaja modudeul
자유를 향해서
jayureul hyanghaeseo