Ad blocker interference detected!
Wikia is a free-to-use site that makes money from advertising. We have a modified experience for viewers using ad blockers

Wikia is not accessible if you've made further modifications. Remove the custom ad blocker rule(s) and the page will load as expected.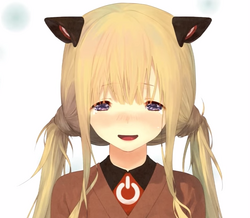 Song title
"신호등"
Romaja: Sinhodeung
English: Signal Lamp
Uploaded November 18, 2013, with 37,000+ views
Singer(s)
SeeU
Producer(s)
Sangnoksu (music, lyrics)
Harafha (illust)
Soraebi (movie)
Links
YouTube Broadcast
Background
Edit
One of producer Sangnoksu's first attempts at a nontraditional style following several releases that featured the traditional Korean style.
Korean (한국어 가사)
Romaja (로마자)
흘러가는 사람사람 비내리는 거리의 노래
heulleoganeun saramsaram binaerineun geori-ui norae
깜박이는 신호등 너머로 네 모습이 보여
kkambagineun sinhodeung neomeoro ne moseubi boyeo


두근대는 고동소리 빨라지는 시간을 느껴
dugeundaeneun godongsori ppallajineun siganeul neukkyeo
비오는 거리인데도 너무나 따스함을 느껴
bioneun georiindedo neomuna ttaseuhameul neukkyeo
가슴 위에 손을 얹고 네 이름을 입 안에 담아
gaseum wie soneul eongo ne ireumeul ip ane dama
너에게는 닿지 않는 이름을
neo-egeneun datji anneun ireumeul
신호등 사이 너무나 먼 이 거리에서 난 기도해
sinhodeung sai neomuna meon i georieso nan gidohae


빗방울 흩날리는 세상
bitbangul heunnallineun sesang
변하지 않는 빨간 신호등 아래
byeonhaji anneun ppalgan sinhodeung arae
내 마음 전하지 못하는 말
nae ma-eum jeonhaji mothaneun mal
빗속에 아련히 풀어놔 하루가 지나고
bitsoge aryeonhi pureonwa haruga jinago


들려오는 소리소리 네 목소리가 귀에 들려
deullyeooneun sorisori ne moksoriga gwie deullyeo
그것만으로도 나는 만족해 여기에 있다고
geugeonman-eurodo naneun manjokhae yeogie itdago
건너편에 너의 모습 손 흔들어도 알지 못해
geonneopyeone neoui moseup son heundeureodo alji mothae
달려가고 싶은 마음을 숨겨
dallyeogago sipeun ma-eumeul sumgyeo
높이 선 등불 흐린 거리
nopi seon deungbul heurin geori
잡을 수 없는 너의 두 손
jabeul su eomnneun neoui du son


바람만 몰아치는 세상
baramman morachineun sesang
변하지 않는 빨간 신호등 아래
byeonhaji anneun ppalgan sinhodeung arae
내 마음 한땀한땀마다
nae ma-eum hanttamhanttammada
할 말만 쌓여만 가
hal malman ssayeoman ga
눈을 감은 순간
nuneul gameun sungan


거리가 돌연 조용해져
georiga doryeon joyonghaejyeo
시간이 멈춰와 영화 속처럼
sigani meomchwowa yeonghwa sokcheoreom
신호등 불빛이
sinhodeung bulbichi


아-
a-
녹색이 세상을 물들여
noksaegi sesang-eul muldeuryeo
한 순간 두 다리가 달려가
han sungan du dariga dallyeoga
너에게-
neo-ege-


밤아 나를 안아줘 빛은 여기 나를 둘러싸
bama nareul anajwo bicheun yeogi nareul dulleossa
눈물을 닦고 드디어 입을 열어
nunmureul dakgo deudieo ibeul yeoreo


빗방울 흩날리는 세상
bitbangul heunnallineun sesang
변하지 않는 초록 신호등 아래
byeonhaji anneun chorok sinhodeung arae
내 마음 전하지 못하는 말
nae ma-eum jeonhaji mothaneun mal
어느덧 흐린 하늘이 개어와
eoneudeot heurin haneuri gae-eowa
달려가 너의 손을 잡아
dallyeoga neoui son-eul jaba
힘을 내 너를 올려다 봐
himeul nae neoreul ollyeoda bwa
왜 너와 난 웃는 걸까
wae neowa nan unneun geolkka
External links
Edit
| | |
| --- | --- |
| | Lyrics |