Ad blocker interference detected!
Wikia is a free-to-use site that makes money from advertising. We have a modified experience for viewers using ad blockers

Wikia is not accessible if you've made further modifications. Remove the custom ad blocker rule(s) and the page will load as expected.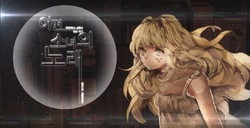 Song title
"어떤 소녀의 노래"
Romaja: Etteon Sonyeo-ui Norae
English: Song of a Certain Girl
Uploaded March 17, 2012, with 89,000+ views
Singer(s)
SeeU
Producer(s)
Sangnoksu (music, lyrics)
Carolina (illust)
Links
YouTube Broadcast
Background
Edit
"
폭력에 관한 노래입니다 (A song about the violence)
"
 

— Author's comment
Sangnoksu wrote this song after seeing the massive amounts of backlash that racist fans put against SeeU. Because she looked similar to Miku, she was written off as a Korean rip-off, receiving massive negative and racist reactions from both Japanese and global fans who saw her as a clone. The song personifies the sadness that Sangnoksu, as a Korean fan, felt when seeing those reactions.
Korean (한국어 가사)
Romaja (로마자)
이 도시엔 너무나도 많은 버려진 꽃이 죽어 있네
i dosien neomunado manheun beoryeojin kkochi jugeo inne
구정물에 꽃잎과 함께 빠지고 뒹굴어 난 자라네
gujeongmure kkonnipgwa hamkke ppajigo dwinggureo nan jarane
손을 높이 들어도 저 해로 들어도
soneul nopi deureodo jeo haero deureodo
닿지 않아 보지 않아
datji anha boji anha
땡볓 아래 서 봐도 열기를 참아도 끝나지 않아
ttaengbyeot arae seo bwado yeolgireul chamado kkeunnaji anha


왜?
wae?
같이 웃고 싶은데
gachi utgo sipeunde
왜?
wae?
떠들고 싶은데
tteodeulgo sipeunde
왜?
wae?
눈 앞에 놓인 세상에 나만 오르지 못할까
nun ape noin sesange naman oreuji mothalkka
왜?
wae?
달려 보고 싶은데
dallyeo bogo sipeunde
왜?
wae?
숨쉬고 싶은데
sumswigo sipeunde
왜?
wae?
살아가는 것조차도 내겐 허락되지 않을까
saraganeun geotjochado naegen heorakdoeji anheulkka


하루하루 매일밤 기도를 시작해봐도 소용 없어
haruharu maeilbam gidoreul sijakhaebwado soyong eopseo
신조차도 무언가를 요구해올 것 같아 저들처럼
sinjochado mueongareul yoguhaeol geot gata jeodeulcheoreom
고갤 숙여 보아도 무릎을 꿇어 봐도 용서 따윈 받지 않아
gogael sugyeo boado mureupeul kkureo bwado yongseo ttawin batji anha
모든 걸 바쳐 봐도 전부를 주어도 더 원해와
modeun geol bachyeo bwado jeonbureul jueodo deo wonhaewa


왜?
wae?
같이 웃고 싶은데
gachi utgo sipeunde
왜?
wae?
떠들고 싶은데
tteodeulgo sipeunde
왜?
wae?
눈 앞에 놓인 세상에 나만 오르지 못할까
nun ape noin sesange naman oreuji mothalkka
왜?
wae?
달려 보고 싶은데
dallyeo bogo sipeunde
왜?
wae?
숨쉬고 싶은데
sumswigo sipeunde
왜?
wae?
살아가는 것조차도 내겐 허락되지 않아
saraganeun geotjochado naegen heorakdoeji anha
왜?
wae?
일어서고 싶은데
ireoseogo sipeunde
왜?
wae?
눈을 뜨고 싶은데
nuneul tteugo sipeunde
왜?
wae?
모두가 있는 세상에 나만 멀어져만 갈까
moduga inneun sesange naman meoreojyeoman galkka
왜?
wae?
정의가 되고픈데
jeong-uiga doegopeunde
왜?
wae?
악이 되기 싫은데
agi doegi sireunde
왜?
wae?
내가 있다는 자체가 용서 받지 못하는 걸까
naega itdaneun jachega yongseo batji mothaneun geolkka


용서
yongseo
용서해줘
yongseohaejwo


왜?
wae?
같이 웃고 싶은데
gachi utgo sipeunde
왜?
wae?
떠들고 싶은데
tteodeulgo sipeunde
왜?
wae?
눈 앞에 놓인 세상에 나만 오르지 못할까
nun ape noin sesange naman oreuji mothalkka
왜?
wae?
끝나지 않고픈데
kkeunnaji ankopeunde
왜?
wae?
더 살아가고픈데
deo saragagopeunde
왜?
wae?
내가 사는 온 세상이 나를 저버리는 것일까
naega saneun on sesangi nareul jeobeorineun geosilkka


이 도시엔 너무나도 많은 버려진 꽃이
i dosien neomunado manheun beoryeojin kkochi
External links
Edit
| | |
| --- | --- |
| | Lyrics |