Ad blocker interference detected!
Wikia is a free-to-use site that makes money from advertising. We have a modified experience for viewers using ad blockers

Wikia is not accessible if you've made further modifications. Remove the custom ad blocker rule(s) and the page will load as expected.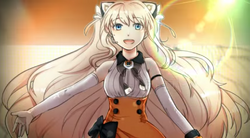 Song title
"언어의 노래"
Romaja: Eon-eoui Norae
English: Song of Languages
Uploaded November 17, 2013, with 576,000+ views
Singer(s)
SeeU
Producer(s)
Sangnoksu (music, lyrics)
Momyang (illust)
RPH (movie)
Links
YouTube Broadcast
Background
Edit
"언어의 노래" is one of the songs featured in SeeU's concert, The First or the Last. The lyrics talks about the story of SeeU, and how she has always struggled to gain popularity. But it speaks about hope, and never giving up, as SeeU did become more popular and successful as time went on.
Korean (한국어 가사)
Romaja (로마자)
살랑이는 시계소리
sallangineun sigyesori
흘러나가는 피아노소리
heulleonaganeun pianosori
떨려오는 말을 감싸 안아 그려 나가는
tteollyeooneun mareul gamssa ana geuryeo naganeun
음악소리
eumaksori


걸음 걸음걸음마다
georeum georeumgeoreummada
피어 나는 수많은 말들
pieo naneun sumanheun maldeul
하루 하루하루마다 지워나가네
haru haruharumada jiweonagane
일렁 일렁일렁이는
illeong illeong-illeong-ineun
자아내지 못하는 말
jaanaeji mothaneun mal
마음 마음마음마다 쌓여 나가네
ma-eum ma-eumma-eummada ssayeonagane
한 소설 속에 살아가는 사람들처럼
han soseol soge saraganeun saramdeulcheoreom
글자로만 이야기하는 사람처럼
geujaroman iyagihaneun saramdeulcheoreom
나를 그려가는 돌연 시작하는 하나 뿐인 언어의 춤
nareul geuryeoganeun doryeon sijakhaneun hana ppunin eoneo-ui chum


번져나가는 가락에
beonjyeonaganeun garage
스며들어온 하모니
seumyeodeureoon hamoni
드라마처럼 흘러가는 멜로디
deuramacheoreom heulleoganeun mellodi
시간을 깨우는 리듬
siganeul kkae-uneun rideum
울려퍼지는 단어들
ullyeopeojineun daneodeul
나를 전하는 모양 없는 글자들
nareul jeonhaneun moyang eomnneun geuljadeul


깜빡 깜빡깜빡이는
kkambak kkambak-kkambak-ineun
모두 앞에 작은 목소리
modu ape jageun moksori
듣는 사람 하나 없이 지워져 가네
deunneun saram hana eopsi jiwojyeogane
굳게 입을 다물고서
gutge ibeul damulgoseo
자아내길 포기한 말
jaanaegil pogihan mal
가슴 가슴가슴마다 쌓아나가네
gaseum gaseumgaseummada ssaanagane
시 속에서 자유를 얻은 사람들처럼
si sogeseo jayureul eodeun saramdeulcheoreom
높고 높이 글자를 쌓는 사람처럼
nopgo nopi geuljareul ssanneun saramcheoreom
몸을 일으키는 손을 들어가는 나를 새기는 손짓들
momeul ireukineun soneul deureoganeun nareul saegineun sonjitdeul


번져 나가는 가락에
beonjyeo naganeun garage
스며들어온 하모니
seumyeodeureoon hamoni
드라마처럼 흘러가는 멜로디
deuramacheoreom heulleoganeun mellodi
시간을 깨우는 리듬
siganeul kkae-uneun rideum
울려퍼지는 단어들
ullyeopeojineun dam-eodeul
여기 세상에 하나 뿐인 언어를 시작하네
yeogi sesange hana ppunin eoneoreul sijakhane


살랑거리는 시계소리 흘러나가는 이야기 소리
sallanggeorineun sigyesori heulleonaganeun iyagi sori
영원토록 나의 자리는 없다는 듯
yeong-wontorok naui jarineun eopdaneun deut
소리 없는 마음을 열어
sori eomnneun ma-eumeul yeoreo
걷지 못하던 길을 걸어나가
geotji mothadeon gireul georeoga
저 멀리 뻗은 손길이 닿은 순간
jeo meolli ppeodeun songiri danneun sungan


울려퍼지는 가락에
yullywopeojineun garage
피어오르는 하모니
pieooreuneun hamoni
영화 속처럼 요동치는 멜로디
yeonghwa sokcheoreom yodongchineun mellodi
시간을 깨워낸 리듬
siganeul kkaewonaen rideum
널리 퍼져가는 단어들
neolli peojyeoganeun daneodeul
나를 전하는 모양 없는 글자들
nareul jeonhaneun moyang eomnneun geuljadeul
화사하게 춤추는 소리
hwasahage chumchuneun sori
세상을 가득 메운 떨림들
sesangeul gadeuk me-un tteollimdeul
뜨거워지는 심장의 울림
tteugeowojineun simjang-ui ullim
숨소리 사이 열린 나의 단어가
sumsori sai yeollin naui daneoga
Other media appearances
Edit
This song was featured in the following concerts:
External links
Edit
| | |
| --- | --- |
| | Lyrics |