Ad blocker interference detected!
Wikia is a free-to-use site that makes money from advertising. We have a modified experience for viewers using ad blockers

Wikia is not accessible if you've made further modifications. Remove the custom ad blocker rule(s) and the page will load as expected.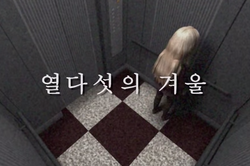 Song title
"열다섯의 겨울"
Romaja: Yeoldaseot-ui Gyeoul
English: Winter of the Fifteen
Japanese: 十五歳の冬
Romaji: Juu-go Sai no Fuyu
Uploaded March 11, 2012, with 43,000+ views
Singer(s)
SeeU
Producer(s)
Sesirine
Links
YouTube Broadcast
Background
Edit
"Yeoldaseot-ui Gyeoul" is an original SeeU song. It was created in awareness to the high suicide rate of teens in South Korea. Due to the pressures of school and society being pressed upon Korean youth, an unfortunate percentage of them will take their own lives. The piece calls attention to and brings awareness to the fragility of life and unfortunate events that can happen.
Succeeding versions
Edit
SeeU's Japanese Cover

Featuring
SeeU
Author(s)
Sesirine (music, lyrics, arrangement), Mr. 3D Netkama (illust, video)
Category
VOCALOID cover

Description

A cover featuring SeeU singing in Japanese.
Korean (한국어 가사)
Romaja (로마자)
나는 어째서 살아 있을까
naneun eojjaeseo sara isseulkka
나란 존재는 어떤걸까
naran jonjaeneun eotteongeolkka
몸도 마음마저도 연약한 나의
momdo ma-eummajeodo yeonyakhan naui
작은 이 손을 잡아줄 수 있겠니?
jageun i soneul japajul su itgenni?


난간에 위태로이 기대선 나
nangane witaeroi gidaeseonna
두근 거리며 뛰는 고동도
dugeun georimyeo ttwineun godongdo
여기서 뛰어내리는 것만으로
yeogiseo ttwieonaerneun geotmaneuro
얼마 안 가 부서지겠지
eolma an ga buseojigetji


그 때는 내가 이 세상에서 사라지는 게
geu ttaeneun naega i sesangeseo sarajineun ge
무섭다고는 생각하진 않았어
museopdagoneun saenggakhajin anhasseo
오늘따라 차디찬 바람에 불어오네
oneulttara chadichan barape bureoone
몰리 구름을 타고 떠나고 싶어
molli gureumeul tago tteonago sipeo
항상 괴롭힘 당해 온 나
hangsang goerophim danghae on na
벗어나기만을 항상 바라왔어
beoteonagimaneul hangsang harawasseo
하지만 아무도 알아주지 않아
hajiman amudo arajuji anha
상처만 떠안은 나에게
sangcheoman tteoaneun na-ege


돌아온 건 더 큰 아픔
doraon geon deo keun apeum
더 이상 나 따위는 필요 없으니까
deo isang na ttawineun piryo eopseunikka
이 세상을 떠나기로 했지만
i sesangeul tteonagiro haetjiman
여기엔 아무도 오지 않아
yeogien amudo oji anha


짓빛에 물들어버린 꿈 따위는
jitbiche muldeureobeorin kkum ttawineun
더 이상은 꾸지 않아도 뒤니까
deo isangeun kkuji anhado dwinikka
이제는 나는 살아갈 수 없어
ijeneun naneun saragal su eopseo
망갈져버린 자신감으로
manggal jyeobeorin jasingameuro


사랑이나 동정심은 나에게는
sarangina dongjeongsimeun na-egeneun
더 이상 의미 없으니까
deo isang uimi eopseunikka
이 괴로움 속 고통의 끝을 찾아다니며
i goeroum sok gotong-ui kkeuteul chajadanimyeo
마지막으로 찾아낸 이해답
majimageuro chajanaen ihaedap


왜 그랬는다 사실은 나도 잘 모르겠어
wae geuraenneunda sasireun nado jal moreugesseo
하지만 어느 새 나는 여기 옥세상에
hajiman eoneu sae naneun yeogi oksesange
괴롭힘이 더는 싫어서
goerophimi deoneun silheoseo
벗어나기만을 항상 바라왔어
beoseonagimaneul hangsang barawasseo
하지만 아무도 알아주지 않아
hajiman amudo arajuji anha
상처 입히고 상처 받던
sangcheo iphigo sangcheo batdeon
그런 나의 탈출구로
geureon naui talchulguro
이런 건 한 본도 생각 못 했는데
ireon geon han bondo saenggak mot haenneunde


만약에 내가 다시 태어날 수 있다면
manyage naega dasi taeeonal su itdamyeon
조금은 더 행복한 곳에서 살아갔으면 좋겠어
jogeumeun deo haengbokhan goseseo saragasseumyeno jokesseo
External links
Edit
| | |
| --- | --- |
| | Lyrics |
| | |
| --- | --- |
| | Articles |