Ad blocker interference detected!
Wikia is a free-to-use site that makes money from advertising. We have a modified experience for viewers using ad blockers

Wikia is not accessible if you've made further modifications. Remove the custom ad blocker rule(s) and the page will load as expected.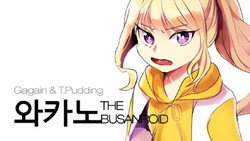 Song title
"와카노 the Busanloid"
Romaja: Wakano the Busanloid
Uploaded December 7, 2012, with 26,000+ views
Singer(s)
SeeU
Producer(s)
GaGain (music, lyrics)
Tiny Puding (movie)
Links
YouTube Broadcast
Background
Edit
This is an original SeeU song written in Korean dialects. "와카노" (Wakano) means "What are you doing?" or "Why are you do this to me?" in Busan dialect.
Korean (한국어 가사)
Romaja (로마자)
여보세요 어 내다
yeoboseyo eo naeda
뭐라꼬? 가시나야 지금 머라카는데?
mworakko? gasinaya jigeum meorakaneunde?
진짜가?
jinjjaga?
어 알았다 드가 자
eo aratda deuga ja
이기 미칫나
igi michinna


뭔데
mwonde
이기 뭐꼬
igi mwokko
뭐라 카는데
mwora kaneunde
와카노
wakano


오빠야 지금 뭐하노?
oppaya jigeum mwohano?
지금 퍼뜩 나온나 내 좀 보자
jigeum ppeotteuk naonna nae jom boja
내가 지금 니 좀 봐야겠거던
naega jigeum ni jom bwayagetgeodeon
지금 꼭 퍼뜩 나오라 안카나
jigeum kkok peotteuk naora ankana
뭐라꼬?
mworakko?
이기 지금 난중에 할 얘기가 아이다
igi jigeum nanjunge hal yaegiga aida
셋 셀 동안 나와라 하나 둘 셋
set sel dongan nawara hana dul set
이기 지금 어데 자빠져 있길래 안 된다 카는데?
igi jigeum eode jappajyeo itgillae an doenda kaneunde?
내 지금 느그 집에 간다 끊으리
hae jigeum neugeu jibe ganda kkeunheuri


와카노
wakano
참말로 와카노
chammallo wakano
와 이래 쌌노
wa irae ssanno
미친 거 아이가?
michin geo aiga?
뭐가 이래 입을 게 읍노 오늘따라
mwoga irae ibeul ge eomno oneulttara


달리고 달리고 달리고 달리고
dalligo dalligo dalligo dalligo
달리고 달리고 달려
dalligo dalligo dallyeo
달리고 달리고 달리고 달리고
dalligo dalligo dalligo dalligo
달리고 달리고 달려
dalligo dalligo heok heok
달리고 달리고 달리고 달리고
dalligo dalligo dalligo dalligo
달리고 달리고 달려
dalligo dalligo dallyeo
달리고 달리고 달리고 달리고
dalligo dalligo dalligo dalligo
달리고 달리고 달려
dalligo dalligo heok jirine


니 지금 어데고?
ni jigeum eodego?
왜 느그 집에 읍나?
wae neugeu jibe eumna?
텨삤나? 니 텨삤제?
tyeoppinna? ni tyeoppitje?
내가 간다 안캤나? 어?
naega ganda ankaenna? eo?
니 지금 누구하고 있는데? 어?
ni jigeum nuguhago inneunde? eo?
지난번에 만난 그 가시내 아이가?
jinanbeone mannan geu gasinae aiga?
그 가시내 맞제? 니 사촌누나라 카던
geu gasinae matje? ni sachonnunara kadeon
아니라꼬?
anirakko?
내 지지배 목소리 들리는데
nae jijibae moksori deullineunde
딱 걸맀다 니
ttak geollitda ni
지금 뭐 하자는 기고?
jigeum mwo hajaneun gigo?
니 돌았나? 돌았제?
ni doanna? doratje?
미친거 아이가? 어?
michingeo aiga? eo?
됐다 다 필요 읍다
dwaetda da piryo eupda
고마 쌔리 뽀사불끼다
goma ssaeri pposabolkkida
오늘 니 죽고 내 죽자
oneul ni jukgo nae jukja


와카노 와카노
wakano wakano
참말로 와카노
chammallo wakano


직이고 직이고 직이고 직이고
jigigo jigigo jigigo jigigo
직이고 직이고 직여
jigigo jigigo jigyeo
직이고 직이고 직이고 직이고
jigigo jigigo jigigo jigigo
직이고 직이고 직이삐라
jigigo jigigo jigippira
부수고 부수고 부수고 부수고
busugo busugo busugo busugo
부수고 부수고 뽀사삐
busugo busugo pposappi
부수고 부수고 부수고 부수고
busugo busugo busugo busugo
부수고 부수고
busugo busugo
하이익 경찰아저씨 그게 아이고
hahiik gyeongcharajeossi geuge aigo


마 됐다
ma dwaetda
세상에 머스마가 니 혼자가
sesange meoseumaga ni honjaga
쌔고 쌘게 남자다
ssaegossaenge namjada
처음엔 간이고 쓸개고 다 빼줄라 카더니만
cheo-eumen ganigo sseulgaego da ppaejulla kadeoniman
오도방정을 떨어다주매
odobangjeongeul tteoreodajumae
이뻐해줄라고 했드만
ippeohaejullago haetdeuman
이제 쭝났다 쭝났어
ije jjungnatda jjungnasseo
캬아 소주가 쓰다
kyaa sojuga sseuda
이힉
ihik
External links
Edit
| | |
| --- | --- |
| | Lyrics |