Ad blocker interference detected!
Wikia is a free-to-use site that makes money from advertising. We have a modified experience for viewers using ad blockers

Wikia is not accessible if you've made further modifications. Remove the custom ad blocker rule(s) and the page will load as expected.
This song article is lacking a proper background. You can help by adding one! The relevant section in the Song Article Guideline is a good starting point, and this blog post may also be helpful. We apologize for the inconvenience this may cause in the meantime.

Song pages lacking proper backgrounds are automatically sorted into this category.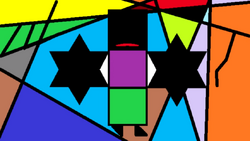 Song title
"용사 찾기 대마왕"
Romaja: Yongsa Chatgi Daemawang
English: Demon King in Search of The Hero
Uploaded October 7, 2014, with 2,000+ views
Singer(s)
SeeU
Producer(s)
zzZ
Links
YouTube Broadcast
Background
Edit
"Yongsa Chatgi Daemawang" is an original song by zzZ featuring SeeU.
Korean (한국어 가사)
Romaja (로마자)
오늘도 따분함에 지쳐 혼자서 뒹굴며 시간 때우다가
oneuldo ttabunhame jichyeo honjaseo dwinggulmyeo sigan ttae-udaga
갑자기 떠오르는 생각, 용사를 만나러 모험의 대륙으로 가자
gapjagi tteooreuneun saenggak, yongsareul mannareo moheom-ui daeryugeuro gaja


지겨운 마왕 성을 나와 기지개 켜고서 숲을 걷다 보니
jigyeoun mawang seongeul nawa gijigae kyeogoseo supeul geotda boni
언? 가 눈에 익숙했던 슬라임 한 마리, 나를 공격하려고 하네
eonjen ga nun-e iksukhaetdeon seullaim han mari, nareul gonggyeokharyeogo hane
정말 깜짝 놀라버린 나는 순간 파이어볼을 날리었고
jeongmal kkamjjak nollabeorin naneun sungan paieoboreul nallieotgo
그 후 주위를 둘러보니 아, 이런 다 황무지야
geu hu juwireul dulleoboni a, ireon da hwangmujiya


어쨌든 나의 동료가 된 슬라임 한 마리 데리고 가던 길
eojjaetdeun naui dongryoga doen seullaim han mari derigo gadeon gil
불빛이 가득해진 거리 가슴이 떨려와 나도 몰래 침을 삼키네
bulbichi gadeukhaejin geori gaseumi tteollyeowa nado mollae chimeul samkine


왼손에 대검, 오른손엔 마법,
oensone daegeom, oreunsonen mabeop,
인간들 괴롭히러 마을 안에 왔지만
ingandeureul goerophireo ma-eul ane watjiman
여기를 봐도 저기를 봐도
yeogireul bwado jeogireul bwado
지키는 용사가 없네 재미없게
jikineun yongsaga eomnne jaemieoptge


심연의 바다를 넘어서 천천히, 느긋이 길을 걸어가다
simyeon-ui badareul neomeoseo cheoncheonhi, neugeusi gireul georeogada
무언가 불안한 기분에 재빨리, 조심히 지도를 펼쳐보니깐
mueonga buranhan gibune jaeppalli, josimhi jidoreul pyeolchyeobonikkan
아 이런 길을 잘못 들었구나 완전 반대 방향이었었구나
a ireon gireul jalmot deureotguna wanjeon bandae banghyangieotguna
그냥 집으로 돌아갈까나 아오, 진짜 돌겠네
geunyang jibeuro doragalkkana ao, jinjja dolgenne


그렇게 우여곡절 끝에 도착한 이곳은 모험의 대륙
geureoke uyeogokjeol kkeute dochakhan igoseun moheom-ui daeryuk
이제는 만날 수 있다고, 다시 또 가슴이 콩닥콩닥 설레어오네
ijeneun mannal su itdago, dasi tto gaseumi kongdakkongdak seolleeoone


왼손에 대검, 오른손엔 마법,
oensone daegeom, oreunsonen mabeop,
용사와 싸움하러 대륙 안에 왔지만
yongsawa ssaumhareo daeryuk ane watjiman
여기를 봐도 저기를 봐도
yeogireul bwado jeogireul bwado
아무도 용사가 아냐
amudo yongsaga anya


왼손에 대검, 오른손엔 마법,
oensone daegeom, oreunsonen mabeop,
용사를 찾으려고 세상을 뒤졌지만
yongsareul chajeuryeogo sesangeul dwijyeotjiman
여기를 봐도 저기를 봐도
yeogireul bwado jeogireul bwado
어디도 용사는 없어 돌아가네
eodido yongsaneun eopseo doragane


결국엔 다시 재미가 없어 또 깊은 잠에 빠지네
gyeogugen dasi jaemiga eopseo tto gipeun jame ppajine
External links
Edit
| | |
| --- | --- |
| | Lyrics |