Ad blocker interference detected!
Wikia is a free-to-use site that makes money from advertising. We have a modified experience for viewers using ad blockers

Wikia is not accessible if you've made further modifications. Remove the custom ad blocker rule(s) and the page will load as expected.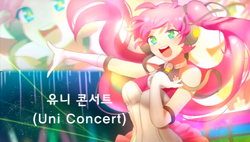 Song title
"유니 콘서트"
Romaja: Yuni Konseoteu
English: Uni Concert
Uploaded October 25, 2015, with 51,000+ views
Singer(s)
SeeU
Producer(s)
Team System
Ujusangja (music)
Urien (lyrics)
Haneulsyukeurim
LOVE (V3)
Inhye (illust)
Rume(movie)
Links
YouTube Broadcast
Background
Edit
"Uni Concert" is an original Korean song by Team System featuring SeeU. The song is about Uni hoping to one day be able to perform in a live concert and sing for all the world to hear.
Korean (한국어 가사)
Romaja (로마자)
어느 화창한 날 오후에
eoneu hwachanghan nal ohue
눈을 뜨게 된 핑크머리의 소녀
nuneul tteuge doen pingteumeoriui sonyeo
어색한 듯 주윌 둘러보다가
eosaekhan deut juwil dulleobodaga
떨리는 목소리로 노래해
tteollineun moksoriro noraehae


기댈 품고 태어난 소녀
gidael pumgo taeeonan sonyeo
모두 그 목소리 듣기 위해 모여
modu geu moksori deutgi wihae moyeo
자신을 바라보는 그들 앞에
jasineul baraboneun geudeul ape
숨을 내쉬고 노래를 부르네
sumeul naeswigo noraereul bureune


시작되는 소녀의 밝은 노랫소리는
sijakdoeneun sonyeoui balgeun noraessorineun
기나긴 침묵을 깨고서 울려퍼지네
ginagin chimmugeul kkaegoseo ullyeopeojine
쌓여왔던 소망을 희망으로 바꾸며
ssahyeowatdeon somangeul huimangeuro bakkumyeo
소녀에게 떠오른 미소
sonyeoege tteooreun miso


스쳐 지나가는 나날들
seuchyeo jinaganeun nanaldeul
모두 안 될 거라 말했던 시간들
modu an doel geora malhaetdeon sigandeul
이제 그들에게 들려줄 거야
ije geudeurege deullyeojul geoya
새롭게 태어난 내 색깔을
saeropge taeeonan nae saekkareul


다시 한 번 시작된 소녀의 저 노랫소리는
dasi han beon sijakdoen sonyeoui noraessorineun
사람들의 마음 속까지 울려퍼지네
saramdeurui ma-eum sokkaji ullyeopeojine
그들에게 잊지 못할 추억을 남기며
geudeurege itji mothal chueogeul namgimyeo
소녀를 비추는 조명들
sonyeoreul bichuneun jomyeongdeul


그 순간 노래가 멈추고
geu sungan noraega meomchugo


이제 우리 사이에 흐르던 고요함과
ije uri saie heureudeon goyohamgwa
잠시 찾아온 정적을 저 뒤로 하고서
jamsi chajaon jeongjeogeul jeo dwiro hagoseo
떨리는 마음 천천히 가다듬고서는
tteollineun ma-eum cheoncheonhi gadadeumgoseoneun
마지막 소절을 노래해
majimak sojeoreul noraehae


시작되는 소녀의 밝은 노랫소리는
sijakdoeneun sonyeoui balgeun noraessorineun
모두의 목소리와 함께 울려퍼지네
moduui moksoriwa hamkke ullyeopeojine
더 많은 노력과 열정을 기다리면서
deo manheun noryeokgwa yeoljeongeul gidarimyeonseo
소녀에게 떠오른 미소
sonyeoege tteooreun miso


오랜 시간 기다리고 또 기다려서
oraen sigan gidarigo tto gidaryeoseo
마침내 시작된 나의 첫 번째 노래
machimnae sijakdoen naui cheot beonjjae norae
모두 축하하면서 같이 노래하네
modu chukhahamyeonseo gati noraehane
저 멀리까지 들리도록
jeo meollikkaji deullidorok
External Links
Edit
| | |
| --- | --- |
| | Articles |