Ad blocker interference detected!
Wikia is a free-to-use site that makes money from advertising. We have a modified experience for viewers using ad blockers

Wikia is not accessible if you've made further modifications. Remove the custom ad blocker rule(s) and the page will load as expected.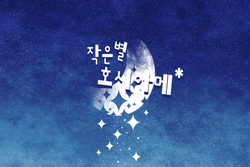 Song title
"작은별 호시아메"
Romaja: Jageunbyeol Hoshi Ame
English: Starlet, Hoshi Ame
Uploaded September 29, 2013, with 7,000+ views
Singer(s)
SeeU
Producer(s)
kimpaksa (music)
Amy (lyrics)
ISO (illust)
RPH (movie)
Links
YouTube Broadcast
Background
Edit
"Jageunbyeol Hoshi Ame" is an original SeeU song written by kimpaksa, one of the members on Team. Hurihuri.
Korean (한국어 가사)
Romaja (로마자)
오늘은 왠지 가슴이 두근두근 설레는 걸
oneureun waenji gaseumi dugeundugeun seolleneun geol
하늘이 붉게 물들었을 때 세상이 밝아져
haneuri bulkke muldeureosseul ttae sesangi balgajyeo
창가에 서서 하늘을 바라보는 네가 보여
changga-e seoseo haneureul baraboneun nega boyeo
혹시나 나를 보고 있을까 얼굴이 빨개져
hoksina nareul bogo isseulkka eolguri ppalgaejyeo


내 안에 있는 사랑이란
nae ane inneun sarangiran
조그만 빛이 너와 만나
jogeuman bichi neowa manna
서로를 비추는 작은 별이 되었으면
seororeul bichuneun jageun byeori doeeosseumyeon


Boy I Love You
수많은 별들 사이에 누구보다도 빛나는 별
sumanheun byeoldeul saie nugubodado binnaneun byeol
나를 찾아 줘
naui chaja jwo
별사탕보다 더욱 달콤한 맘 너만 녹일 수 있어
byeolsatangboda deouk dalkomhan mam neoman nogil su isseo
낮이면 조금은 외롭겠지만 밤은 금방 돌아와 줄 테니까
najimyeon jogeumeun oeropgetjiman bameun geumbang dorawa jul tenikka
언제나 난 너를 기다릴 게
eonjena nan neoreul gidaril ge
External links
Edit
| | |
| --- | --- |
| | Lyrics |