This song article is lacking a proper background. You can help by adding one! The relevant section in the Song Article Guideline is a good starting point, and this blog post may also be helpful. We apologize for the inconvenience this may cause in the meantime.

Song pages lacking proper backgrounds are automatically sorted into this category.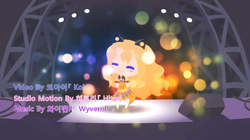 Song title
"종이비행기"
Romaja: Jongibihaenggi
English: Paper Plane
Uploaded June 25, 2016, with 2,000+ views
Singer(s)
SeeU
Producer(s)
WyvernP (music)
Narus (lyrics)
Koi (video)
Hitori (motion)
코알라 류하 (special thanks)
Seenica (illust)
Links
YouTube Broadcast
Background
Edit
"Jongibihaenggi" is an original song by WyvernP featuring SeeU.
Korean (한국어 가사)
Romaja (로마자)
오늘이 내일에게 보낸 짧은 편지가
oneuri naeirege bonaen jjalbeun pyeonjiga
언제 어떻게 딩동 나에게로 올까요
eonje eotteoke dingdong naegero olkkayo
새하얀 종이 위에 꾹꾹 한 자씩 심은
saehayan jongi wie kkuk kkuk han hanassik simeun
목소리가 어떻게 나를 찾아올까요
moksoriga eotteoke nareul chajaolkkayo


아- 책상 위에 놓여 있는
a- chaeksang wie noyeo inneun
하얀 종이에 "힘 내" 라고 써요
hayan jongie "him nae" rago sseoyo
아- 종이비행기가 날아요
a- jongi bihaenggi ga narayo
내일로 가는 길을 따라
naeillo ganeun gireul ttara


더 높이 멀리 날아가라
deo nopi meolli naragara
이 세상에 나의 희망찬 멜로디로 채워
i sesange naui huimangchan mellodiro chaeweo
나의 메세지가 담긴 이 비행기
naui mesejiga damgin i bihaenggi
누군가가 힘을 낼 수 있게 도와줘
nugungaga himeul nael su itge dowajweo


어른이 되고 나서 받은 나의 편지는
eoreuni doego naseo badeun naui pyeonjineun
온롱 까맣게 타고 누렇게 변했지요
onrong kkamake tago nureoke byeonhaetjiyo
새하얀 종이 위에 꾹꾹 한 자씩 심은
saehayan jongi wie kkuk kkuk han hanassik simeun
목소리가 말라서 그만 시들었어요
moksoriga mallaseo geuman sideureosseoyo


아- 흰 구름의 목소리가
a- huin gureumui moksoriga
그만 고개를 깊게 숙였어요
geuman gogaereul gipge sugyeosseoyo
아- 다시 살려내고 싶어요
a- dasi sallyeonaego sipeoyo
어릴 적 푸른 색깔로요
eoril jeok pureun saekkalloyo


더 높이 멀리 날아가라
deo nopi meolli naragara
이 세상에 나의 희망찬 멜로디로 채워
i sesange naui huimangchan mellodiro chaeweo
나의 메세지가 담긴 이 비행기
naui mesejiga damgin i bihaenggi
누군가가 힘을 낼 수 있게 도와줘
nugungaga himeul nael su itge dowajweo


물론 쉽지만은 않겠죠
mullon swipjimaneun anketjyo
어쩌면 어려울지도 모르는 일인걸요
eojjeomyeon eolyeouljido moreuneun iringeoryo
하지만 난 걸어갈 거에요
hajiman nan georeogal geoyeyo
나의 목소리가 다시금 꽃필 때까지
naui moksoriga dasigeum kkotpil ttaekkaji


더 높이 멀리 날아가라
deo nopi meolli naragara
이 세상에 나의 희망찬 멜로디로 채워
i sesange naui huimangchan mellodiro chaeweo
나의 메세지가 담긴 이 비행기
naui mesejiga damgin i bihaenggi
누군가가 힘을 낼 수 있게 도와줘
nugungaga himeul nael su itge dowajweo
External links
Edit
| | |
| --- | --- |
| | Downloads |
| | |
| --- | --- |
| | Lyrics |