Ad blocker interference detected!
Wikia is a free-to-use site that makes money from advertising. We have a modified experience for viewers using ad blockers

Wikia is not accessible if you've made further modifications. Remove the custom ad blocker rule(s) and the page will load as expected.
This song article is lacking a proper background. You can help by adding one! The relevant section in the Song Article Guideline is a good starting point, and this blog post may also be helpful. We apologize for the inconvenience this may cause in the meantime.

Song pages lacking proper backgrounds are automatically sorted into this category.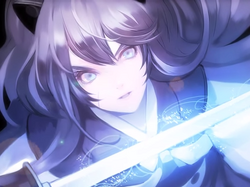 Song title
"쾌진격"
Romaja: Kwaejingyeok
English: The Intrepid Advance
Uploaded October 20, 2013, with 8,000+ views
Singer(s)
SeeU
Producer(s)
Requiem (music, lyrics)
Dappang (illust)
Wollanga (movie)
Links
YouTube Broadcast
Background
Edit
"Kwaejingyeok" is an original SeeU song.
Korean (한국어 가사)
Romaja (로마자)
축 쳐진 어깨 무릭함으로 가득한 눈
chuk chyeojin eokkae murikhameuro gadeukhan nun
나를 뒤덮은 절망 깊은 어둠이
nareul dwideopeun jeolmang gipeun eodumi
일어서지 못하게 나락에 가둬
ireoseoji mothage narage gadwo
질풀과 같은 열정을 태워
jilpulgwa gateun yeoljeongeul taewo
한번 더 일어설 용 기를 주소서
hanbeon deo ireoseol yong gireul jusoseo


가진 것 없고 용기도 없고 어제의 나는 이제는 없어
gajin geot eoptgo yonggido eoptgo eoje-ui naneun ijeneun eopseo
희망을 푼그 열경을 먹고 악에 받쳐 소리질리
huimangeul pungeu yeolgyeongeul meokgo age badchyeo sorijilli


허무한 욕망 순간의 쾌락 속에 갇혀
heomuhan yokmang sungan-ui kwaerak soge gachyeo
지정 순결한 꿈과 굳센 투자는
jijeong sungyeolhan kkumgwa gutsen tujaneun
모두 외면당한 채 쳐박혀 있어
modu wimyeondanghan chae chyeobakhyeo isseo
가슴을 긔고 크게 쉼호흡
gaseumeul guigo keuge swimhoheup
내가 귈쳐진 저 하늘로 활주를
naega gwilchyeojin jeo haneullo hwaljureul


가진 것 없고 용기도 없딘 어제의 나는 이제는 없어
gajin geot eoptgo yonggido eoptdin eoje-ui naneun ijeneun eopseo
이 세상 모두 내 발밑에 뒤 한계따읜 부쉬버리
i sesang modu nae balmite dwi hangyetta-uin buswobeori
마음의 눈에 비친 세상을 다 바꿔봐
ma-eum-ui nune bichin sesangeul da ba kkweobwa
꿈없는 절주를
kkumeomnneun jeoljureul


질풍과 같이 미친듯 달러
jilpunggwa gati michindeut dalleo
한번 더 일어서 나아갈 투자를
hanbeon deo ireoseo naagal tujareul


가진 것 없그 용기도 없던 어제의 나는 어제는 없어
gajin geot eoptgeu yonggido eoje-ui naneun eojeneun eopseo
희망을 품고 열정을 먹고 악에 받져 소리질리
huimangeul pumgo yeoljeongeul meokgo age batjyeo sorijilli
가진 것 없그 용기도 없던 어제의 나는 어제는 없어
gajin geot eoptgeu yonggido eoptdeon eoje-ui naneun eojeneun eopseo


이 세상 모두 내 발밑에 둬 한게따원 부숴버리
i sesang modu nae balmite dwo hangettaweon buswobeori
마음의 눈에 비친 세상을 다 바꿔봐
ma-eum-ui nune sesangeul da bakkweobwa


꿈없는 절주를
kkumeomnneun jeoljureul
External links
Edit
| | |
| --- | --- |
| | Lyrics |