This song article is lacking a proper background. You can help by adding one! The relevant section in the Song Article Guideline is a good starting point, and this blog post may also be helpful. We apologize for the inconvenience this may cause in the meantime.

Song pages lacking proper backgrounds are automatically sorted into this category.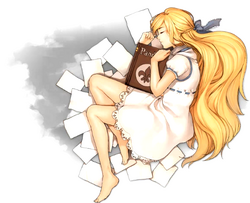 Song title
"판도라의 상자"
Romaja: Pandora-ui Sangja
English: Pandora's Box
Uploaded February 18, 2012, with 51,000+ views
Singer(s)
SeeU
Producer(s)
Sangnoksu (music, lyrics)
Tissue (illust)
Links
YouTube Broadcast
Background
Edit
"Pandora-ui Sangja" is an original SeeU song.
| Korean (한국어 가사) | Romaja (로마자) |
| --- | --- |
| 어느 들판 위에 작은 책은 놓였네 | eoneu deulpan wie jageun chaegeun noyeonne |
| 날아갈 듯 얇은 책장을 껴안고서 | naragal deut yalbeun chaekjangeul kkyeoan-goseo |
| 어느 누구 들판 위에 책을 보았네 | eoneu nugu deulpan wie chaegeul boanne |
| 가벼이 한장 책장을 넘기네 | gabyeoi hanjang chaekjangeul neomgine |
| 바람 불어 글자를 헤집고 | baram bureo geuljareul hejipgo |
| 구름 조각 그림자 드리워 | gureum jogak geurimja deuriwo |
| 책장 속엔 어둠만이 가득하네 | chaekjang sogen eodummani gadeukhane |
| 그것이 정해져있듯 | geugeosi jeonghaejyeoitdeut |
| 어느 들판 위에 작은 책은 울었네 | eoneu deulpan wie jageun chaegeun ureonne |
| 어느 전설 속에 작은 책이 살았네 | eoneu jeonseol soge jageun chaegi saranne |
| 가장 아름다운 내용을 껴안고서 | gajang areumdaun naeyongeul kkyeoangoseo |
| 시간 흘러 먼지는 위에 내려앉고 | sigan heulleo meonjineun wie naeryeoan-go |
| 책안은 까맣도록 변해갔네 | chaeganeun kkamatorok byeonhaeganne |
| 장을 넘겨 내용을 펼치면 | jangeul neomgyeo naeyongeul pyeolchimyeon |
| 그림들은 슬픔을 토하고 | geurimdeureun seulpeumeul tohago |
| 그 모습엔 더 이상 전설은 없네 | geu moseuben deo isang jeonseoreun eomnne |
| 그것이 당연하단듯 | geugeosi dangyeonhadandeut |
| 외로이 | oeroi |
| 많은 풍화 속을 맨 몸으로 헤치며 | manheun punghwa sogeul maen momeuro hechimyeo |
| 지금 이 자리에 앙상하게 남았네 | jigeum i jarie angsanghage namanne |
| 끝나지 않는 세월, 이것이 끝이 아니라고 | kkeunnaji anneun sewol, igeosi kkeuchi anirago |
| 믿었네 저 내일을 | mideonne jeo naeireul |
| 어느 시간 속에 작은 책 내려왔네 | eoneu sigan soge jageun chaek naeryeowanne |
| 검은 책장 끝에 하얀 빛이 보였네 | geomeun chaekjang kkeute hayan bichi boyeonne |
| 바람이 그치고 구름이 흩어지네 | barami geuchigo gureumi heuteojine |
| 책의 마지막 장만이 지금 남았네 | chaek-ui majimak jangmani jigeum namanne |
| 손을 뻗어 자그만 책장을 넘기네 | soneul ppeodeo jageuman chaekjangeul neomgine |
| 한번도 열리지 않던 장의 이름은- | hanbeondo yeolliji andeon jang-ui ireumeun- |
| 어느 들판 위에 작은 책은 놓였네 | eoneu deulpan wie jageun chaegeun nohyeonne |
External links
Edit
| | |
| --- | --- |
| | Lyrics |