Ad blocker interference detected!
Wikia is a free-to-use site that makes money from advertising. We have a modified experience for viewers using ad blockers

Wikia is not accessible if you've made further modifications. Remove the custom ad blocker rule(s) and the page will load as expected.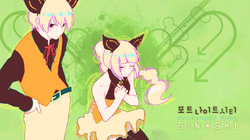 Song title
"포트나이트시티"
Romaja: Poteunaiteusiti
English: Fortnight City
Uploaded August 25, 2013, with 10,000+ views
Singer(s)
SeeU and SeeWoo
Producer(s)
SIN*SKI
Links
YouTube Broadcast (private)

Background
Edit
"Fortnight City" is an original Korean duet song featuring SeeU and fanmade VOCALOID, SeeWoo.
Korean (한국어 가사)
Romaja (로마자)
이제 다시는 전해질 수 없는 말들을 모아서 보내볼까 해
ije dasineun jeonhaejil su eomnneun maldeureul moaseo bonaebolkka hae
처음엔 정말로 행복했었는데 왜 이젠 이렇게 돼버린 걸까
cheo-eumen jeongmallo haengbokhaesseonneunde wae ijen ireoke dwaebeorin geolkka


의미를 잃어버린 착각 속에서 그래도 이렇게 죽지 않고 살 수 있는 건
uimireul ireobeorin chakgak sogeseo geuraedo ireoke jukji anko sal su inneun geon
너를 다시 만날 수 있다는 작은 희망과 전부 너에게로 향해 있는 내 마음이
neoreul dasi mannal su itdaneun jageun huimanggwa jeonbu neo-egero hyanghae inneun nae ma-eumi
정말 작은 이 내 몸을 살아 있게 해서 작고 작은 이 세계를 움직이게 해
jeongmal jageun i nae momeul sara itge haeseo jakgo jageun i segyereul umjigige hae
또 다시 굴러가기 시작한 이 거리에서 너는 더 이상 설 자리가 없단 걸 알고 있으니까
tto dasi gulleogagi sijakhan i georieseo neoneun deo isang seol jariga eopdan geol algo isseunikka


해가 지며 움직이는 이 거리를 기다리면서
haega jimyeo umjigineun i georireul gidarimyeonseo
흔들리는 그림자가 이젠 살을 에고 스며들어가
heundeullineun geurimjaga ijen sareul ego seumyeodeureoga
가슴 아픈 이 거리에 살아 있단 증거를 원해
gaseum apeun i georie sara itdan jeunggeoreul wonhae
흘린 눈물 그 속에서 나는 그대의 모습을 보는데
heullin nunmul geu sogeseo naneun geudae-ui moseubeul boneunde


이제 다시는 전해질 수 없는 말들을 모아서 보내볼까 해
ije dasineun jeonhaejil su eomnneun maldeureul moaseo bonaebolkka hae
처음엔 정말로 행복했었는데 왜 이젠 이렇게 돼버린 걸까
cheoeumen jeongmallo haengbokhaesseonneunde wae ijen ireoke dwaebeorin geolkka


내 마음만은 그댈 따라 해매인데도 텅 빈 내 몸은 그림자를 따라가리
nae ma-eummaneun geudael ttara haemaeindedo teong bin nae momeun geurimjareul ttaragari
다시 시작되는 이 거리의 가로등만이 이야기의 시작과 끝을 알리는 순간에 나는 또
dasi sijakdoeneun i geori-ui garodeungmani iyagi-ui sijakgwa kkeucheul allineun sungane naneun tto


손 끝에서 느껴지는 그대의 아픈 사랑 노래
son kkeuteseo neukkyeojineun geudae-ui apeun sarang norae
떨리는 그 눈동자도 이제 어둠 속에 사그라져 가
tteollineun geu nundongjado ije eodum soge sageurajyeo ga
가슴 아픈 이 거리가 그대만의 사랑을 원해
gaseum apeun i georiga geudaeman-ui sarangeul wonhae
흘러가는 시간 속에 나는 그대의 모습을 잊어 가
heulleoganeun sigan soge naneun geudae-ui moseubeul ijeo ga


의미를 잃어버린 착각 속에서 그래도 이렇게 죽지 않고 살 수 있는 건
uimireul ireobeorin chakgak sogeseo geuraedo ireoke jukji anko sal su inneun geon
너를 다시 만날 수 있다는 작은 희망과 전부 너에게로 향해 있는 내 마음이
neoreul dasi mannal su itdaneun jageun huimanggwa jeonbu neo-egero hyanghae inneun nae ma-eumi
정말 작은 이 내 몸을 살아 있게 해서 작고 작은 이 세계를 움직이게 해
jeongmal jageun i nae momeul sara itge haeseo jakgo jageun i segyereul umjigige hae
또 다시 굴러가기 시작한 이 거리에서 너는 더 이상 설 자리가 없단 걸 알고 있으니까
tto dasi gulleogagi sijakhan i georieseo neoneun deo isang seol jariga eopdan geol algo isseunikka


해가 지며 움직이는 이 거리를 기다리면서
haega jimyeo umjigineun i georireul gidarimyeonseo
흔들리는 그림자가 이젠 살을 에고 스며들어가
heundeullineun geurimjaga ijen sareul ego seumyeodeureoga
가슴 아픈 이 거리에 살아 있단 증거를 원해
gaseum apeun i georie saraitdan jeunggeoreul wonhae
흘린 눈물 그 속에서 나는 그대의 모습을 보는데
heullin nunmul geu sogeseo naneun geudae-ui moseubeul boneunde
External links
Edit
| | |
| --- | --- |
| | Lyrics |