This song article is lacking a proper background. You can help by adding one! The relevant section in the Song Article Guideline is a good starting point, and this blog post may also be helpful. We apologize for the inconvenience this may cause in the meantime.

Song pages lacking proper backgrounds are automatically sorted into this category.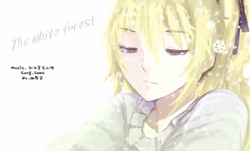 Song title
"하얀숲"
Romaja: Hayansup
English: The White Forest
Uploaded December 15, 2013, with 1,900+ views
Singer(s)
SeeU
Producer(s)
Chado (coldcitizen) (music, lyrics)
Piote-o (tuning)
Yehwangun (illust, video)
Links
YouTube Broadcast
Background
Edit
"Hayansup" is a original SeeU song.
Hangul (한국어 가사)
Romaja (로마자)
어느새 사라진 마음이 겸쳐서
eoneusae sarajin ma-eumi geomchyeoseo
하얗게 번져만 가네
hayeoke beonjyeonman gane
홀로만 남겨진 이곳은
jolloman namgyeojin i goseun
하얀숲, 하얀밤
hayan sup, hayan bam,
수 없이 뒤새기죠
su eopsi dwisaegijyo.


유난히 장못 든 밤
yonanhi jangmot deun bam
하얗게 쌓인 눈 처럼
hayage ssain nun cheoreom
달은 뜨고 나은 푸른데
dareun ddeugo nareun pureunde
이렇게 내 맘이 찼나
ireoke nae mami chattna


고요한 새벽
goyohan saebyeok
하얀 이 숲 한 가운데서
hayai sup han gaundeseo


불러도 보이지 않는
bulleodo boiji anneun
그대의 빈 자리를
geudade-ui bin jareoreul
잊으려나
ijeuryeona


어느새 사라진 마음이 겸쳐서
eoneusae sarajin ma-eumi gyeommchyeoseo
하얗게 번져만 가네
hayeoge beonjyeoman gane
홀로만 남겨진 이곳은
holloman namgyeojin igoseun
하얀숲,
hayan sup,
하얀밤,
hanyanbam,
수 없이 뒤새기죠
su eopsi dwesaegijyo.
Ad blocker interference detected!
Wikia is a free-to-use site that makes money from advertising. We have a modified experience for viewers using ad blockers

Wikia is not accessible if you've made further modifications. Remove the custom ad blocker rule(s) and the page will load as expected.