Ad blocker interference detected!
Wikia is a free-to-use site that makes money from advertising. We have a modified experience for viewers using ad blockers

Wikia is not accessible if you've made further modifications. Remove the custom ad blocker rule(s) and the page will load as expected.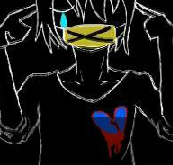 Song title
"한 소년의 이야기"
Romaja: Han Sonyeon-ui Iyagi
English: The Story of a Boy
Uploaded December 10, 2014, with 730+ views
Singer(s)
SeeU
Producer(s)
Kyuri23
Links
Vocaloid Empire Broadcast
Background
Edit
The song tells the story of a young, slender boy who is constantly bullied and treated badly because of his size. Told things like "drop dead", "garbage", and "useless" are a few of the names thrown at him constantly. However, the boy continues to have hope, continues pushing on and perservering despite what the people say. But at the end of the song, he let the bullying overwhelm him, and he lost everything. However, this is alright to the boy, because he dies at the end, and "emerges, flying in the sky".
Korean (한국어 가사)
Romaja (로마자)
아득하게 퍼지는 울음 소리
ageuk hage peojineun ureum sori
아무도 듣지 못해도
amudo deutji motaedo
언제나 구슬피 우는
eonjena guseulpi uneun
소년이 있어
sonyeoni isseo


세상으로부터 버려지고
sesangeurobuteo beoryeojigo
사람들로부터 천대받고
saramdeullobuteo cheondaebaggo
결백한 소년의 마음은
gyeolbaekan sonyeonwi maeumeun
차갑게 깨어져 가
chagapge ggae eojyeoga


최악이야
chwiakiya
쓸모없어
sseulmo eobseo
쓰레기네
sseuregine
죽어버려
jukeobeoryeo
너무나 많이 들어왔지만
neomuna mani deureo watjiman


아직도 소년의 마음엔
ajikdo sonyeonwi maeumen
가시처럼 박혀있어
gasicheoreom bakhyeo isseo


아아 누가 도와주지 않으련
aa, nuga dowajuji aneuryeon
가냘픈 소년의 외침을
ganyalpeun sonyeonwi wichimeul
모두가 외면해버리고
moduga wimyeon haebeorigo
소년은
sonyeoneun
복수하지
boksu haji


끝없이 사라져가는
gguteopsi sarajyeoganeun
사람들의 도덕성은
saramdeurwi dodeokseongeun
어디에서 다시
eodieseo dasi
찾아볼 수 있을까
chajabol su itteulgga


그저 소문을 퍼뜨리고
geujeo somuneul peotteurigo
그저 생각없이 욕을 하는
geujeo saenggageopsi yokeul haneun
인간들의
ingadeulwi
세상이 정당하다면
sesangi jeong dang hadamyeon
난 그런 세상 따위 필요없어
nangeureon sesang ttawi piryo eopseo


도대체 왜 소년은 외면당해야 하나
dodaeche wae sonyeoneun wimyeondanghaeya hana
도대체 왜 소년은 버림받아야 하나
dodaeche wae sonyeoneun wimyeondanghaeya hana


소년은 결국 잘못된 선택을 하네
sonyeoneun gyeolguk jalmotdwin seontaekeul hane
하지만 그걸 막는 사람도 없네
hajiman geugeol makneun saram do eomnne


우리는 무엇을 위해 살아가고 있나
urineun mueobteul wihae saragago inna
우리는 무엇때문에 살아가고 있나
urineun mueottaemune saragago inna
사람들의 목표는 천차만별이라도
saramdeulwi mokpyoneun cheonjamanbyeol irado
모두가 결국 원하는 건 행복.
moduga gyeolguk weon haneun geon hangbok.


괴로워서 힘들어서
gweroweoseo himdeul eoseo
분해서 슬퍼서
bunhaeseo seulpeoseo
세상에 대고 외쳐도
sesange daego wichyeodo
돌아오는 건 비난
doraoneun geonbinan
소년은 결국 하늘로 날아오르네
sonyeoneun gyeolguk haneullo narao reune
External Links
Edit
| | |
| --- | --- |
| | Lyrics |