Ad blocker interference detected!
Wikia is a free-to-use site that makes money from advertising. We have a modified experience for viewers using ad blockers

Wikia is not accessible if you've made further modifications. Remove the custom ad blocker rule(s) and the page will load as expected.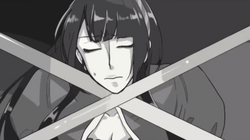 Song title
"함정"
Romaja: Hamjeong
English: Trap
Uploaded August 30, 2013, with 178,000+ views
Singer(s)
SeeWoo (SeeU)
Producer(s)
Team Eternal Harmony:
mitssi (Green Fish) (music)
Plot (lyrics)
Kkomcce (movie)
This is Parallel World (guitar)
M2U (guitar)
Links
YouTube Broadcast
Background
Edit
This song is the fourth part of "Constellation Gemini Project" (쌍둥이 성좌 프로젝트) by Team Eternal Harmony featuring fanmade VOCALOID, SeeWoo.
Korean (한국어 가사)
Romaja (로마자)
황제의 피를 이은 자들 중에서
hwangje-ui pireul ieun jadeul jungeseo
가장 뛰어난 자신을 증명하라
gajang ttuieonan jasineul jeungmyeonghara
만약 그 사람이 나의 형제라도
manyak geu sarami naui hyeongjerado
설령 그 사람이 나의 누이라도
seollyeong geu sarami naui nuirado
그가 나를 인정하지 않는다면
geuga nareul injeonghaji anneundamyeon
그 어떠한 수단을 써서라도
geu eotteohan sudaneul sseoseorado


소중한 이를 지키기 위해
sojunghan ireul jikigi wihae
광기로 물든 전장에서
gwanggiro muldeun jeonjangeseo
네가 남긴 검과 떠나려 했던 그 말을
nega namgin geomgwa ttonaryeo haetdeon geu mareul
가슴 속 깊이 간직한 채
gaseum sok gipi gangikhan chae
전쟁의 시간은 가속하고
jeonjaeng-ui siganeun gasokhago
결전의 때가 찾아오네
gyeoljeon-ui ttaega chajaone
지키기 위한 검과 빼앗기 위한 검들의 마지막 노래가 울려퍼지네
jikigi wihan geomgwa ppaeatgi wihan geomdeul-ui majimak noraega ullyeopeojine


사랑하는 널 위해서라면 어떠한 절망 속에서도
saranghaneun neol wihaeseoramyeon eotteohan jeolmang sogeseodo
네가 남긴 검과 떠나며 했던 부탁을 끝까지 지키기 위해서
nega namgin geomgwa tteonamyeo haetdeon butageul kkeutkkaji jikigi wihaeseo
수많은 검들에 둘러싸여 전쟁의 끝이 다가와도
sumanheun geomdeure dulleossayeo jeonjaeng-ui kkeuchi dagawado
네가 했던 그 말
nega haetdeon geu mal
떠나며 했던 약속을
tteonamyeo haetdeon yaksogeul
지키기 위한 최후의 싸움을
jikigi wihan choehu-ui ssaumeul
External links
Edit
| | |
| --- | --- |
| | Lyrics |