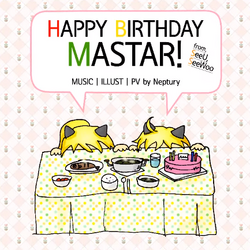 Song title
"해피버스데이 마스터!"
Romaji: Haepi Beoseudei Maseuteo!"
English: Happy Birthday Master!
Uploaded February 9, 2015, with 22,000+ views
Singer(s)
SeeU
SeeWoo
Producer(s)
Neptury
Links
YouTube Broadcast
Background
Edit
"Happy Birthday Master!" is an original SeeU song. SeeU and SeeWoo are wishing their master a very happy birthday.
| Singer | Color |
| --- | --- |
| SeeWoo | Blue |
| SeeU | Pink |
| Both | Black |
Korean (한국어 가사)
Romaja (로마자)

오늘은 마스터의 생일이라고 하던데 왜 그렇게 혼자 공상이죠?

oneureun maseuteo-ui saengirirago hadeonde wae geureohge honja dongsangijyo?

오 이런 안되겠어! 오늘은 내가 직접 당신의 생일을 축하할게요~

o ireon andoegesseo! oneureun naega jikjeop dangsin-ui saengireul chukhahalgeyo~

평소에 잘해줘서 정말 고마워요~

pyeongsoe jalhaejweoseo jeongmal gomaweoyo~

당신의 세심한 배려가 모여~

(헐, 그랬나?)

dangsin-ui sesimhan baeryeoga moyeo~

(heol, geuraenna?)




당신 주변에 있는 많은 사람들이

dangsin jubyeone inneun manheun saramdeuri

살아가는 즐거움을 느까고있어요~

saraganeun jeulgeoumeul neukkagoisseoyo~




앴는데~

aenneunde~

진짜야!

jinjjaya!




그러니 고마워요 태어나줘서 정말

geureoni gomaweoyo taeeonajweoseo jeongmal

우리의 기쁨이 되주어서~

uri-ui gippeumi dwejueoseo~

한상 더 먹었으니 공상은 그떨고

hansang teo meokeosseuni gongsangeun geutteolgo

더 많은 노래 가르쳐주세요~

deo manheun norae gareuchyeojuseyo~




감히 우리 마스터를 혼자두는 못된 거들~

gamhi uri maseuteo-reul honjaduneun motdwen geodeul~

그것도 귀하신 생일인데~

geugeotdo gwehasin saengirinde~

아 이런 울지만 마~

a ireon uljiman ma~

그딴 친구는 절교해

geuttan chinguneun jeolgyohae




아줌마 여기 소주 한 병 줘요~ (야! 저게 진짜!)

ajumma yeogi soju han byeong jweyo~ (ya! jeoge jinjja!)

평소에 잘해줘도 잘해줘도 일은 생겨

pyeongsoe jalhaejweodo jalhaejweodo ireun saenggyeo

다들 바쁘다고 너무하네~ (정말 너~부한다~)

dadeul bappeudago neomuhane~ (jeongmal neo~ buhanda~)




하지만 걱정만이 그들이 몰라주도 널 만든 이는 분명

hajiman geokjeongmani geudeuri mollajudo neol mandeun ineun bunmyeong

기뻐하고 있을테까~

gippihago isseultekka~

-

자, 마스터!}}
ja, maseuteo!}}
오늘은 마스터의 기쁘고 기쁜 생일
oneuleun maseuteo-ui gippeugo gippeun saengil


지금처럼 앞으로도 언제나 함께해요
jigeumcheoreom apeurodo eonjena hamkkehaeyo
당신이 있어 너무나 좋아요
dangsini isseo neomuna johayo

앞으로도 잘 부탁해요 / 음, 음

apeurodo jal butakhaeyo / eum, eum

앞으로도 잘 부탁해요

apeurodo jal butakhaeyo




생일 축하합니다~

saengil chukhahamnida~

생일 축하합니다

saengil chukhahamnida

사랑하는 마스터~
saranghaneun maseuteo~
생일 축하합니다~
saengil chukhahamnida~
Ad blocker interference detected!
Wikia is a free-to-use site that makes money from advertising. We have a modified experience for viewers using ad blockers

Wikia is not accessible if you've made further modifications. Remove the custom ad blocker rule(s) and the page will load as expected.