This song article is lacking a proper background. You can help by adding one! The relevant section in the Song Article Guideline is a good starting point, and this blog post may also be helpful. We apologize for the inconvenience this may cause in the meantime.

Song pages lacking proper backgrounds are automatically sorted into this category.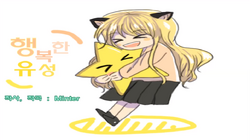 Song title
"행복한 유성"
Romaja: Haengbokhan Yuseong
Uploaded June 6, 2016, with 100+ views
Singer(s)
SeeU
Producer(s)
Minter
Links
YouTube Broadcast
Background
Edit
"Haengbokhan Yuseong" is an original Korean song by Minter featuring SeeU. It is the producer's first original song using a VOCALOID.
Korean (한국어 가사)
Romaja (로마자)
저 하늘너머 우주엔
jeo haneulneomeo ujuen
무엇이 있죠? La la
mueosi itjyo? La la
햇님 달님 별님 있지요
haennim dalnim byeolnim itjiyo


그 중에 하나
geu jonge hana
쉼표를 머금고
swimpyoreul meogeumgo
날아 드는
nara deuneun
나는야 행복한 유성
naneunya haengbokhan yuseong


이젠
ijen
솜사탕 행성을 향해 슈우웅
somsatang haengseongeul hyanghae syuuung
하고 날아들어 뒹굴거려요
hago naradeureo dwinggulgeoryeoyo
그 누구도 뭐라고하진 않죠
geu nugudo mweoragohajin anchyo
너무 너무 즐거운 내 이시간
neomu neomu jeulgeoun nae isigan


당신도 나와 함께 놀아요
dangsindo nawa hamkke norayo
즐거울거야
jeulgeoulgeoya
나의 작디 작은 바람중의 하나랍니다!
naui jakdi jageun baramjungui hanaramnida!
External Links
Edit
| | |
| --- | --- |
| | Articles |