Ad blocker interference detected!
Wikia is a free-to-use site that makes money from advertising. We have a modified experience for viewers using ad blockers

Wikia is not accessible if you've made further modifications. Remove the custom ad blocker rule(s) and the page will load as expected.
This song article is lacking a proper background. You can help by adding one! The relevant section in the Song Article Guideline is a good starting point, and this blog post may also be helpful. We apologize for the inconvenience this may cause in the meantime.

Song pages lacking proper backgrounds are automatically sorted into this category.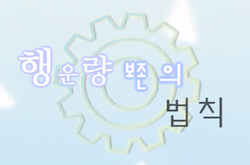 Song title
"행운량 보존의 법칙"
Romaja: Haengunryang Bojon-ui Beopchik
Uploaded November 14, 2015, with 1,000+ views
Singer(s)
SeeU
Producer(s)
Team System:
Urien, Bluetoki (lyrics)
LOVE (V3)
Cheolsu (illust)
Pioteo (movie)
Links
YouTube Broadcast
Ate.li Broadcast
Background
Edit
"Haengunryang Bojon-ui Beopchik" is an original Korean song by Team System featuring SeeU.
Korean (한국어 가사)
Romaja (로마자)
눈 깜빡이면 지나는 하루들
nun kkamppagimyeon jinaneun harudeul
그 끝에 걸터앉아 돌아보며
geu kkeute geolteoanja dorabomyeo
수많은 행복과 불행들을
sumanheun haengbokgwa bulhaengdeureul
정적분 해서 제로를 만들어
jeongjeokbun haeseo jeroreul mandeureo


던졌던 주사윌 바라보고
deonjyeotdeon jusawil barabogo
그 위에 내려앉은 눈의 수를 세어보며
geu wie naeryeoanjeun nun-ui sureul seeobomyeo
스쳐 지나가버린 행운들에 하염없이
seuchyeo jinagabeorin haengundeure hayeomeopsi
후회와 원망과 공허한 감정을 떠올리네
huhoewa wonmanggwa gamjeongeul tteoolline


찾아온 행운에 그들은 기뻐하며
chajaon haengune geudeureun gippeohamyeo
그 이상의 기적과도 같을 우연을 기대하네
geu isang-ui gijeokgwado gateul uyeoneul gidaehane
이어지는 행운량 그래프의 기울기는
ieojineun haengunryang geuraepeu-ui giulgineun
끝없는 좌표의 바닥을 향해서 떨어졌어
kkeuteopnneun jwapyo-ui badageul hyanghaeseo tteoreojyeosseo


기억도 나지 않는, 언? 가 내 손에 닿았었던
gieokdo naji anneun, eonjenga nae sone dahasseotdeon
열쇠 조각은 보이지 않아
yeolsoe jogageun boiji anha
책 속에 숨겨둔 작은 네잎클로버도
chaek soge sumgyeodun jageun neipkeullobeodo
말라버린 채 부서졌네
mallabeorin chae buseojyeonne


네가 생각하는 그런 행운들은
nega saenggakhaneun geureon haengundeureun
존재하지 않는 상상의 Result
jonjaehaji anneun sangsang-ui Result
너의 행운이 우연이라면
neoui haenguni uyeoniramyeon
그 뒤의 불행은 필연일 거야
geu dwi-ui bulhaengeun piryeonil geoya


눈 깜빡이면 지나는 하루들
nun kkamppagimyeon jinaneun harudeul
그 끝에 걸터앉아 돌아보며
geu kkeute geolteoanja dorabomyeo
수많은 행복과 불행들을
sumanheun haengbokgwa bulhaengdeureul
정적분 해서 제로를 만들어
jeongjeokbun haeseo jeroreul mandeureo


차갑게 만져지는 동전을 손에 올려
chagapge manjyeojineun dongjeoneul sone ullyeo
50%의 확률로 내 행운을 기대했고
swip peosenteo-ui hwakryullo nae haenguneul gidaehaetgo
바라지 않았던 결과에는
baraji anhatdeon gyeolgwa-eneun
단지 운이 나빴다며 그 결과를 무시했어
danji uni nappatdamyeo geu gyeolgwareul musihaesseo


그렇게 잃어버린 마지막 희망을 회상하며
geureoke ilheobeorin majimak huimangeul hoesanghamyeo
보이지 않는 웃음을 지어 결국
boiji anneun useumeul jieo gyeolguk
꿈 속에 숨겨뒀던 최후의 동전이 지금 튀어오르네
kkum soge sumgyeodwotdeon choehu-ui dongjeoni jigeum twieooreune


밝게 빛났던 작은 행운은
balkge binnatdeon jageun haenguneun
손에 넣은 순간 사라져서
sone neoheun sungan sarajyeoseo
기억에도 남지 못하고 사라진
gieogedo namji mothago sarajin
행운과 불행의 차이점은
haengungwa bulhaeng-ui chaijeomeun
찾아온 시간의 차이뿐이야
chajaon sigan-ui chaippuniya


네가 바라는 그 행운들은
nega baraneun geu haengundeureul
존재하지 않는 상상의 Result
jonjaehaji anneun sangsang-ui Result
너의 행운이 우연이라면
neoui haenguni uyeoniramyeon
그 뒤의 불행은 필연일 거야
geu dwi-ui bulhaengeun piryeonil geoya


눈 깜빡이면 지나는 하루들
nun kkamppagimyeon jinaneun harudeul
그 끝에 걸터앉아 돌아보며
geu kkeute geolteoanja dorabomyeo
수많은 행복과 불행들을
sumanheun haengbokgwa bulhaengdeureul
정적분 해서 제로를 만들어
jeongjeokbun haeseo jeroreul mandeureo
External Links
Edit
| | |
| --- | --- |
| | Articles |