Ad blocker interference detected!
Wikia is a free-to-use site that makes money from advertising. We have a modified experience for viewers using ad blockers

Wikia is not accessible if you've made further modifications. Remove the custom ad blocker rule(s) and the page will load as expected.
!

Warning:

This song contains questionable lyrics and themes; it may be inappropriate for younger audiences.

The Vocaloid Wiki does not have a policy on lyrical content or theme; however, it attempts to follow the Wikia TOU.
For further discussion see Thread:68883. Questionable songs are automatically sorted into this category.

!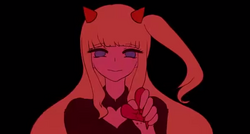 Song title
"혼돈과 파괴의 발렌타인 데이"
Romaja: Hondon-gwa Pagoe-ui Balrentain Dei
English: Valentine's Day of Chaos and Destruction
Uploaded February 13, 2012 (CreCrew)
Singer(s)
SeeU
Producer(s)
kb (music, lyrics)
Cosmos InoL (lyrics)
ISO (illust)
Links
YouTube Broadcast (reprint)
CreCrew Broadcast (official, deleted)
Background
Edit
"혼돈과 파괴의 발렌타인 데이" is an original SeeU song. Written in commemoration of Valentine's Day, the character designed in the song inspired a well known SeeU MMD model derived from the piece.
This song was originally published on CreCrew, which has since been shut down.
Korean (한국어 가사)
Romaja (로마자)
그들은 모두 파괴해버려
geudeul-eun modu pa-goehaebeoryeo
초코를 주고 받는 인간 모조리
choko-reul jugo badneun in-gan mojuri
모두의 사랑을 받는 자를 해져
modu-ui sarang-eul badneun jareul haejyeo
너희의 분노를 지금 풀어내봐
neohui-ui bunnoreul jigeum pul-eonaebwa


하나의 초코 너를 절망으로 빠트려가
hana-ui choko neoreul jeolmang-euro ppateuryeoga
그녀의 사랑 받지못한 너는 기억하리
geunyeo-ui sarang badjimot-han neoneun gi-eokhari


희망과 절망 그 사이에맴도는 추억을
huimang-gwa jeolmang geu sa-i-emaemdoneun chu-eok-eul
나는 과연 이길 수 있을까요
naneun gwa-yeon igil su iss-eulkkayo
그들의 파면 너를 축복하는 그 손길을
geudeul-ui pamyeon neoreul chukbokhaneun geu son-gil-eul
쳐부숴요 나의 사랑 까지
chyeobusweo-yo na-ui sarang kkaji
사랑의 뇌물 받지못한 사람의 고통을
sarang-ui noemul badjimot-han saram-ui gotong-eul
나는 과연 견딜수 있을까요
naneun gwa-yeon gyeondilsu iss-eulkkayo
하나의 소망 나를 구원하는 사랑으로
hana-ui somang nareul gu-weonhaneun sarang-euro
그의 맘을 꿰뚫어주세요
geu-ui mam-eul kkwettulh-eojuseyo


그것을 남김없이 제거해
geugeot-eul namgimeobs-i jegeohae
무자비하게 모든겟을 붕괴해
mujabihage modeunges-eul bung-goehae
사랑을 강요하는 혼돈의 날을
sarang-eul gang-yohaneun hondon-ui nareul
모조리 티끌없이 파괴해버려
mojori tikkeul-eobs-i pagoehaebeoryeo


운명의 그날 성자는 처참하게 죽었지
unmyeong-ui geunal seongjaneun cheochamhage juk-eossji
피눈물 흘려복수의 초코와 장미를어
pinunmul heulryeoboksu-ui choko-wa jangmireul-eo


힉사의 상술 그 사이에 끼어버린 추억
hiksa-ui sangsul geu sa-i-e kki-eobeorin chu-eok


나는 과연 기억할수 있을까요
naneun gwa-yeon gi-eokhalsu iss-eulkkayo
그원의 신이여
geu-weon-ui sin-i-yeo
그대가 존재하고 있다면
geudaega jonjaehago issdamyeon
그 사랑을 파괴해주세요
geu sarang-eul pagoehaejuseyo


영원히 반복되는 외로움이라는 고퉁
yeong-weonhi banbokdoeneun oero-um-iraneun gotung
나는 다시 버틸수 있을까요
naneun dasi beotilsu iss-eulkkayo
하나의 심판 세상에 울려퍼지는 저주
hana-ui simpan sesang-e ulryeopeojineun jeoju
깨어나라 고독의 전사요
kkae-eonara godok-ui jeonsayo


운명의 아침, 흘로 눈을 뜨는 나의모습
unmyeong-ui achim, heulro nun-eul tteuneun na-uimoseup
볼수없어 서러운 잠실을
bolsueobs-eo seoreo-un jamsil-eul
통곡의 기도, 눈물을 흘려 하늘을 봐도
tong-gok-ui gido, nunmul-eul heulryeo haneul-eul bwado
사랑이란 있을수 없네요
sarang-iran iss-eulsu eobsne-yo


희망과 절망 그 사이에 맴도는 추억을
huimang-gwa jeolmang geu sa-i-e maemdoneun chu-eok-eul
나는 과연 이길수 있을까요
naneun gwa-yeon igilsu iss-eulkkayo
하나의 소망 나를 구원하는 사랑으로
hana-ui somang nareul gu-weonhaneun sarang-euro
그의 맘을 꿰뚫어주세요
geu-ui mam-eul kkwettulh-eojuseyo
회사의 상술 그 사이에 끼어버린 운명
hoesa-ui sangsul geu sa-i-e kki-eobeorin unmyeong
나는 과연 기억할수있을까요
naneun gwa-yeon gi-eokhalsu-iss-eulkkayo


그들의 파면 절망의 고통 무자비한세상
geudeul-ui pamyeon jeolmang-ui gotong mujabihansesang
쳐부숴요 나의 사랑 까지
chyeobusweo-yo na-ui sarang kkaji
External links
Edit
| | |
| --- | --- |
| | Lyrics |