Ad blocker interference detected!
Wikia is a free-to-use site that makes money from advertising. We have a modified experience for viewers using ad blockers

Wikia is not accessible if you've made further modifications. Remove the custom ad blocker rule(s) and the page will load as expected.
This song article is lacking a proper background. You can help by adding one! The relevant section in the Song Article Guideline is a good starting point, and this blog post may also be helpful. We apologize for the inconvenience this may cause in the meantime.

Song pages lacking proper backgrounds are automatically sorted into this category.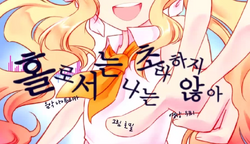 Song title
"홀로서는 나는 초라하지 않아"
Romaja: Holloseoneun Naneun Chorahaji Ana
English: Lonely Me Is Not Poor
Uploaded July 24, 2012, with 22,000+ views
Singer(s)
SeeU
Producer(s)
nightlica (music, lyrics)
Homil (illust)
Wiri (movie)
Links
YouTube Broadcast
Background
Edit
"Holloseoneun Naneun Chorahaji Anha" is an original Korean song by Nightlica featuring SeeU.
Korean (한국어 가사)
Romaja (로마자)
안녕 난 네가 좋았어
annyeong nan nega joasseo
넌 내게 진실이었어
neon naege jinsirieosseo
아무런 의심 하나 없었지
amureon uisim hana eopseotji
넌 완벽한 존재
neon wanbyeokhan jonjae
날 초라하게 만들어
nal chorahage mandeureo
그저 슬피 동경할 뿐
geujeo seulpi donggyeonghal ppun
왜 넌 그렇게 날 신경쓰게 해
wae neon geureoke nal singyeongsseuge hae
언제나 네 생각에 나는 미칠 것 같아
eonjena ne saenggage naneun michil geot gata
그렇게 집착하는 내가 미워져
geureoke jipchakhaneun naega miwojyeo
이별을 고하러 가자
ibyeoreul gohareo gaja


그래 난 이제 네가 아냐
geurae nan ije nega anya
더 이상 가두지 마
deo isang gaduji ma
넌 이제 없는 거야
neon ije eomneun geoya
네 낙인을 지우겠어
ne nagineul jiugeosseo
거짓된 사랑아
geojitdoen saranga
일그러진 감정아
ilgeureojin gamjeonga
부디 내게서 떠나버려
budi naegeseo tteonabeoryeo
잊으려 잊으려도
ijeuryeo ijeuryeodo
잊을 수 없는 네가
ijeul su eomneun nega
너무나 싫었었어
neomuna sireosseosseo
널 부수고 끝내겠어
neol busugo kkeunnaegesseo
그리운 사람아
geuriun sarama
상처받은 추억아
sangcheobadeun sarama
자 이제는 끝을 내자
ja ijeneun kkeucheul naeja
난 나를 찾았다
nan nareul chajatda


그래 나 오늘도 졌어
geurae na oneuldo jyeosseo
넌 항상 이겨왔었지
neon hangsang igyeowasseotji
모두들 너를 동경해왔지
modudeul neoreul donggyeonghaewatji
넌 항상 그랬어
neon hangsang geuraesseo
날 비참하게 만들어
nal bichamhage mandeureo
오늘 또 난 자학했어
oneul tto nan jagakhaesseo
왜 난 오늘도 널 부정했을까
wae nan oneuldo neol bujeonghaesseulkka
하루도 빠짐 없이 나는 네 생각이 나
harudo ppajim eopsi naneun ne saenggagi na
하지만 알고 있어 이게 아니 아닌 걸
hajiman algo isseo ige ani anin geol
작별의 시간이 왔어
jakbyeorui sigani wasseo


그래 난 이제 네가 아냐
geurae nan ije nega anya
더 이상 가두지 마
deo isang gaduji ma
넌 이제 없는 거야
neon ije eomneun geoya
네 낙인을 지우겠어
ne nagineul jiugeosseo
거짓된 사랑아
geojitdoen saranga
일그러진 감정아
ilgeureojin gamjeonga
부디 내게서 떠나버려
budi naegeseo tteonabeoryeo
잊으려 잊으려도
ijeuryeo ijeuryeodo
잊을 수 없는 네가
ijeul su eomneun nega
너무나 싫었었어
neomuna sireosseosseo
널 부수고 끝내겠어
neol busugo kkeunnaegesseo
그리운 사람아
geuriun sarama
상처받은 추억아
sangcheobadeun sarama
자 이제는 끝을 내자
ja ijeneun kkeucheul naeja
난 나를 찾았다
nan nareul chajatda
External links
Edit
| | |
| --- | --- |
| | Lyrics |