This song article is lacking a proper background. You can help by adding one! The relevant section in the Song Article Guideline is a good starting point, and this blog post may also be helpful. We apologize for the inconvenience this may cause in the meantime.

Song pages lacking proper backgrounds are automatically sorted into this category.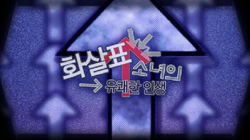 Song title
"화살표 소녀의 유쾌한 인생"
Romaja: Hwasalpyo Sonyeoui Yukwaehan Insaeng
English: The Cheerful Life of the Arrow Girl
Uploaded February 13, 2013, with 98,000+ views
Singer(s)
SeeU
Producer(s)
udaque (music, lyrics)
Tyuh (movie)
Links
YouTube Broadcast
Background
Edit
"Hwasalpyo Sonyeo-ui Yukwaehan Insaeng" is an original Korean song by udaque featuring SeeU.
Korean (한국어 가사)
Romaja (로마자)
또 다시 거짓된 굿바이를 말하며
tto dasi geojitdoen gutbaireul malhamyeo
그 개수의 변화를 체크하고
geu gaesuui byeonhwareul chekeuhago
몸으로 뻗어오는 거무스름한 곡선들의 공명이 노래를 만드네
momeuro ppeodeooneun geomuseureumhan gokseondeurui gongmyeongi noraereul mandeune


블랙홀을 동경해오던 소녀의 폭식
beullaekhoreul donggyeonghaeodeon sonyeoui poksik
국화꽃을 하나 둘 모으며 머금은 미소
gukhwakkoseul hana dul mo-eumyeo meogeumeun miso


좀 더 많은 화살표를 내게 돌리고 싶어
jom deo manheun hwasalpyoreul naege dolligo sipeo
그 뾰족한 끝을 내 온몸으로 느끼고 싶어
geu ppyojokhan kkeuteul nae onmomeuro neukkigo sipeo
게임속 랭킹 속에 부유하는 나날들
geimsok raengking soge buyuhaneun nanaldeul
구텐탁 뮌하우?
gutentak mwinhaujen


그러던 어느날 화살표를 파는 가게가 있다는 소문을 들었어
geureodeon eoneunal hwasalpyoreul paneun gagega itdaneun somuneul deureosseo
재능을 양심을 망상을 타인을
jaeneungeul yangsimeul mangsangeul taineul
처음엔 평범한 시도를 해봤어
cheo-eumen pyeongbeomhan sidoreul haebwasseo
조금씩 진실이 필터된 그 결과는
jogeumssik jinsiri pilteodoen geu gyeolgwaneun


좀 더 많은 화살표를 내게 돌리고 싶어
jom deo manheun hwasalpyoreul naege dolligo sipeo
그 기다란 선에 내 모든것이 묶이고 싶어
geu gidaran seone nae modeungeosi mukkigo sipeo
내 영혼의 박물관을 개장합니다
nae yeonghonui bangmulgwaneul gaejanghamnida
노이즈여, 가득차라
noijeuyeo, gadeukchara


근거 없이 과포장되는 자랑 섞인 말
geungeo eopsi gwapojangdoeneun jarang seokkin mal
반성 대신 내보이는 초록색 눈의 괴물
banseong daesin naeboineun choroksaek nunui goemul


좀 더 많은 화살표를 내게 돌리고 싶어
jom deo manheun hwasalpyoreul naege dolligo sipeo
그 답답함 속에 얽매인 채로 흐느끼고 싶어
geu dapdapham soge eokmaein chaero heuneukkigo sipeo
새까만 그물 속에 방황하는 나에게
saekkaman geumul soge banghwanghaneun na-ege
연민의 정을 주세요
yeonminui jeongeul juseyo


좀 더 많은 화살표를 내게 돌리고 싶어
jom deo manheun hwasalpyoreul naege dolligo sipeo
그 뾰족한 끝을 내 온몸으로 느끼고 싶어
geu ppyojokhan kkeuteul nae onmomeuro neukkigo sipeo
게임속 랭킹 속에 부유하는 나날들
geimsok raengking soge buyuhaneun nanaldeul
구텐탁 뮌하우?
gutentak mwinhaujen
External links
Edit
| | |
| --- | --- |
| | Lyrics |