This song article is lacking a proper background. You can help by adding one! The relevant section in the Song Article Guideline is a good starting point, and this blog post may also be helpful. We apologize for the inconvenience this may cause in the meantime.

Song pages lacking proper backgrounds are automatically sorted into this category.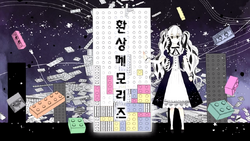 Song title
"환상 메모리즈"
Romaja: Hwansang Memorijeu
English: Illusion Memories
Uploaded October 6, 2014, with 9,000+ views
Singer(s)
SeeU
Producer(s)
zzZ (music, lyrics)
Stow (illust)
Links
YouTube Broadcast
Background
Edit
"Hwansang Memorijeu" is an original song by zzZ featuring SeeU.
Korean (한국어 가사)
Romaja (로마자)
새하얗게 칠해본다 새하얗게 지워본다
saehayake chilhaebonda saehayake jiwobonda
아직까지 잊지 못한, 잊지 못할 내 마음의 마지막이야
ajikkkaji itji mothan, itji mothal nae ma-eum-ui majimagiya


길거리를 지나가다 흐려진 날 마주친다
gilgeorireul jinagada heuryeojin nal majuchinda
두 손으로 가려봐도 내 손마저 서서히 흐려져 가고
du soneuro garyeobwado nae sonmajeo seoseohi heuryeojyeo gago
잔잔하게 흘러가다 어느새 또 밀려간다
janjanhage heulleogada eoneusae tto millyeoganda
누군가가 미는 듯이, 그런 듯이 온 몸이 기울어져 가
nugungaga mineun deusi, geureon deusi on momi giureojyeo ga


사랑도, 우정도, 희망도, 미래도, 과거도
sarangdo, ujeongdo, huimangdo, miraedo, gwageodo
제자리 되도록 다시 한 번 만들어 가
jejari doedorok dasi han beon madeureo ga


다시는 돌릴 수 없는 그 시간들이 이제는 새로워진 내 환상이 되어
dasineun dollil su eomnneun geu sigandeuri ijeneun saerowojin nae hwansangi doeeo
영원히 행복할 거란 이 마음 물들어
yeongwonhi haengbokhal georan i ma-eum muldeureo
하나 둘 변해져 가는 그 기억 속에 더 이상 멈출 수 없는 큰 쾌락 안에
hana dul byeonhaejyeo ganeun geu gieok soge deo isang meomchul su eomnneun keun kwaerak ane
끝없이 불안해지는 이 마음 두려워 난
kkeudeopsi buranhaejineun i ma-eum duryeowo nan


차가워진 구조물이 자꾸만 날 괴롭게 해
chagawojin gujomuri jakkuman nal goeropge hae
소중했던 조각들은 날 버리고 뿔뿔이 흩어져 가고
sojunghaetdeon jogakdeureun nal beorigo ppulppuri heuteojyeo gago
잘못했던 지난 날이 잘못됐단 변명이 돼
jalmothaetdeon jinan nari jalmotdwaetdan byeonmyeongi dwae
어떡해도 받아 드릴 수 없다고 그렇게 외면한 채로
eotteokhaedo bada deuril su eopdago geureoke oemyeonhan chaero


아니야, 아니야, 말해도, 그래도, 사실은
aniya, aniya, malhaedo, geuraedo, sasireun
다 알고 있는 걸 기다리고 있는 것은
da algo inneun geol gidarigo inneun geoseun


모든 건 그대로인 채 변하지 않아 모든 게 거짓이었고 진실은 아냐
modeun geon geudaeroin chae byeonhaji anha modeun ge geojisiyeotgo jinsireun anya
나에겐 검은색만이 남아서 덧씌워
na-egen geomeunsaekmani namaseo deotssuiwo
아무리 떨쳐내 봐도 내 목을 잡아 다시 되돌이표처럼 돌아오잖아
amuri tteolchyeonae bwado nae mogeul jaba dasi doedoripyocheoreom doraojanha
언? 간 사라진다는 자그만 믿음도 끝
eonjen gan sarajindaneun jageuman mideumdo kkeut
External links
Edit
| | |
| --- | --- |
| | Lyrics |
Ad blocker interference detected!
Wikia is a free-to-use site that makes money from advertising. We have a modified experience for viewers using ad blockers

Wikia is not accessible if you've made further modifications. Remove the custom ad blocker rule(s) and the page will load as expected.