Ad blocker interference detected!
Wikia is a free-to-use site that makes money from advertising. We have a modified experience for viewers using ad blockers

Wikia is not accessible if you've made further modifications. Remove the custom ad blocker rule(s) and the page will load as expected.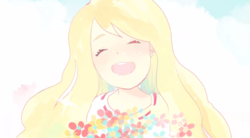 Song title
"흔들리지마 넌 괜찮아"
Romaja: Heundeullijima Neon Gwaenchanha
English: Don't be discouraged, You're fine
Uploaded January 30, 2012, with 26,000+ views
Singer(s)
SeeU
Producer(s)
nightlica (music, lyrics)
Max (movie)
Links
YouTube Broadcast
Background
Edit
"Heundeullijima Neon Gwaenchanha" is an original SeeU song. It's an uplifing piece about a girl (SeeU) who encourages the person she loves, who is frustrated and struggling with worries and fears, being an artist with passion but doesn't quite make a lot of money for it.
Succeeding versions
Edit
Bruno's Cover

| | |
| --- | --- |
| Featuring | Bruno |
| Author(s) | Nightlica (music, lyrics, arrangement), Artemi (illust) |
| Category | VOCALOID cover |
Korean (한국어 가사)
Romaja (로마자)
넌 소심하고 내성적인 겁쟁이지만
neon sosimhago naeseongjeogin geopjaengijiman
난 견뎌내고 이겨내는 네가 좋았어
nan gyeondyeonaego igyeonaeneun nega johasseo
넌 분명 언? 가 소중한 별이 될 존재야
neon bunmyeong eonjen ga sojunghan byeol-i doel jonjaeya


또 오늘하루 변함없이 해가 저물고
tto oneulharu byeonhameopsi haega jeomulgo
넌 밤 하늘에 늘 똑같은 풍경을 보며 이 거리에 앉아 네 자신을 속이고 있었어
neon bam haneure neul ttokgateun punggyeongeul bomyeo i georie anja ne jasineul sogigo isseosseo
늘 성장없이 멈춰버린 자신이 미워
neul seongjangeopsi meomchwobeorin jasini miwo
이 지겨워진 네 현실에 눈을 돌렸어
i jigyeowojin ne hyeonsire nuneul dollyeosseo


이건 내가 아냐 난 이렇지 않아 널 부정해
igeon naega anya nan ireochi anha neol bujeonghae
널 생각하며 나 오늘 울었어
neol saenggakhamyeo na oneul ureosseo
네 행복했던 추억은 거짓이었나
ne haengbokhaetdeon chueogeun geojisieonna
그럴리 없어 넌 그럴수 없어
geureolli eopseo neon geureolsu eopseo


절망은 없어 끝이란 없어
jeolmangeun eopseo kkeutiran eopseo
할 수 있어
hal su isseo
넌 소심하고 내성적인 겁쟁이지만
neon sosimhago naeseongjeogin geopjaengijiman
난 견뎌내고 이겨내는 네가 좋았어
nan gyeondyeonaego igyeonaeneun nega johasseo


넌 분명 언? 가 소중한 별이 될 존재야
neon bunmyeong eonjen ga sojunghan byeol-i doel jonjaeya
이 수억명의 사람중에 너는 하나야
i sueogmyeong-ui saramjunge neoneun hanaya
그 누구라도 너를 대신 할 수 없잖아
geu nugurado neoreul daesin hal su eoptjanha
흔들리지마 넌 괜찮으니까
heundeullijima neon gwaenchanheunikka


난 수많은 아픔을 함께했어
nan sumanheun apeumeul hamkkehaesseo
그 누구도 널 부정할 순 없어
geu nugudo neol bujeonghal sun eopseo
이건 너를 위한 노래 나는 또하나의 너야
igeon neoreul wihan norae naneun ttohana-ui neoya
자 이 길을 걸어가자
ja i gireul georeogaja


또 서러운 시련이 찾아와도 넌 울지않아
tto seoreoun siryeoni chajawado neon uljianha
네곁에 있어 나를 기억해
negyeote isseo nareul gieokhae
너를 사랑해
neoreul saranghae
나를 기억해
nareul gieokhae


이건 너를 위한 노래 나는 또하나의 너야
igeon neoreul wihan norae naneun ttohana-ui neoya
그 누구도 널 부정할 순 없어
geu nugudo neol bujeonghal sun eopseo
넌 소심하고 내성적인 겁쟁이지만
neon sosimhago naeseongjeogin geopjaengijiman
난 견뎌내고 이겨내는 네가 좋았어
nan gyeondyeonaego igyeonaeneun nega johasseo


넌 분명 언? 가 소중한 별이 될 존재야
neon bunmyeong eonjen ga sojunghan byeol-i doel jonjaeya
이 수억명의 사람중에 너는 하나야
i sueokmyeong-ui saramjunge neoneun hanaya
그 누구라도 너를 대신 할 수 없잖아
geu nugurado neoreul daesin hal su eoptjanha
흔들리지마 넌 괜찮으니까
heundeullijima neon gwaenchanheunikka