Ad blocker interference detected!
Wikia is a free-to-use site that makes money from advertising. We have a modified experience for viewers using ad blockers

Wikia is not accessible if you've made further modifications. Remove the custom ad blocker rule(s) and the page will load as expected.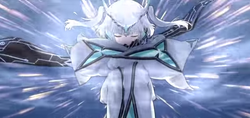 Song title
"10000광년 너머"
Romaja: 10000 Gwangnyeon Neomeo
English: Beyond 10000 Light Years
Uploaded July 26, 2014, with 63,000+ views
Singer(s)
SeeU
Producer(s)
Sangnoksu (music, lyrics)
Harafha (illust)
RPH (movie)
Links
YouTube Broadcast
Background
Edit
"10000 Gwangnyeon Neomeo" is an original SeeU song. It tells the tale of an alien who lives in space 10,000 lightyears from the earth. It wishes to learn more about the planet and the universe surrounding it, despite retaining a vast collection of knowledge from worlds it has already discovered.
Korean (한국어 가사)
Romaja (로마자)
칠흑색의 대양에 표류하는 쪽배처럼
chilheuksaegui daeyange pyoryuhaneun jjokbaecheoreom
거대한 별의 동토에 살아가며
geodaehan byeorui dongtoe saragamyeo
달도 없는 이름도 모르는 여기 나라엔
daldo eomneun ireumdo moreuneun yeogi nara-en
나라를 잊어버린 이가 한 사람 헤매었을 뿐
narareul iteobeorin iga han saram hemaeeosseul ppun
까마득한 이 너머엔 은빛 세상이 있다고
kkamadeukhan i neomeo-en eunbit sesangi itdago
먼지 쌓인 긴 침묵을 나아간 순간
meonji ssahin gin chimmugeul naagan sungan


시간이 나를 기억할 때까지
sigani nareul gieokhal ttaekkaji
이 세계가 살아 요동칠 곳까지
i segyega sara yodongchil gotkkaji
이 여정이 나를 별빛에 태워버려도
i yeojeongi nareul byeolbite taewobeoryeodo
한없이 한없이 영원히
haneopsi haneopsi yeongwonhi


대양 위는 거대한 어둠이 지배하는 곳
daeyang wineun geodaehan eodumi jibaehaneun got
무한한 추위만이 계속되는 곳
muhanhan chuwimani gyesokdeneun got
등불처럼 피어나 어느덧 난 깨닫겠지
deungbulcheoreom pieona eoneudeot nan kkaedatgetji
심장을 먹어치우는 이 추위는 고독이라고
simjangeul meogeochiuneun i chuwineun godokirago
영원이란 내 시간도 어느덧 닳아져 가고
yeongwoniran nae sigando eoneudeot darajyeo gago
아픔이란 그 낱말을 배웠던 순간
apeumiran geu nanmareul baewotdeon sun-gan


시간이 나를 기억할 때까지
sigani nareul gieokhal ttaekkaji
이 세계가 살아 요동칠 곳까지
i segyega sara yodongchil gotkkaji
이 여정이 나를 별빛에 태워버려도
i yeojeongi nareul byeolbite taewobeoryeodo
한없이 한없이 영원히
haneopsi haneopsi yeongwonhi


내 날이 끝내 멈추는 날까지
nae nari kkeunnae meomchuneun nalkkaji
이 두 눈이 빛에 멀어갈 때까지
i du nuni bite meoreogal ttaekkaji
이 세월이 그저 꿈으로 끝난다 해도
i sewori geujeo kkumeuro kkeunnanda haedo
한없이 한없이 영원히 영원히
haneopsi haneopsi yeongwonhi yeongwonhi


시간이 나를 기억하고 있어
sigani nareul gieokhago isseo
이 세계가 살아 요동치고 있어
i segyega sara yodongchigo isseo
이 여정이 닿을 수 없음을 알아도
i yeojeongi dateul su eopseumeul arado
한없이 한없이 영원히
haneopsi haneopsi yeongwonhi
아득히 아득히 영원히
adeukhi adeukhi yeongwonhi
External links
Edit
| | |
| --- | --- |
| | Lyrics |
| | |
| --- | --- |
| | Downloads |