Ad blocker interference detected!
Wikia is a free-to-use site that makes money from advertising. We have a modified experience for viewers using ad blockers

Wikia is not accessible if you've made further modifications. Remove the custom ad blocker rule(s) and the page will load as expected.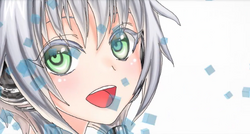 Song title
"22世纪摇滚公主"
Traditional Chinese: 22世紀搖滾公主
Pinyin: 22 Shìjǐ Yáogǔn Gōngzhǔ
English: 22nd Century Rock Princess
Uploaded August 21, 2013, with 5,000+ views
Singer(s)
Luo Tianyi
Producer(s)
Yu Jianliu (compose, video editor, tuning)
孖桔 (lyrics)
老I蜀黍 (tuning)
devilkreo (illustrator)
Links
bilibili Broadcast
Background
Edit
"22 Shìjǐ Yáogǔn Gōngzhǔ" is an original Luo Tianyi song that is featured in the album, 354 Mecha Girl Knights.
Chinese (中文歌词)
Pinyin (拼音)
传说中的太阳
chuanshuo zhong de taiyang
拥有耀眼的光芒
yongyou yaoyan de guangmang
黑暗中寻找
hei'an zhong xunzhao


白昼拥乱的路上
baizhou yong luan de lushang
金属冰冷反着光
jinshu bingleng fanzhe guang
天空总是灰色的
tiankong zong shi huise de
没有鲜花的馨香
meiyou xianhua de xinxiang


逞强维系 扭曲平衡 的世界
chengqiang weixi niuqu pingheng de shijie
时空凝结 不再流转 的季节
shikong ningjie bu zai liuzhuan de jijie
无奈眼见 封闭时间 模糊的地平线
wunai yanjian fengbi shijian mohu di dipingxian
听见
tingjian


时光丢弃的贝壳 碎裂的声响回荡
shiguang diuqi de beike sui lie de shengxiang huidang
机器继续运转着 不知如何停息
jiqi jixu yunzhuanzhe buzhi ruhe tingxi
人群来回擦肩过 我的悲伤被淹没
renqun laihui ca jianguo wo de beishang bei yanmo
眼神无助质问我 为何?
yanshen wu zhu zhiwen wo weihe?


低飞的鸟 凌乱羽毛 刺耳的鸣叫
di fei de niao lingluan yumao ci'er de mingjiao
恐惧缠绕 再唱不好 古老的歌谣
kongju chanrao zai chang bu hao gulao de geyao


停止的钟
tingzhi de zhong
请再次转动吧
qing zaici zhuandong ba
赐予我绝望的力量
ciyu wo juewang de liliang


钢筋穿梭 城市网络 紧压迫
gangjin chuansuo chengshi wangluo jin yapo
无力扭转 深陷漩涡 想挣脱
wuli niuzhuan shen xian xuanwo xiang zhengtuo
睡梦醒来 谁能解开 我心中的苦哀
shuimeng xing lai shui neng jie kai wo xinzhong de ku ai
祈祷
qidao


回忆城堡的微笑 再次回到我怀抱
huiyi chengbao de weixiao zaici hui dao wo huaibao
远处海面的波涛 穿过耳畔喧嚣
yuan chu haimian de botao chuanguo er pan xuanxiao
独自一人在苦恼 回声也变得聒噪
duzi yiren zai kunao huisheng ye bian de guazao
抓不到心唯一的 解药
zhua bu dao xin weiyi de jie yao


天色开始改变
tianse kaishi gaibian
雷声轰鸣 雨水也欲滴
lei sheng hongming yushui ye yu di
忽然感觉身边氤氲着 风的气息
turan ganjue shenbian yinyunzhe feng de qixi
尘埃也逐渐凋零
chen'ai ye zhujian diaoling


穿越人群 颤动衣裙 撕裂了乌云
chuanyue renqun chandong yi qun si liele wuyun
微光零星 剪切光影 裁出了奇迹
wei guang lingxing jian qie guangying cai chule qiji


回旋的风
huixuan de feng
请吹散阴霾吧
qing chui san yinmai ba
召唤出希望的光芒
zhaohuan chu xiwang de guangmang
External links
Edit
| | |
| --- | --- |
| | Lyrics |