3年C組14番窪園チヨコの入閣 (3-nen C-gumi 14-ban Kubozono Chiyoko no Nyuukaku)
Comments

0
Share
Ad blocker interference detected!
Wikia is a free-to-use site that makes money from advertising. We have a modified experience for viewers using ad blockers

Wikia is not accessible if you've made further modifications. Remove the custom ad blocker rule(s) and the page will load as expected.
This song article is lacking a proper background. You can help by adding one! The relevant section in the Song Article Guideline is a good starting point, and this blog post may also be helpful. We apologize for the inconvenience this may cause in the meantime.

Song pages lacking proper backgrounds are automatically sorted into this category.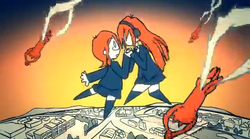 Song title
"3年C組14番窪園チヨコの入閣"
Romaji: 3-nen C-gumi 14-ban Kubozono Chiyoko no Nyuukaku
English: Year 3 Class C-14, Chiyoko Kubozono's Joining of the Cabinet
Uploaded March 03, 2013, with 132,000+ views
Singer(s)
Kagamine Rin Append
Producer(s)
Powapowa-P (music, lyrics)
Morii Kenshirou (video)
Masukotatsuki (mastering)
Links
Niconico Broadcast • YouTube Broadcast (reprint, subbed)

Background
Edit
"Year 3 Class C-14, Chiyoko Kubozono's Joining of the Cabinet" is an original song by Powapowa-P featuring Kagamine Rin.
This song is featured in this album, Kokegane no Uta and Ikiru.
This song has entered the Hall of Fame.
Japanese (日本語歌詞)
Romaji (ローマ字)
みえないiroiroずっと探してる
mienai iroiro zutto sagashiteru
あいいろのイロ イロイロないろ
ai-iro no iro iroiro na iro
みえないこころだけが突き刺さる
mienai kokoro dake ga tsukisasaru
廻り続ける 歌い疲れたのだ
mawari tsuzukeru utai tsukareta no da


ひとりえのエ こころのすみ
hitori e no e kokoro no sumi
そらにうかんだ 絵を掴んだ
sora ni ukanda e wo tsukanda


おはようは別れの時に
ohayou wa wakare no toki ni
さよなら=またね
sayonara wa mata ne
それからまた日が暮れ眠る頃
sorekara mata hi ga kure nemuru koro
君が夢にいたよ イロカサネテ
kimi ga yume ni ita yo iro kasanete


みえないジジツだけが真実で
mienai jijitsu dake ga shinjitsu de
かなしいことに カナシーコトに
kanashii koto ni kanashii koto ni
みえないきみの姿探してる
mienai kimi no sugata sagashiteru
廻り続ける 叫び疲れたころに
mawari tsuzukeru sakebi tsukareta koro ni


アのねの音 弱ネの次
ano ne no ne yowane no tsugi
今日の装備 ガイガーカウンターさ
kyou no soubi gaigaa kauntaa sa


アリガトはムカつく時に
arigato wa mukatsuku toki ni
これから=あした
korekara wa ashita
必要なモノは全部捨てちゃった
hitsuyou na mono wa zenbu sutechatta
君にはあえないよ コトカサネテ
kimi ni wa aenai yo koto kasanete


おはようは別れの時に
ohayou wa wakare no toki ni
さよなら=またね
sayonara wa mata ne
それからまた日が暮れ眠る頃
sorekara mata hi ga kure nemuru koro
君が夢にいたよ イロカサネテ
kimi ga yume ni ita yo iro kasanete
External links
Edit
| | |
| --- | --- |
| | Articles |
| | |
| --- | --- |
| | Lyrics |