Ad blocker interference detected!
Wikia is a free-to-use site that makes money from advertising. We have a modified experience for viewers using ad blockers

Wikia is not accessible if you've made further modifications. Remove the custom ad blocker rule(s) and the page will load as expected.
The following song article is still a work in progress. For information on how to help, see the song article guideline. We apologize for the inconvenience this may cause in the meantime.

What is being worked on?

Needs romaji proofreading and a background.

Work-in-progress song pages are automatically sorted into this category.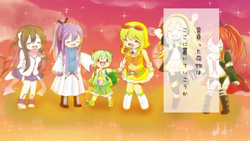 Song title
"300分トラベル"
Romaji: 300 Pun Toraberu
English: 300 Minutes of Travel
Uploaded Oct 22, 2014, with 60,000+ (NND) and 3,000+ (YT) views
Singer(s)
Gachapoid V3
Megpoid Talk
GUMI, CUL, kokone, Lily, Camui Gackpo (chorus)
Producer(s)
Asin Kuroda (music, lyrics)
Kagome-P (mix, mastering)
Masado Fukuta (guitar)
Umezawa Shigeki (bass)
Arutsun (drum)
Yuna (illust)
Links
Niconico Broadcast • YouTube Broadcast

Background
Edit
"
This happens if you have call Gachapoid V3 with singing ability
"
 

— author's comment translated
Ryuto's official PR song.
"300分トラベル" is a ballad demo song by Asin Kuroda for the VOCALOID3 Library Gachapoid V3.
The song was released as a single by VOCALOTRACKS.
Japanese (日本語歌詞)
Romaji (ローマ字)
いなくなりたいから 背負ったリュックひとつ
inaku nari tai kara seotta ryukku hitotsu
いつの間にか 降り出した 雨は まだ止まない
itsuno manika furidashi ta ame wa mada yama nai


幸せが行き来する 駅の灯(ひ)が眩しい
shiawase ga ikiki suru eki no akari (hi) ga mabushii
電車は行く どこまでも どこにも行けない ぼくを乗せて
densha wa iku doko made mo doko ni moike nai boku o nosete


あなたの声 期待して裏切られて
anata no koe kitai shite uragirare te
隠して隠せなくて 何もない日常 ぼくはどこにもいないんだと
kakushi te kakuse naku te nani mo nai nichijou boku wa doko ni mo wi naindato


ニセモノのぼくは「良い子」のフリして 独り勝手に傷を増やす
nisemono no boku wa「yoiko」no furi shi te hitori katte ni kizu wo fuyasu
気づかれるための 気づかれないかさぶたが 固く 固くなるまで
kizukareru tame no kizukare nai kasabuta ga kataku kataku naru made
優等生顔の奥のわがままを 本当は分かってほしいんだよ
yuutousei gao no oku no wagamama wo hontou wa wakatte hoshiin da yo
あなたが好きな 物分かりの良いぼく ねえ いちばん 嫌いなんだよ
anata ga suki na mono wakari no yoi boku nee ichiban kirai nanda yo


ため息が少しずつ ガラス曇らせては
tameiki ga sukoshi zutsu garasu kumorasete wa
ダメな自分 思い出させてさ ぼくは 目を閉じたよ
dame na jibun omoi dasasete sa boku wa me wo tojita yo


ぶつからないように 上手くやってきた つもりだったのに
butsukara nai you ni umaku yatte kita tsumori datta noni
今更思う 優しさって そういうものなのかなあ
imasara omou yasashisatte souyuu mono na no kana


ニセモノの間 ぼくは「良い子」で 傷付かないふりもできる
nise mono no ma boku wa 'yoiko' de kizu tsuka nai furi mo dekiru
気まぐれで見せる くだらない優しさが こんな胸を刺すのに
kimagure de miseru kudaranai yasashisa ga konna mune wo sasu noni
諦めつづけてきた色々や 大人ぶって飲み込んだ言葉
akirame tsuzukete kita iroiro ya otonabutte nomikon da kotoba
何でなんだろう 叫び出したいくらいの 悲しみが 伝わんないんだよ
nande nan darou sakebi dashi tai kurai no kanashimi ga tsutawan naindayo


(ごめんね 私 いちばん大切なもの 見えてなかった)
(gomen ne watashi ichiban taisetsu na mono miete nakatta)
(きみがいなくなっちゃう前に もっと 話を聞いて もっと ぎゅっと抱きしめて)
(kimi gai naku nacchau mae ni motto hanashi wo kiite motto gyutto dakishimete)
(嫌がられたって 名前を呼んで 毎日 「大好きだよ。」って言えば良かった)
(iyagarareta tte namae wo yon de mainichi 「daisuki da yo.」 tte ie ba yokatta)
(ね お願い 一緒に帰ろう)
(ne onegai issho ni kaerou)


ホンモノは寂しがりのピエロで あなたが笑ってくれたら 救われてしまう
honmono wa sabishi gari no piero de anata ga waratte kure tara sukuware te shimau
手のひらの温もりで 固い心溶けてく
tenohira no nukumori de katai kokoro toke te ku
何度でも確かめさせてほしいよ あなたを愛しているんだと
nan do demo tashikame sase te hoshii yo anata o aishi te irundato
背負った荷物は ここに置いていこうか もう 家(うち)に 帰る時間だね
seotta nimotsu wa koko ni oi te ikou ka mou ie (uchi) ni kaeru jikan da ne
External links
Edit
| | |
| --- | --- |
| | Articles |
| | |
| --- | --- |
| | Purchase |