Ad blocker interference detected!
Wikia is a free-to-use site that makes money from advertising. We have a modified experience for viewers using ad blockers

Wikia is not accessible if you've made further modifications. Remove the custom ad blocker rule(s) and the page will load as expected.
This song article is lacking a proper background. You can help by adding one! The relevant section in the Song Article Guideline is a good starting point, and this blog post may also be helpful. We apologize for the inconvenience this may cause in the meantime.

Song pages lacking proper backgrounds are automatically sorted into this category.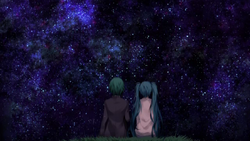 Song title
"5150"
Uploaded February 29, 2012, with 122,400 views
Singer(s)
GUMI
Producer(s)
Darvish-P (music, lyrics)
ke-sanβ (movie)
Ako Arisaka (illust)
Kei Nakamura (bass)
NETERO (drums)
Links
Niconico Broadcast
Background
Edit
"
You're not alone
"
 

— Darvish-P
"5150" is included on Darvish-P's debut album 5150.
In the PV, Gumi seems to be a struggling musican, but she is supported by her friend, Miku. Through out the song, she talks about wanting to convey her feelings and that she wants Miku to continue to support her. In the end of the video, the girls are stargazing together and Gumi takes hold of Miku's hand, hoping to express her feelings for her friend.
This song has entered the Hall of Fame.
Succeeding versions
Edit
Nano's English Version

Featuring
Nano
Author(s)
Nano, Darvish-P
Category
Succeeding version; Human cover

Description

Nano's English version featured on the album

5150
Japanese (日本語歌詞)
Romaji (ローマ字)
零れ落ちてく 遠い空 風が泣いた
koboreochite ku tooi sora Kaze ga naita
夜明け前 佇んでいた この胸の奥の痛み
yoake mae tatazundeita kono mune no oku no itami


誰もが望んだ 華やぐ世界
daremoga nozonda nanyagu sekai
淡い想いなど 崩れ落ちて
awai omoi nado kuzureochite
焦りと怠惰 この苛つく心を
aseri to taida kono ira tsuku kokoro o
重ねる様に吐いた この感情
kasaneru you ni haita


Carry On 僕達は 今 悩んで もがいて
Carry On bokutachi wa Ima Nayande Mogaite
疲れた身体 引きずって
tsukareta karada o hikizutte
心、涙、枯れ果てて
kokoro, namida, kare hatete
闇の中 叫び続けよう
yami no naka Sakebi tsudzukeyou
明けない夜を 今
akenai yoru o Ima


そう 見上げた空の星達
sou miageta sora no hoshitachi
この闇を 照らすように
kono yami o terasu you ni
傷ついた この心
kizutsuita kono kokoro
ただ優しく包むよ
tada yasashiku tsutsumu yo


輝く星の真下で
kagayaku hoshi no mashita de
掠れた声を響かせた
kasureta koe o hibikaseta
「君は狂ってないよ」と
"kimi wa kuritte nai yo" to
聞かせて欲しい
kika sete hoshii
優しい声
yasashii koe


この眼の奥に 閉じ込めた未来を
kono me no oku ni tojikometa mirai o
あの日の僕は ただ立ち尽くしていた
ano hi no boku wa tada tachitsukushite ita
力強く咲いてる あの花のように
chikaradzuyoku sai teru ano hana no you ni
この闇も超えて行ける
kono yami mo koete ikeru


Carry On 僕達は 今 足掻いて 揺れて
Carry On bokutachi wa ima agaite yurete
破れた翼 引きずって
yabureta tsubasa hiki zutte
星をなぞる指先
hoshi o nazoru yubisaki
雨の中 叫び続けよう
ame no naka sakebi tsudzukeyou
抗いの歌
aragai no uta


Carry On 僕達は 今 相克の果てに
Carry On bokutachi wa ima soukoku no hate ni
夢の続きを 生きていく
yume no tsudzuki o Ikiteiku
たとえ叶わなくとも
tatoe kanawanakutomo
風の中 叫び続けよう
kaze no naka Sakebi tsudzukeyou
名もなき詩
namo naki uta


夜空の星の瞬き
yozora no hoshi no mabataki
この闇を白く染めて
kono yami o shiroku somete
「君は一人じゃない」と
"kimi wa hitori ja nai" to
ただ聞かせて欲しいよ
tada kika sete hoshii yo


輝く星の真下で
kagayaku hoshi no mashita de
僕らは今日も揺れるけど
bokura wa kyou mo yurerukedo
溢れ出すこの想いを
afure dasu kono omoi o
ただ伝えたい
tada tsutaetai
掠れた声で
kasureta koe de
Another day slips by
I feel the wind
the sky is crying
I'm standing alone before an endlessly long night
the beat of my heart is echoing around me

Now the perfect world you prayed for
I see it in your eyes
you watch the beauty fall to pieces
as darkness surrounds you
Every single answer inside turns into a lie
you fight the pain that is threatening
as you hopelessly cry

CarryOn every one of us every soul inside is bleeding
finally the broken silence begins to slip away
every pain every tear every breath I take
stolen by the darkness but I'm hanging on
for a morning that will never dawn

So take a look above at the heavens overhead
just like the way the night embraces all the stars
I'll always be right here, arms open wide
if you would let me in your broken heart

Beneath the shining stars in the heavens overhead
I'll stand until I've shed every tear that I can cry
"Through the endless night, you'll find a way"
I close my eyes and hear
a gentle voice within me

I look into your eyes and see there's a dream you've long forgotten
and the days you thought were over is what's holding you back now
if you'd only look inside yourself for the strength to let go
you would finally see the night fade away

CarryOn every one of us every soul inside is praying
trying to spread our broken wings as we struggle to fly
tracing stars just beyond our fingertips
in the relentless rain our screams are softly killed
and so I sing this song

CarryOn every one of us every soul inside is living
a dream we abandoned in our past, together again
even if it should never come true
in the relentless rain, I pray that you will hear
this song I sing for you

So take a look above at the heavens overhead
just like the way the night embraces all the stars
I'll always be right here, arms open wide
if you would let me in your broken heart

Beneath the shining stars in the heavens overhead
I'll stand until I've shed every tear that I can cry
"Through the endless night, you'll find a way"
I close my eyes and hear
a gentle voice within me
External links
Edit
| | |
| --- | --- |
| | Articles |
| | |
| --- | --- |
| | Downloads |