Ad blocker interference detected!
Wikia is a free-to-use site that makes money from advertising. We have a modified experience for viewers using ad blockers

Wikia is not accessible if you've made further modifications. Remove the custom ad blocker rule(s) and the page will load as expected.
This song article is lacking a proper background. You can help by adding one! The relevant section in the Song Article Guideline is a good starting point, and this blog post may also be helpful. We apologize for the inconvenience this may cause in the meantime.

Song pages lacking proper backgrounds are automatically sorted into this category.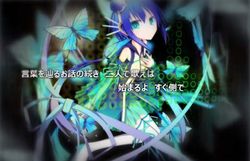 Song title
"AO~いつだってすぐ側に~"
Romaji: AO ~Itsu Datte Sugu Soba ni
English: BLUE ~Always By Your Side~
Uploaded March 30, 2012, with 34,000+ (NND) / 1,000+ (YT) views
Singer(s)
Aoki Lapis
Producer(s)
kirin
Links
Niconico Broadcast • YouTube Broadcast (official)

Background
Edit
"AO~Itsu Datte Sugu Soba ni~" is an original Japanese song featuring Aoki Lapis. It is the ninth and final demo song released to promote the VOCALOID3 voicebank.
Japanese (日本語歌詞)
Romaji (ローマ字)
いつか聞かせてくれたおはなしの続きを
itsuka kika sete kureta o hanashi no tsudzuki o
もっと知りたくなって 旅をしてゆく
motto shiritaku natte tabi o shite yuku
いつもすぐ側にある 当たり前は何処かで
itsumo sugu soba ni aru atarimae wa dokoka de
絵空事みたいだと一人泣いてた
esoragoto mitaidato ichi-ri nai teta


「不安だらけ、分からないの、右も左も…」
"fuandara ke, wakaranai no, migi mo hidari mo…"


上手く出来ないことも君は君でいいと伝えたい
umaku dekinai koto mo kimi wa kimi de ii to tsutaetai
何も知らずに笑い合えたならすれ違ってゆく
nani mo shirazu ni warai aetanara surechigatte yuku
今はまだ知らなくて
ima wa mada shiranakute


想(こえ)を聞かせて欲しい その手ほら伸ばして教えてよ
koe o kika sete hoshii sono te hora nobashite oshiete yo
言葉を辿るお話の続き 二人で歌えば
kotoba o tadoru ohanashi no tsudzuki futari de utaeba
始まるよ すぐ側で
hajimaru yo sugu soba de


綺麗な空の色をずっと眺めていた
kireina sora no iro o zutto nagamete ita
飛べない願い事を風に乗せたら
tobenai negaigoto o kaze ni nosetara
ほんの少し悩んで 目を閉じ歌い出した
honno sukoshi nayande me o toji utai dashita
泣いて笑った夢を君の隣で
naite waratta yume o kimi no tonari de


「足りてないの、私の中、少しの勇気」
"tari tenai no, watashi no naka, sukoshi no yuuki"


蒼い空流れてく 聞こえてきた想(こえ)は小さくて
aoi sora nagarete ku kikoete kita koe wa chiisakute
分からなくても君を知りたくて もっと聞かせてと
wakaranakute mo kimi o shiritakute motto kikasete to
いつだってすぐ側で
itsu datte sugu soba de


「不安だらけだよ。未来なんて見えやしなくて…でも、それでも」
"fuandara keda yo. Mirai nante mieyashi nakute… demo, soredemo"


上手く出来ないことも君は君でいいと伝えたい
umaku dekinai koto mo kimi wa kimi de ii to tsutaetai
何も知らずに笑い合えたならすれ違ってゆく
nani mo shirazu ni warai aetanara surechigatte yuku
今はまだ…
ima wa mada…


分からなくても君を知りたくて もっと聞かせてといつだって
wakaranakute mo kimi o shiritakute motto kikasete to itsu datte
言葉を辿るお話の続き 二人で歌えば始まるよ 今此処で
kotoba o tadoru ohanashi no tsudzuki futari de utaeba hajimaru yo ima koko de
External links
Edit
| | |
| --- | --- |
| | Articles |