"Aria" redirects here. For the song by Ria:p, see Aria (Ria:p song).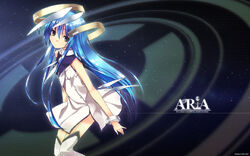 Song title
"ARiA"
Uploaded April 29, 2010, with 841,000+ (NND) 11,000+ (YT) views
Singer(s)
Hatsune Miku
Producer(s)
Toku-P (music, lyrics)
Lino (lyrics)
Kionachi (lyrics, design)
sleepwalker (guitar, direction)
ORYO (bass)
Refeia (illustration)
Links
Niconico Broadcast • YouTube Broadcast (uploaded by the author)

Background
Edit
| | | |
| --- | --- | --- |
| " | For a chance to be with you, miracles in unison | " |
The song describes ARiA, an entity that seeks to be one with the stars. She saw a star during her childhood, and wishes to meet it once again. The song continues with ARiA trying to reach the heavens, using computer methods and technology. She sings her requests to the Eternal Sky wishing for miracles so she could see her precious star. She then flies into space, hoping to find her star, only to make her mysteriously disappear into its vastness.
The songs interpretation is a deep meaningful one, It may range from a person to always dream and reach high, to reach what they seek and to grow into the person they want. As one reaches their dreams and goals, they soon disappear into their own dream, where they might be happy or pleased to have reached what they have wanted to achieved for a long time. It is also notable that in the final line of the lyrics, the kanji for "star" (星) is used but is sung as moto ("source", e.g. "where someone is from")
The person depicted in the PV is not Miku. Her name is ARiA, a character made by the members who produced the work. ARiA is short for "Autonomous Reactive integral Attribute".[1]
Piano sheet music appeared in the Piano Solo Yasashiku Hikeru collection.
Japanese (日本語歌詞)
Romaji (ローマ字)
子供の頃に いつも見ていた
kodomo no koro ni itsumo mite ita
窓に映った 光の行方
mado ni utsutta hikari no yukue


遥か遠くの 遥か未来の
haruka tooku no haruka mirai no
昔話で 彩る天体(せかい)
mukashi banashi de irodoru sekai


無数の星の トンネル抜けて
musuu no hoshi no tonneru nukete
走り続ける レールの音は
hashiri tsuzukeru reeru no oto wa


どこで出会うの どこへ向かうの
doko de deau no doko e mukau no
ふと見上げたら 君のぬくもり
futo miage tara kimi no nukumori


星空またたく 思い出奏でた宙(そら)
hoshizora matataku omoide kanadeta sora
君と出会い 言葉さえ色あせた
kimi to deai kotoba sae iro aseta


星くずが紡ぎ出す アリア
hoshikuzu ga tsumugi dasu ARiA
届けて このメロディーを
todoke te kono merodii o
君と描いてた 想いを繋いで
kimi to egai teta omoi o tsunai de


溢れ出すこの気持ち 刹那
afure dasu kono kimochi setsuna
瞬く流星のように
matataku ryūsei no yōni
抱いて貫いて あなたの胸に つつまれて…
dai te tsuranui te anata no mune ni tsutsumare te...


ため息一つ 月が回るわ
tameiki hitotsu tsuki ga mawaru wa
忘れかけてた 幼い言葉
wasure kake teta osanai kotoba


誰かの涙 誰を嘆くの
dareka no namida dare o nageku no
裏切られても 気づかないフリ
uragi rare temo kizuka nai furi


空飛ぶ魔法とか 信じて夢見た頃
sora tobu mahou toka shinji te yume mita koro
集めた星図(ちず) 神話さえ色あせた
atsumeta chizu shinwa sae iro aseta


走り出すこの思い アリア
hashiri dasu kono omoi ARiA
続けて このメロディーを
tsuzuke te kono merodii o
きっと 意気地無し 足跡おざなり
kitto ikuji nashi ashiato ozanari


響きだすあの譜面 彼方
hibiki dasu ano fumen kanata
一粒 波紋のように
hitotsubu hamon no yōni
君に逢えるなら 奇跡さえも ユニゾン(みかた)にして…
kimi ni aeru nara kiseki sae mo mikata ni shite...
気づけばほら 無重力に うかぶ涙
kizu keba hora mujuuryoku ni ukabu namida
闇の中 キラリ 隠せないまま
yami no naka kirari kakuse nai mama


うばたまの夢で逢う
ubatama no yume de au
君の横顔 まだ気づかない
kimi no yoko gao mada kizuka nai
やめて 意地悪なキスならいらない
yamete ijiwaru na kiss nara ira nai


走り出すこの思い
hashiri dasu kono omoi
宙(そら)は永遠 今手を伸ばす
sora wa eien ima te o nobasu
君にあえるなら奇跡さえも 味方にして
kimi ni aeru nara kiseki sae mo mikata ni shite


星くずが紡ぎ出す アリア
hoshi kuzu ga tsumugi dasu ARiA
銀河の どこを旅する(ながれる)?
ginga no doko o nagareru?
いつか 手の届く星ならおしえて
itsuka te no todoku hoshi nara oshiete


光無き この星に いつか
hikari naki kono hoshi ni itsuka
ひとすじ 彗星のように
hito suji suisei no youni
夜を突き抜けて わたしの星(もと)へ 逢いに来て…
yoru o tsuki nuke te watashi no moto e ai ni kite...
Derivatives
Edit
MARiA's Cover

Featuring
MARiA
Author(s)
Joie (mix), sleepwalker (encoding)
Category
Human cover

Description

A popular cover by MARiA, reaching over 400,000 views.
Four Person's Chorus

| | |
| --- | --- |
| Featuring | MARiA, lino, Baku, Ao Ringo |
| Author(s) | Abarabone |
| Category | Nico Nico Chorus |
Other media appearances
Edit
This song was featured in the following concerts.
External links
Edit
| | |
| --- | --- |
| | Official |
| | |
| --- | --- |
| | Articles |
References
Edit