Ad blocker interference detected!
Wikia is a free-to-use site that makes money from advertising. We have a modified experience for viewers using ad blockers

Wikia is not accessible if you've made further modifications. Remove the custom ad blocker rule(s) and the page will load as expected.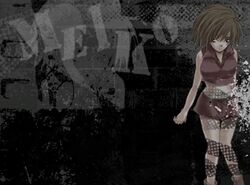 Song title
"A Certain Night"
Uploaded Mar.15.2009, with 17,000+ (NN) views
Singer(s)
MEIKO
Producer(s)
GozenP (music, lyrics, composer)
Links
Niconico Broadcast
Background
Edit
This song contain dark, full of wistful rock ballads, with MEIKO singing strongly, painfully, and dry with melancholy. This song had also been selected for a MEIKO V3 STRAIGHT and POWER Demo.
Succeeding versions
Edit
V3 Demo

Featuring
MEIKO
Author(s)
GozenP
Category
demo

Description

A V3 demo featuring MEIKO V3 STRAIGHT and POWER
Japanese (日本語歌詞)
Romaji (ローマ字)
赤と黒と白だけを見てた
aka to kuro to shiro dake o miteta
ふいに世界は色を失って
fui ni sekai wa iro o ushinatte
低く響く絶望の音が全部壊してく
hikuku hibiku zetsubou no oto ga zenbu kowashi teku


人が望み 人が手に入れた
hito ga nozomi hito ga te ni ireta
はずの叡智は正義の名の下
hazu no eichi wa seigi no na no moto
今も誰かの小さな夢や想いを奪ってく
ima mo dareka no chīsa na yume ya omoi o ubatteku


そっと降り注ぐ白
sotto furi sosogu shiro
小雪のように風に散らされ
koyuki no you ni kaze ni chira sare
何度叫んでみても
nando sakende mitemo
誰も答えず赤い光が揺れる
daremo kotaezu akai hikari ga yureru


青い祈りはガラスのように
aoi inori was garasu no you ni
細く儚い音を響かせ
hosoku hakanai oto o hibikase
何も出来ず なにも許されず
nanimo dekizu nanimo yuru sarezu
闇にその身を委ねた
yami ni sono mi o yudaneta


長い長い雨が降り続き
nagai nagai ame ga furi tsuzuki
やがて世界は色を取り戻し
yagate sekai wa iro o tori modoshi
変わり果てた大地に緋色の水が流れる
kawari hateta daichi ni hiiro no mizu ga nagareru


夜は全て受け入れるように
yoru wa subete uke ireru you ni
空は静かに透き通りだした
sora wa shizuka ni suki toori dashita
時を止めた時計台から終りを眺めてる
toki o tometa tokei dai kara owari o nagame teru


きっと誰かのための
kitto dareka no tame no
この風景はただ美しく
kono fuukei wa tada utsukushiku
二度と戻れない事
nido to modore nai koto
孤独の中で悲しみの目を閉じた
kodoku no naka de kanashimi no me o tojita


青い祈りはガラスと共に
aoi inori wa garasu to tomo ni
鉄の光に脆く砕かれ
tetsu no hikari ni moroku kudakare
全て消して 全て灰にして 全てこの地球に還る
subete keshi te subete hai ni shite subete kono chikyuu ni kaeru


揺らぐ水面姿を映す
yuragu suimen sugata o utsusu
蒼い月が怪しく嘲い
aoi tsuki ga ayashiku azawarai
僕ら人の行く先を照らし出す
bokura hito no yukuzaki o terashi dasu
全て知るように
subete shiru you ni


何を手に入れ 何を失い 何を残して歩みを止めて
nani o te ni ire nani o ushinai nani o nokoshi te ayumi o tome te
今日の歴史はいつかの僕らが
kyou no rekishi wa itsuka no bokura ga
また繰り返すのだろう
mata kuri kaesu no darou


人の祈りはガラスのように
hito no inori wa garasu no you ni
脆く儚く頼りないけど
moroku hakanaku tayori nai kedo
いつか僕ら手を取り合えますように・・・
itsuka bokura te o tori ae masu you ni...
長い夜が明けた
nagai yoru ga aketa
External links
Edit
| | |
| --- | --- |
| | Articles |
| | |
| --- | --- |
| | Downloads |
| | |
| --- | --- |
| | Lyrics |