This song article is lacking a proper background. You can help by adding one! The relevant section in the Song Article Guideline is a good starting point, and this blog post may also be helpful. We apologize for the inconvenience this may cause in the meantime.

Song pages lacking proper backgrounds are automatically sorted into this category.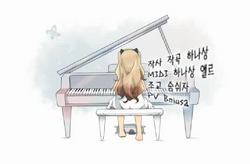 Song title
"Always"
Uploaded September 1, 2013, with 7,000+ views
Singer(s)
SeeU
Producer(s)
Team Sweet Dream
Links
YouTube Broadcast
Background
Edit
"Always" is an original Korean song by Team Sweet Dream featuring SeeU.
Korean (한국어 가사)
Romaja (로마자)
당신과의 모든 추억을 계속 되새기면서 울고 있어요
dangsingwa-ui modeun chueogeul gyesok doesaegimyeonseo ulgo isseoyo
당신은 아직도 우리의 추억을 추억으로 간직하고 있나요?
dangsineun ajikdo uri-ui chueogeul chueogeuro ganjikhago innayo?


그대가 나에게 해 주던 그 말이 마음을 흔들죠
geudaega na-ege hae judeon geu mari ma-eumeul heundeuljyo
떠올려 낼 수록 기억이 자꾸만 눈 앞을 가려요
tteoollyeo nael surok gieogi jakkuman nun apeul garyeoyo


너를 보고 싶어 라고 말할 용기는 없으니까
neoreul bogo sipeo rago malhal yonggineun eopseunikka
당신을 향해서 이 노래를 부르고 있으니까요
dangsineul hyanghaeseo i noraereul bureugo isseunikkayo


당신과의 모든 추억을 계속 되새기면서 울고 있어요
dangsingwa-ui modeun chueogeul gyesok doesaegimyeonseo ulgo isseoyo
보고 싶어져서 마음이 아파서 계속 울 뿐이죠
bogo sipeojyeoseo ma-eumi apaseo gyesok ul ppunijyo


나의 마음이 당신에게 닿기를 간절하게 소망해 봐요
naui ma-eumi dangsinege dakireul ganjeolhage somanghae bwayo
당신은 나에게 무엇보다 제일 소중한 사람이니까
dangsineun na-ege mueotboda jeil sojunghan saraminikka


시간이 흐르면 괜찮아 질 거야 라고 생각했죠
sigani heureumyeon gwaenchanha jil geoya rago saenggakhaetjyo
그치만 시간이 아무리 흘러도 나아지지 않아요
geuchiman sigani amuri heulleodo naajiji anhayo


시간이 흘러도 추억으로 간직할 거예요
sigani heulleodo chueogeuro ganjikhal geoyeyo
잊혀져버릴 기억이 아니라고 믿고 있으니까요
ichyeojyeobeoril gieogi anirago mitgo isseunikkayo


당신과의 모든 추억을 계속 되새기면서 울고 있어요
dangsingwa-ui modeun chueogeul gyesok doesaegimyeonseo ulgo isseoyo
보고 싶어져서 마음이 아파서 계속 울 뿐이죠
bogo sipeojyeoseo ma-eumi apaseo gyesok ul ppunijyo


당신과 함께 했던 날들
dangsingwa hamkke haetdeon naldeul
그때로 되돌아 갈 수는 없겠죠
geuttaero doedora gal suneun eopgetjyo
만약에 그 때로 되돌아 간다면 그 손 놓지 않을래요
manyage geu ttaero doedora gandamyeon geu son nochi aneullaeyo


당신을 계속 사랑해도 될까요
dangsineul gyesok saranghaedo doelkkayo


당신과의 모든 추억을 계속 되새기면서 울고 있어요
dangsingwa-ui modeun chueogeul gyesok doesaegimyeonseo ulgo isseoyo
보고 싶어져서 마음이 아파서 계속 울 뿐이죠
bogo sipeojyeoseo ma-eumi apaseo gyesok ul ppunijyo


당신과의 모든 추억을 껴안고 나는 계속 걸어가겠죠
dangsingwa-ui modeun chueogeul kkyeoango naneun gyesok georeogagetjyo
보고 싶어져서 잊기 싫으니까
bogo sipeojyeoseo itgi sireunikka
소중한 그 기억들을
sojunghan geu gieokdeureul
당신을 사랑하니까요
dangsineul saranghanikkayo
언제나 기억하고 있으니까요
eonjena gieokhago isseunikkayo
당신은 나에게 무엇보다 제일 소중한 사람이니까
dangsineun na-ege mueotboda jeil sojunghan saraminikka
Always all the time I love you
External links
Edit
| | |
| --- | --- |
| | Lyrics |