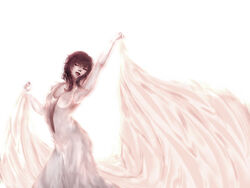 Song title
"Ancient Love"
Uploaded December 30, 2013 / January 18, 2014, with 2,200+ views
Singer(s)
AVANNA
Producer(s)
AdyS (music, lyrics)
Hidaomori (illustration)
Links
YouTube Broadcast (author's upload)
YouTube Broadcast (Vocallective Records upload)

Background
Edit
"Ancient Love" is a house-style song with celtic-influenced elements, sung by AVANNA. AdyS, the song's writer and producer, stated in the video description that "I was actually trying to achieve that celtic-paganic-dragon-fantasy feel with this song, but then I decided to put some modern futuristic electro bass because why not."
The song was originally released in Vocallective Records' album Christmas Cracker, published on December 20, 2013. It was uploaded to YouTube by Azureflux (the label's founder) ten days later, and was again uploaded to YouTube on January 18, 2014, this time on AdyS's channel with original art by Hidaomori.
The song was originally going to be called "Celtic Love".
take my heart
and eat it in despair
steal my soul
and let it burn away
kill me
kill me
and let me burn

perish me
if i defy
stop me
if i deny
crucify
sacrifice
and let me rise

when will my heart be close to you
my savior
help me reach your light
and your love

could i stay with you forever
let me in
listen to my whisper
before comes the thunder
External links
Edit
| | |
| --- | --- |
| | Official |
| | |
| --- | --- |
| | Articles |
| | |
| --- | --- |
| | Downloads |
Ad blocker interference detected!
Wikia is a free-to-use site that makes money from advertising. We have a modified experience for viewers using ad blockers

Wikia is not accessible if you've made further modifications. Remove the custom ad blocker rule(s) and the page will load as expected.