Aoki Lapis (蒼姫ラピス / Aoki Rapisu) is a Vocaloid 3 that was released on April 6, 2012. On the 5th of August 2011, it was confirmed I-Style Project had a Vocaloid known as "Aoki Lapis" that was released for Vocaloid3 on April 6th, 2012.
Lapis' design is loosely based on the "magic-girl" anime genre and her bio states that she is a fairy and has some background information, hence why she is listed with such a small size.
If Lapis can be considered as "light", her sister is therefore presumed to be "dark" due to her alleged devil-like attributes.[1]According to her developers, Aoki Lapis has no memory of who she is.[2]
Lapis has the power to give life using song, while her sister draws energy from living things. The big gem she has on her head is a Paraiba Tourmaline, an extremely precious and rare gemstone.
Etymology
Edit
Aoki Lapis is named after the semi-precious gemstone Lapis lazuli because of her color palette.
"Aoki" (her surname) means "Blue Princess".
Vocaloid Releases
Edit
Examples of Usage
Edit
| | |
| --- | --- |
| | Before adding translated or subbed videos, please read this tutorial in order not to list gravely mistranslated ones. |
To our readers and editors, for section notes please read; Notes; Examples sections.
More examples
Author(s):
Category:
Featuring:
     

Author(s):
Category:
Featuring:
     

Author(s):
Category:
Featuring:
     

Marketing
Edit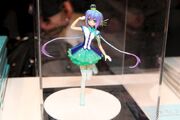 Lapis has had some fan direct marketing.
An iOS app can be downloaded based on her. It allows Aoki Lapis to appear on screen as though she was in the environment being pictured. The App is free to download.[3]
A second app has also been released for free. In it, Lapis counts sheep to help you fall asleep, and it also comes with an alarm.[4]
A third app has been produced, this one based on a game.[5]
A CD with all her demos was released on December 29, 2011. The CD also included the unpublished demo "Think the Future".
VOCAFARRE 2011
Edit
On the 15th-16th of December Gumi , VY1V3 , Akikoroid-chan, Tone Rion and Aoki Lapis appeared in a 3D concert at VOCAFARRE 2011
Main article: Vocafarre 2011
| Song | Broadcast |
| --- | --- |
| Aoki Lapis - Daydream Flight | Youtube |
| Aoki Lapis - Little Wish | Youtube |
| All Involved - VocaLawson Vocafarre Full Concert | Youtube |
| All Involved - VocaLawson Vocafarre Concert Summary | NicoVideo |
Competition
Edit
There was a "dress up" competition for Lapis. A base picture was issued and fans were invited to dress her up and submit the entry.[6] The contest is now complete with winners and runner ups announced. The winners entry will be adapted and used as an offical (alternative) costume.[7] There was also an illustration contest held for her, where in 3 rounds, users would be able to submit drawings of her and the best would go into a future art book.
A figurine was seen on display for Aoki Lapis recently. Details are currently unknown.
Lapis has an official Twitter acount.[8]
Wall scroll
Edit
A wall scroll of Merli and Aoki Lapis has been produced.[9]
Lapis and Merli are due to have chocolates released for Valentine's Day 2013.[10]
Sponsorship
Edit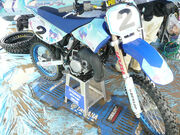 During the 2013 All Japan Ladies Motocross Championship, the driver Yasuhara Saya was sponsored by i-style project.[11]
Additional information
Edit
Popularity
Edit
Lapis had a number of songs in the Nico Douga weekly ranking after release.[12]
Notable for...
Edit
First I-Style Project VOCALOID released
First female vocaloid by I-Style Project
First Vocaloid to have a confirmed sibling
A sketch
Aoki Lapis' Concept Art
Lapis on Vocaloid Shop merchandise
References
Edit
External links
Edit
Official :
Other :
Fandom :
VOCALOID by Voicebank gender factor