This song article is lacking a proper background. You can help by adding one! The relevant section in the Song Article Guideline is a good starting point, and this blog post may also be helpful. We apologize for the inconvenience this may cause in the meantime.

Song pages lacking proper backgrounds are automatically sorted into this category.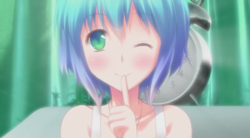 Song title
"apricot"
Uploaded August 14, 2012, with 20,000+ views
Singer(s)
Aoki Lapis
Producer(s)
Celo Project (music, lyrics)
Shibayan (mastering)
minakami (illust)
Mienohito (video
Links
Niconico Broadcast
Background
Edit
"apricot" is an original song by Celo Project featuring Aoki Lapis.
This song is featured in the first Lapis only compilation album, Blue Princess Memories, released by the Japanese record label Celo Project.
Japanese (日本語歌詞)
Romaji (ローマ字)
夏色のグラディション
natsu iro no guradeishon
見上げた空は
miageta sora wa
キラキラと輝いていた
kirakira to kagayai teita
揺れてる淡い想いは
yureteru awai omoi wa
少し酸っぱい
sukoshi suppai
apricotに似てるかも
apricot ni ni teru kamo


二人乗り自転車で
futari nori jitensha de
海へ続く帰り道
umi e tsudzuku kaeri michi


夢の途中坂道で
yume no tochuu saka michi de
神様にお願いを...
kamisama ni onegai o...


時間を止めて
jikan o tomete


Happy sweet love emotion
この胸の高鳴りを
kono mune no takanari o
風に乗せて
kaze ni nosete
今すぐあなたに届けたい
ima sugu anata ni todoke tai


sweetie hony (so) love potion
恋の媚薬で魔法をかけて
Koi no biyaku de mahou o kakete
このトキメキを
kono tokimeki o
抱きしめたい
dakishime tai


恋色のハレィション
koi iro no hareishon
はじけてとけた
hajikete toketa
虹色のカケラを残し
niji iro no kakera o nokoshi
はにかんだような君の
hanikanda youna kimi no
笑顔にきっとわたしは
egao ni kitto watashi wa
恋に落ちていた
koi ni ochiteita


夕焼け雲見ていた
yuuyake gumo miteita
君と二人帰り道
kimi to futari kaeri michi


風が頬を撫でていく
kaze ga hoho o nadeteiku
聞こえないようにつぶやいた
kikoenai you ni tsubuyaita


君が好きだよ
kimi ga suki da yo


Happy sweet love illusion
走り出した気持ちは
hashiri dashita kimochi wa
止まらないよ
tomaranai yo
この想い君に伝えたい
kono omoi kimi ni tsutaetai


sweetie hony (so) love emotion
その胸の中わたしをギュッと
Sono mune no naka watashi o gyutto
抱きしめたまま離さないでね
Dakishime ta mama hanasa nai de ne


時間を止めて
jikan o tomete


Happy sweet love emotion
この胸の高鳴りを
kono mune no takanari o
風に乗せて
kaze ni nosete
今すぐあなたに届けたい
ima sugu anata ni todoke tai


sweetie hony (so) love potion
恋の媚薬で魔法をかけて
koi no biyaku de mahou o kakete
このトキメキを
kono tokimeki o
抱きしめたい
dakishime tai


(Happy sweet love emotion)
(sweetie hony (so) love potion)
(Happy sweet love illusion)
(sweetie hony (so) love emotion)
Happy sweet love emotion
External links
Edit
| | |
| --- | --- |
| | Articles |
| | |
| --- | --- |
| | Lyrics |