This song article is lacking a proper background. You can help by adding one! The relevant section in the Song Article Guideline is a good starting point, and this blog post may also be helpful. We apologize for the inconvenience this may cause in the meantime.

Song pages lacking proper backgrounds are automatically sorted into this category.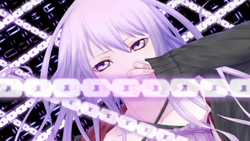 Song title
"as ever"
Uploaded May 2, 2014, with 4,000+ views
Singer(s)
Yuzuki Yukari
Producer(s)
Nia (music, lyrics)
mokemoke (mastering)
Mr. My (illustration)
123 (movie)
Links
Niconico Broadcast
Background
Edit
"as ever" is an original song by Nia featuring Yuzuki Yukari.
Nia's 29th VOCALOID work.
This song is featured in the compilation album, vision cassette ver. 1.00.
Japanese (日本語歌詞)
Romaji (ローマ字)
呆れるくらいに求めてほしい
akireru kurai ni motomete hoshii
首筋に爪痕(しるし)を刻んで
kubisuji ni shirushi o kizande


飼い殺すなら 餌を与えて
kaikorosu nara esa o ataete
鎖して繋いでて
kusari shite tsunaidete


指先でなぞる いくつもの季節に降る夢
yubisaki de nazoru ikutsumo no kisetsu ni furu yume
確かな言葉と イビツな愛を そう
tashika na kotoba to Ibitsuna ai o sou
私の奥まで
watashi no oku made


許されたくて 許せはしなくて
yurusare taku te yuruse wa shi naku te
何度目の「どうして?」を 見るを憂いた?
nandome no "doushite?" o miru o ureita?
透明な夜 永久を誓う
toumei na yoru towa o chikau
行き場の無い想い
ikiba no nai omoi


理屈じゃなくて 隙間を埋めて
rikutsu janakute sukima o umete
交差する よくある終末
kousa suru yoku aru shuumatsu
溜め息混じり 膝を抱えて
tameiki majiri hiza o kakaete
嫌いな恋心
kirai na koigokoro


あなた色のglare意識失うくらいを to me...
anata iro no gurea ishiki ushinau kurai o to me...
鮮やかにフレア イビツな文字を そう
azayaka ni furea ibitsu na moji o sou
滔々と告げて
toutou to tsugete


ひとひらにただ連ねた想いを
hitohira ni tada tsuraneta omoi o
受け入れて それでも 恋に焦がれた
uke irete soredemo koi ni kogareta
視線の先に 立ち尽くした
shisen no saki ni tachitsukushi ta
未来を待つ wailing
mirai o matsu wailing


必然にまた出会えるのならば
hitsuzen ni mata deaeru no naraba
簡単に瞼も閉じれるけど
kantan ni mabuta mo tojireru kedo
取り残された様な空に
torinoko sareta you na sora ni
失うさえも無く
ushinau sae mo naku


微睡み澱み 忘却と、
madoromi yodomi boukyaku to,
番う雨が宙を舞う
tsugau ame ga chuu o mau
朧に願う心 もう 溶かして
oboro ni negau kokoro mou tokashite


擦れ違いざま 旅立つあなたへ
surechigai zama tabidatsu anata e
幾千と明日を 巡る予感を
ikusen to ashita o meguru yokan o
怖いと二人 身を寄せたね
kowai to futari mi o yoseta ne
全てが愛しくて
subete ga itoshikute


許されたくて 許せはしなくて
yurusare taku te yuruse wa shi naku te
穏やかな瞳は 運命(さだめ)憂いた?
odayaka na hitomi wa sadame uita?
透明な夜 永久を誓う
toumei na yoru towa o chikau
行き場の無い想い
ikiba no nai omoi
External links
Edit
| | |
| --- | --- |
| | Lyrics |
| | |
| --- | --- |
| | Articles |